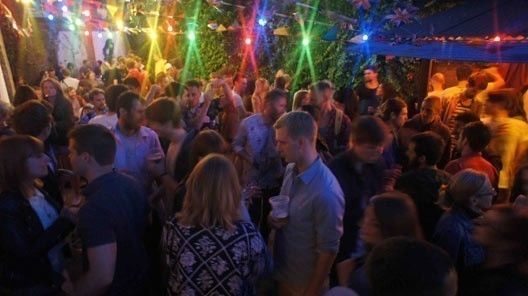 London Fields Brewery presents an all-dayer Cockney knees-up Oktoberfest takeover
On Saturday 5th October, a FREE Oktoberfest Cockney knees-up themed all dayer takes over the London Fields Brewery Brewhouse.

Set to be no ordinary Oktoberfest, the day will see the London Fields Brewery transformed into a London Cockney knees-up Oktoberfest affair. There are no tickets, the day is free for all, just turn up on the day and have a right good time!
Expect Lederhosen galore, live bands, Chas N Dave style sing-alongs and DJ's throughout the day, great foodfrom Jimmy Garcia and Speck who will be putting the sausages and sauerkraut into the party, then burn it all off with some Bavarian barrel rolling races and much, much, more as the day rolls into the night.

The day will showcase all the best London Fields Brewery beers alongside their exclusive new season beers such as 'Harvest Ale' which is brewed with fresh Bramling Cross hops from Kent. Oktoberfesters can also celebrate the day by getting their chops around some LFB Germanic style 'Weissbeir' 56% wheat beer, a beer heavyweight which complies with strict Germanic beer laws. Other speclalist beers on the day include the likes of British Black Path Porter, made exclusively with British ingredients and Love Not War, a contemporary twist on the classic British red ale, all set to showcase the best of British.

For a free unpretentious day filled with good beer and good fun, break out the Lederhosen and get down to the London Fields Brewery Oktoberfest.

For all the latest London Fields Brewery Oktoberfest news check out: http://londonfieldsbrewery.co.uk

::::::::::::::::::::::::::::::::::::::::::::::::::::::::::::::::::::::::::::::::::::::

LONDON FIELDS BREWERY OKTOBERFEST EVENT INFORMATION:

WHO: London Fields Brewery Presents OKTOBERFEST
WHAT: A unique all-dayer themed Cockney knees-up Oktoberfest
WHERE: The Brewhouse,
 Railway Arches, 369-370, 
Helmsley Place, E8 3SB
WHEN: Saturday 5th October
TIMES: 12 noon – 12 midnight
TICKET PRICE: Free admission all day and all night
WEBSITE: http://londonfieldsbrewery.co.uk