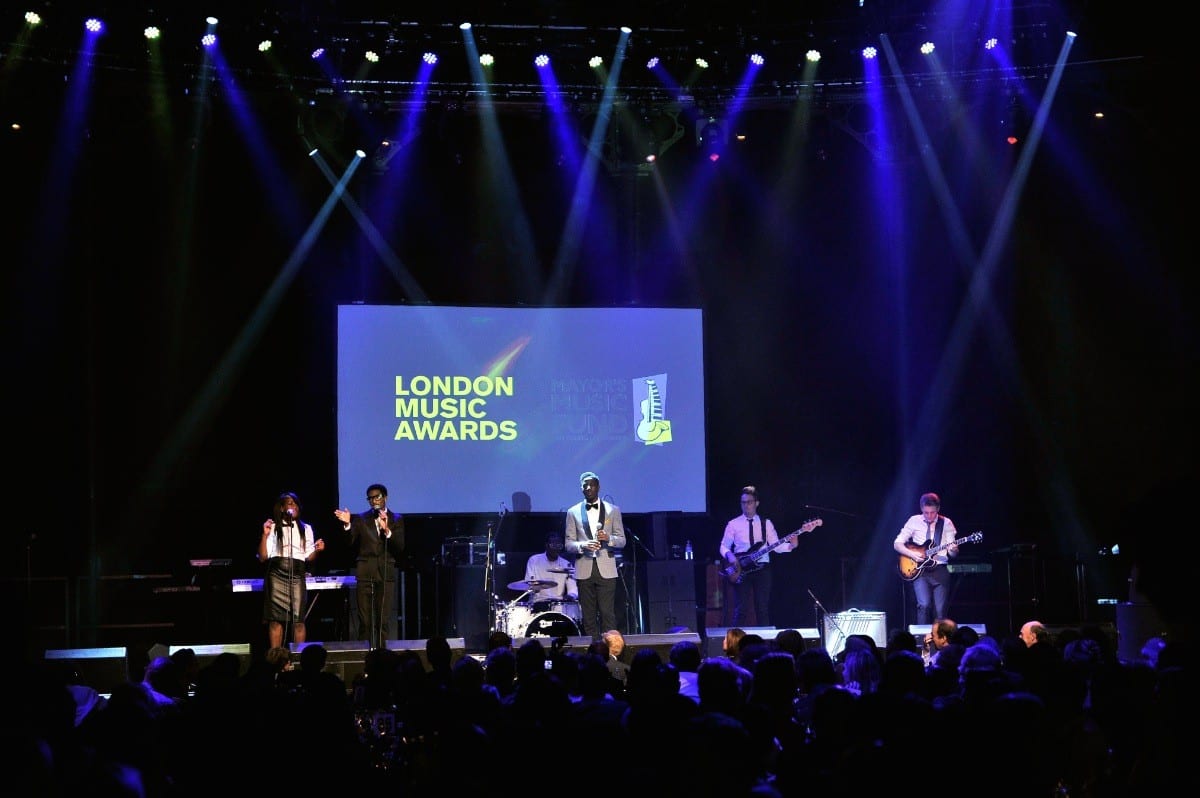 London Music Awards Winners Announced
The winners of this year's prestigious London Music Awards (LMAs) were announced today, 11th June, during an awards evening held at the Camden Roundhouse. Presented by Laura Whitmore, the awards began with a performance from NYJO London, conducted by Jazz Rising Star winner Phil Meadows. The Mayor of London, Boris Johnson, whose Mayor's Music Fund (MMF) charity established the awards in 2014, gave an opening speech, welcoming guests representing the music industry and the creative education and business sectors.
Ahead of tonight's event, Mayor Boris Johnson said: "An unbeatable mix of ingredients has helped make London the music capital of the world. Our city has produced amazingly talented musicians, who have gone on to conquer the globe. We have fantastic live music venues both large and small, where they hone their craft. As the London Music Awards show, schools across London are providing a fine musical education. And there are the enthusiasts and supporters, both inside and outside the music industry who back creative talent and help promote a sector that attracts audiences in their millions and is a massive earner for our country's economy. These awards are a celebration of London as a city of music and the talented individuals that bring so much joy to our lives".
Ed Vaizey, Minister for Culture said: "British music is going from strength to strength with our artists now accounting for one in seven albums sold worldwide. Bringing together aspiring artists and established talent, the London Music Awards are a perfect opportunity for us to recognise and celebrate the thriving talent within our music industry".
Ray Davies CBE was awarded the accolade of London Legend for his long and inspirational musical relationship with the city. The former Kinks frontman and principal songwriter was on hand to accept his award in person, and was further honoured with a performance by the cast of Sunny Afternoon, the Olivier-winning musical based on the Kinks early life. Sir Cameron Mackintosh received the Global Export award for his phenomenal success as a world renowned producer of musicals, and Jonathan Moulds CBE, group COO of Barclays Bank PLC, was awarded Music Philanthropist for his extensive work as a patron of the arts.
The LMAs presented several music education awards, recognising four musicians from the charity's scholarship programme for their achievements. Outstanding Music Scholars were Flautist Krum Didov from Hounslow, French Horn player Louis Lodder from Hackney, Violinist Ibrahim Vatansever, from Southwark and cellist Aissha Jalloh , from Tower Hamlets.
Recognising schools that provide exceptional musical experiences for their pupils, a total of eight awards were made for Musical Excellence in Schools and supported by the Mayor of London, including Akiva School – Barnet, Camden School for Girls – Camden, Kingsmead Primary School – Hackney, Nelson Primary School – Newham, Preston Manor School – Brent, Townley Grammar School – Bexley, Trinity Special School – Barking & Dagenham and Twyford C of E High School – Ealing.
The Outstanding Musical Partnership Award was presented to Firebird, a partnership between Hounslow Music Service and Richmond Music Trust, the Royal Ballet School and the Philharmonia Orchestra that brought young musicians and dancers together with professional artists to explore the differences in their approach to Stravinsky's Firebird.
In only its second year, the LMAs saw a huge increase in nominations for the prestigious awards. From those entrants, winners in five categories of Rising Star were chosen by a judging panel that included festival promoter Rob da Bank, composer Errollyn Wallen MBE and the Southbank's Jane Beese. Rising Star winners were Belle Chen for Classical, Phil Meadows for Jazz, Espa for Rock & Pop, Ibibio Sound Machine for Dance & Electronica, and Laura Doggett for the composer songwriter category.
For the second year running, Londoners' Favourite Music Venue was decided by a public vote run in conjunction with Time Out. Following a lively social media campaign that saw votes cast in their thousands, one of London's top spots for folk, roots, world, jazz, blues and country music, Camden's The Green Note proved victorious.
The London Music Awards, which were once again produced by renowned creative event production company, NP+Co., presented awards in 12 categories on the night. The full list of winners is:
Outstanding Mayor's Music Scholars Sponsored by ABRSM:
Krum Didov, Hounslow
Louis Lodder, Hackney
Ibrahim Vatansever, Southwark
Aissha Jalloh, Tower Hamlets
Outstanding Musical Partnership Sponsored by the Mackintosh Foundation – Firebird
Music Excellence in Schools Sponsored by Universal Music and supported by Mayor of London:
Akiva School – Barnet
Camden School for Girls – Camden
Kingsmead Primary School – Hackney
Nelson Primary School – Newham
Preston Manor School – Brent
Townley Grammar School – Bexley
Trinity Special School – Barking & Dagenham
Twyford C of E High School – Ealing
Music Philanthropist Sponsored by PPL UK – Jonathan Moulds CBE
Londoners' Favourite Music Venue sponsored by Time Out – The Green Note
Rising Stars
Classical Supported by Classic FM – Belle Chen
Highly commended- Jon Opstad & Tamsin Waley Cohen
Jazz Supported by the Friends of NYJO – Phil Meadows
Highly Commended- Jacob Collier & Vula Viel
Rock&Pop Sponsored by Live Nation – Espa
Highly Commended- Bear's Den
Dance&Electronica Sponsored by AEG Live – Ibibio Sound Machine
Highly Commended- Brolin & Mullaha
ComposerSongwriter Sponsored by PRS for Music – Laura Doggett
Global Export in Association with UK Music – Sir Cameron Mackintosh
London Legend in Association with the London Evening Standard – Ray Davies CBE