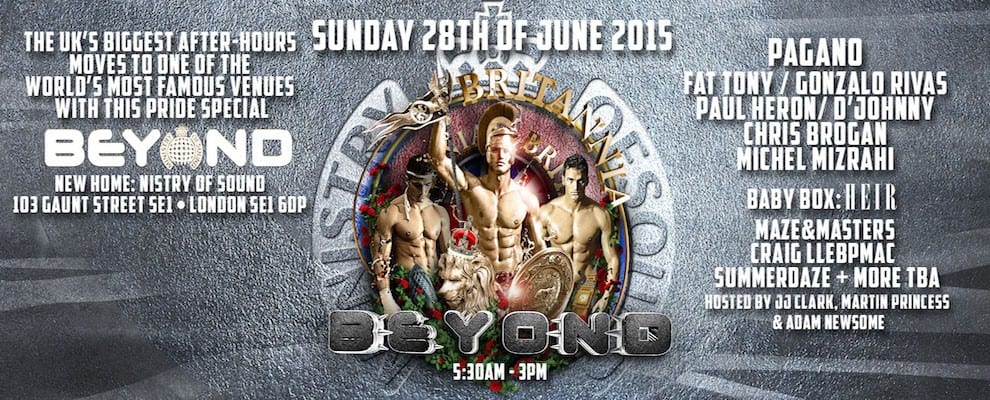 Beyond moves to Ministry of Sound
THE UK'S BIGGEST AFTERHOURS MOVES TO THE WORLD'S MOST FAMOUS CLUB
Beyond, the legendary club that has revolutionised the afterhours clubbing concept is moving to Ministry of Sound from Sunday 28th June 2015 from 5:30am – 2pm (or later).
Hosting phenomenal events on a weekly basis for over 12 years at 3 venues, Beyond was born in Vauxhall, South London at Club Colisseum, before relocating to it's spiritual home of Area, followed by a residency at Fire. The end of 2014 saw the first of 3 incredibly successful events at the world's most famous club, Ministry Of Sound.
With the potential for a new Golden Age of afterhours clubbing in London at a world-class establishment, Beyond aims to put London firmly back on the map of alongside Berlin and Amsterdam with the late-late crowd, with arguably one of the most talented rosters of resident DJs in the UK including Pagano, Steve Pitron, Hifi Sean, Gonzalo Rivas, Maze & Masters, D'Johnny, Paul Hero, Fat Tony, Tom Stephan, Tony English, Zach Burns, Tom Peters, Michel Mizrahi, Chris Brogan, Dimitry Strigun, Lee Harris and Miswhite.
Beyond has never followed the rules, instead it has always appealed to hedonists continuing their Saturday night partying or waking up fresh to start the day among friends and electronic music. Beyond at Ministry of Sound will prove no different as a revised music policy sees reputable guest DJs & brands joining forces to reboot the finest afterhours clubbing experience.
Every room will have it's own identity, satisfying every need from classics, to techno and all that's in between. What will make this move unique, however, is the brilliance of the venue – from the friendliest staff, to state of the art lights and sound, cutting edge music and performances.
Kicking things off will be a very special Pride event on Sunday 28th June 2015. From 5:30am till superlate, Beyond at Ministry will host the official WE Gods Of Olympus After Party.
Advance ticket price: £10
5-30am – 2pm
Ministry Of Sound
103 Gaunt Street, London, SE1 6DP
Tube: Elephant & Castle