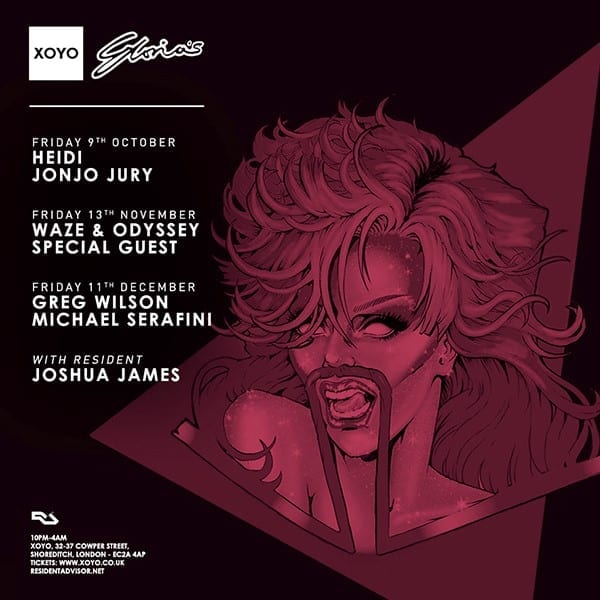 London's LGBTQ and straight dance floors unite at XOYO
One of XOYO's most revered parties, Gloria's forthcoming programming is sure to supply the heat we need this season with headliners including Heidi, Waze & Odyssey and Greg Wilson…

A party like no other, Gloria's opens up the dance floor for you to experience our club under a new light. Servicing unity between the nightlives of the straight, pan, poly, gay or whatever you call yourselves – Gloria's is all about the experience – labels are meaningless here.

Bringing together some of the world's biggest DJs with London's crème of savage queens, Gloria's champions an exciting underworld in UK clubbing.

While Clubland is hit with criticism, Gloria's remains a safe haven to be who you want to be; indulge in dressing up, dressing down or dressing in nothing at all – Gloria and her girls oversee the floor and it's all smiles.
"A sassy lady with a penchant for disco-dipped, costume-clad shindigs, Gloria's loved by club kids and party monsters…" Time Out

Entry: £13.50 advance tickets
Time: 9pm – 4am
Web: http://www.xoyo.co.uk/
Forthcoming:

Friday 9th October
Heidi
R2: MenWhoFell2Earth

Friday 13th November
Waze & Odyssey
Kim Ann Foxman
R2: The Meat Boys

Friday 20th December
Greg Wilson
Michael Serafini
R2: Bang Magazine

With resident Joshua James