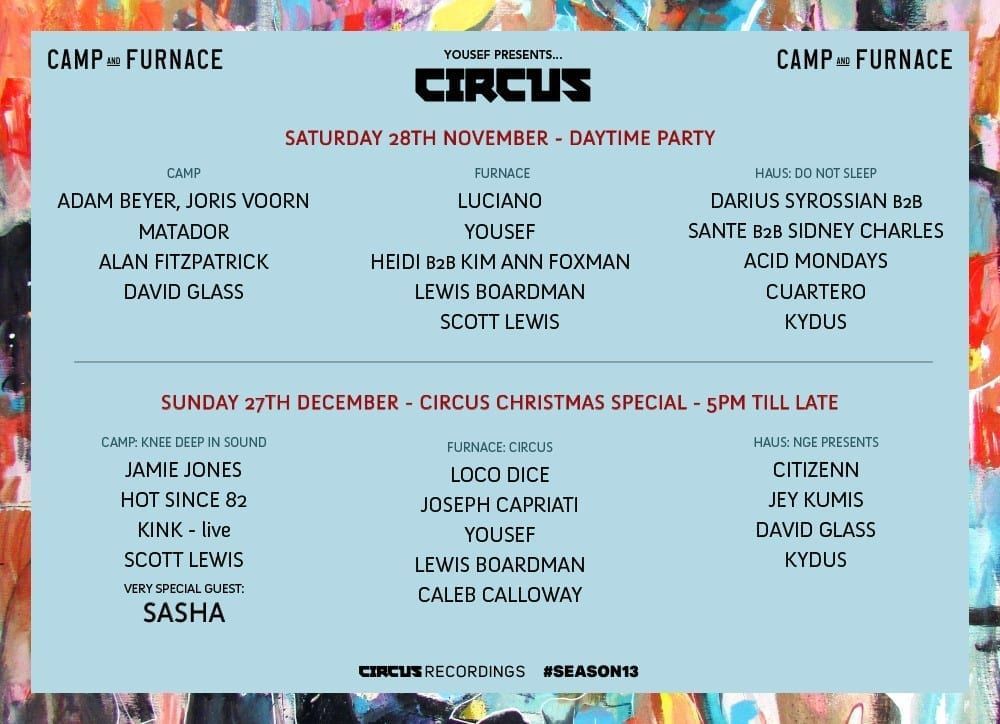 Circus returns to Liverpool's Camp & Furnace
Continuing at the forefront of the globes most formidable underground events, Yousef has continuously drawn huge crowds to his incredible Circus parties for over decade. Whether its at their spiritual home of Arts Clubs, or at showcases spanning from Ibiza to America, Circus has tastefully woven an undisputed history of iconic nights and showcases.
Circus' forward thinking and eclectic vision of quality house & techno has never failed to excite and enthral clubbers, now making it's return to one of Liverpool's and the UK's most phenomenal event spaces, Yousef and Circus are proud to announce two shows at the Camp and Furnace for the first time since 2013.
A mesmeric construction containing three unique spaces on the fringe of the Baltic Triangle, Camp and Furnace has been the setting for a contrasting variety of events from live music festivals to broadcasting global sporting matches. A vast indoor warehouse, The Furnace oozes an unparalleled tapestry of culture and history still wearing the scars of it's industrial past with pride. Boasting exposed brickwork and lurching lifts and braces, which act as ready built lighting trusses. The fairy-light adorned Camp on the other hand is decorated with life-size woodland wallpaper and vintage caravans, bringing the summery UK festival vibe inside.
With the first show announced for daytime Saturday 28th November, in true Circus fashion Yousef will welcome a host of heavy weights of house and techno delivering possibly the two biggest Circus line ups of all time.
November 28th Daytime 2 – 11pm
The Camp's dance floor will succumb to the head of Drumcode Adam Beyer and Awakenings favourite Joris Voorn, as well as Irish electronic artist Matador who has been gracing the most prestigious venues across the globe. An intrinsic member of Beyer's Drumcode camp, Alan Fitzpatrick will also feature in the Camp supplying his trademark techno sound that has continuously captivate the underground music scene across the globe. While in the Furnace the Circus boss will be joined by one of electronic music's most sought after names, Luciano. The founder of Cadenza records is revered as a key figure in revolutionizing Ibiza's nightlife. His legendary residency at Dc10 (with Villalobos) catapulted him into iconic status on the island with his blend of emotional house and relentless techno, peppered with South American charisma. Circus has become synonymous with bringing the freshest talent to it's global events, New York Visionary Kim Ann Foxman debuts the city of Liverpool, teaming up with Circus favourite Heidi to host to a highly anticipated unique b2b in the Furnace.
Making their Liverpool debut as a trio, this summer's runaway Ibiza success story 'Do Not Sleep', AKA Darius Syrossian, Sante, and Sidney Charles, will take over Camp and Furnace's Haus room, supplying their signature blend of house and techno in the well appointed but nicely gritty third space. Acid Mondays, Caurtero and Kydus join them.
December 27th Circus Christmas Special 6pm – 2am
Wrapping up the year on Sunday 27th December, the second show will see one of dance music's most talked about imprints, Knee Deep In Sound take over the Camp. Here label boss Daley Padley more commonly known as Hot Since 82, will be joined by the head of Hot Creations and one of dance music's most recognised DJ's Jamie Jones.

One artist that needs no introduction, due to his commitment and dedication to crafting dance music's sculpture is Sasha. Making a momentous return to Circus since his last appearance back in 18 months, his stature within music is undeniable, making him one of the most exciting names on the line-up at Camp and Furnace.

Completing the line up in Camp's iconic DJ booth will be Bulgarian live techno sculptor KiNK, bringing his exceptional and truly live spectacle to the Circus Christmas Special.
Further world-renowned talent takes over the Furnace including Desolat records boss Loco Dice, now in his testimonial year slaying the dance floors at Circus. Alongside him will be newly crowned techno giant and Music On resident Joseph Capriati who also makes his Camp & Furnace debut.
In addition to these mammoth names, the Haus room will be controlled by a masterful line-up of the U.K's finest underground artists presented by NGE. Citizenn first exploded on the scene with releases via house legend Kerri Chandler's Mad Tech records, as well as being named DJ Mag's breakthrough talent of 2013 and since then has gone on to conquer clubs and festivals across the globe making him the perfect act to headline Haus at Camp and Furnace.
Without any doubt, Yousef and Circus have created a global brand and benchmark for how underground music events should be constructed. Their return to Camp and Furnace has been long awaited, and now these two events mark another profound chapter in Circus' rich history.
SATURDAY 28TH NOVEMBER
CAMP
ADAM BEYER, JORIS VOORN
ALAN FITZPATRICK
MATADOR
SCOTT LEWIS
DAVID GLASS
FURNACE
LUCIANO
YOUSEF
HEIDI B2B KIM ANN FOXMAN
LEWIS BOARDMAN
HAUS – DO NOT SLEEP
DARIUS SYROSSIAN B2B SANTE B2B SIDNEY CHARLES
ACID MONDAYS
CUARTERO
KYDUS
SUNDAY 27TH DECEMBER – CIRCUS CHRISTMAS SPECIAL
CAMP: KNEE DEEP IN SOUND
JAMIE JONES
HOT SINCE 82
KINK – LIVE
SCOTT LEWIS
VERY SPECIAL GUEST:
SASHA
FURNACE; CIRCUS
LOCO DICE
JOSEPH CAPRIATI
YOUSEF
LEWIS BOARDMAN
CALEB CALLOWAY
HAUS: NGE PRESENTS
CITIZENN
JEY KURMIS
KYDUS
DAVID GLASS
VENUE:
Camp And Furnace
67 Greenland St, Liverpool, Merseyside L1 0BY