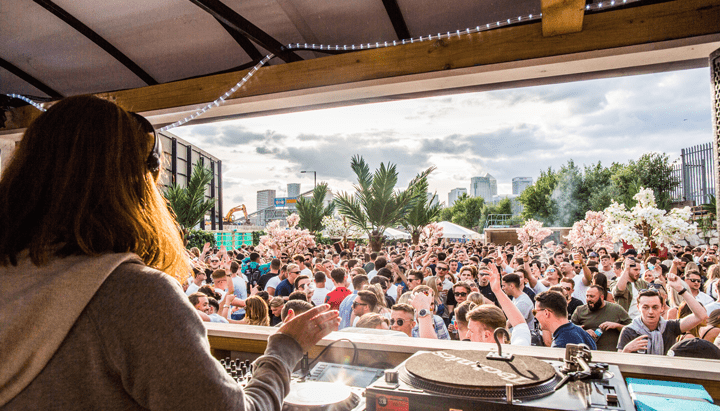 London's Studio 338 reopens Garden area
London's Studio 338 reopens Garden area with huge run of open air parties and mini festivals including tINI & The Gang, ABODE, All Day I Dream and Space Ibiza Festival
Studio 338's Garden is the finest and most beautiful open air location in all of London, and it reopens in May 2018 with brands including All Day I Dream, HOME, Art of Dark, Critical Sound, tINI & The Gang, Sankeys, SolidGrooves and Toolroom, and DJs like Erick Morillo, Kenny Dope, Marcel Fengler, The Mole, Dinky, Praslesh, Franceso Del Gardaand much more.
The famous Garden offers a rare and immersive opportunity to dance under the sun and stars in the capital. Set to a stunning Canary Wharf backdrop, the newly extended Garden has more lawns, decking and trees to make for a lush space that transports you miles away from the hustle and bustle of the city. The famous VOID sound system has also been beefed up for the new season so the scene is all set for a truly special run of unique open-air events that allows you to really soak up the good weather.
The official opening comes on May 19th—a week after the dreamy and melodic house party that is All Day I Dream with Lee Burridge, Lost Desert, Viken Arman and Boatman—and features an exceptional line-up covering house, minimal, techno and disco talents Afriqua, Digby, Dinky, Janina, Marcel Fengler, Martinez, The Mole and 6th Borough Project. It runs from 1pm until 7am and will be a feast for the eyes and ears from start to finish.
Other huge events include the exclusive return of tINI & The Gang— a famous Ibiza party that only happens at Studio 338 in London—with key players Bill Patrick, Cap, Dan Andrei, Eli Verveine, Oskar Offermann, Harry McCanna, The Ghost and Triptrease LIVE all joining tINI.
On May 27th, Home host with the globally acclaimed minimal tastemakers Praslesh (aka Raresh B2B Praslea), plus cult diggers Francesco Del Garda, Arapu, Sedee, Voigtmann, Unai Trotti and E/Tape for a session of truly avant garden techno sounds, swiftly followed by the SolidGrooves Opening Party on June 3rd, which will bring the famous London and Ibiza night's no frills house soundtrack to Studio 338.
July 14th will be a big one with globally renowned house label Toolroom celebrating 15 years at the top with the one and only American superstar Erick Morillo, who will play with many more acts to be announced and is sure to bring his big, steamy and sensuous house sound.
In amongst all this there are two mini-festivals which will take things to the next level with huge line-ups and out-of-this-world production. The first is from Space Ibiza on June 16th, the next is from Sankeys on June 30th, and these two agenda-setting brands are known for putting on high quality soundtracks, so prepare to be amazed.
But that's not all, because Critical Sound return for a BBQ across three different areas on May 26th with all their key drum & bass players in tow, and Art of Dark returns on July 7th. There is also a series of special summertime pool parties that will see a huge pool shipped in and plenty of themed decor. These include a house and garage edition on June 10th, 90's Hip Hop party on June 23rd with Kenny Dope, Fatman Scoop and DJ Lord amongst others, then a Reggae Special on August 18th.
All in all this is set to be the biggest and best summer in Studio 338's history.
Tickets and full party information is available at Studio 338's facebook page – www.facebook.com/studio338/

Sunday 13th May 2018 / 14:00 – 23:00
All Day I Dream
Lee Burridge, Lost Desert, Viken Arman, Boatman
Saturday 19th May 2018 / 13:00 – 07:00
Studio 338 The Garden Opening Party
Afriqua, Digby, Dinky, Janina, Marcel Fenglar, Martinez, The Mole, 6th Borough Project
Sat, 26 May 2018 / 12:00 – Midnight
Critical Sound BBQ – Summer Sonics
Marky, Emperor, Kasra, Serum, Enei, S.P.Y, Dillinja, Bladerunner, Krust (Full Cycle Set), Nicky Blackmarket (BMR Classics Set), Nookie and many more.
Sun, 27 May 2018 / 14:00 – 07:00
Home – London
Praslesh (Raresh B2B Praslea), Francesco Del Garda, Arapu, Sedee, Voigtmann, Unai Trotti, E/Tape
Sunday 3rd June / 14:00 – 02:00
Solid Grooves Summer Opening Party
Saturday 10th June / 14:00–23:00
Summertime Pool Party: Classic House & Garage Edition
Saturday 16th Jun / 12:00 – 23:00
Space Ibiza Mini-Festival
Saturday 23rd June / 14:00–23:00
Summertime Pool Party: The 90s Hip-Hop Special
Kenny Dope – 90s Hip-Hop Set, Fatman Scoop – 90s Hip-Hop Set, DJ Lord (from Public Enemy), Steve Sutherland, Gin & Juice DJs, Hip-Hop Brunch DJs, Gold Teeth DJs
Sunday 24th June / 15:00 – 02:00
Summer Solstice All Day Outdoor Rave
Lineup TBA
Saturday 30th June / 12:00 – 23:00
Sankeys Festival
Lineup TBA
Saturday 7th July / 14:00 – 06:00
Art of Dark
Lineup TBA
Saturday 14th July / 14:00 – 06:00
Toolroom 15 Years
Erick Morillo + more acts TBA
Saturday 21st July / 14:00 – 07:00
Flux Day & Night Terrace Party
9 headliners TBA
Saturday 4th August / 14:00 – 06:00
tINI & The Gang
tINI, Bill Patrick, Cap, Dan Andrei, Eli Verveine, Oskar Offermann, Harry McCanna, The Ghost, Triptrease LIVE
Saturday 18th August // 14:00–23:00
Summertime Pool Party: The Reggae Special
Reggae Roast and more TBA
Studio 338 Facebook
www.facebook.com/studio338/
Studio 338 Tickets
www.residentadvisor.net/club.aspx?id=74592
Studio 338 Website
studio338.co.uk/