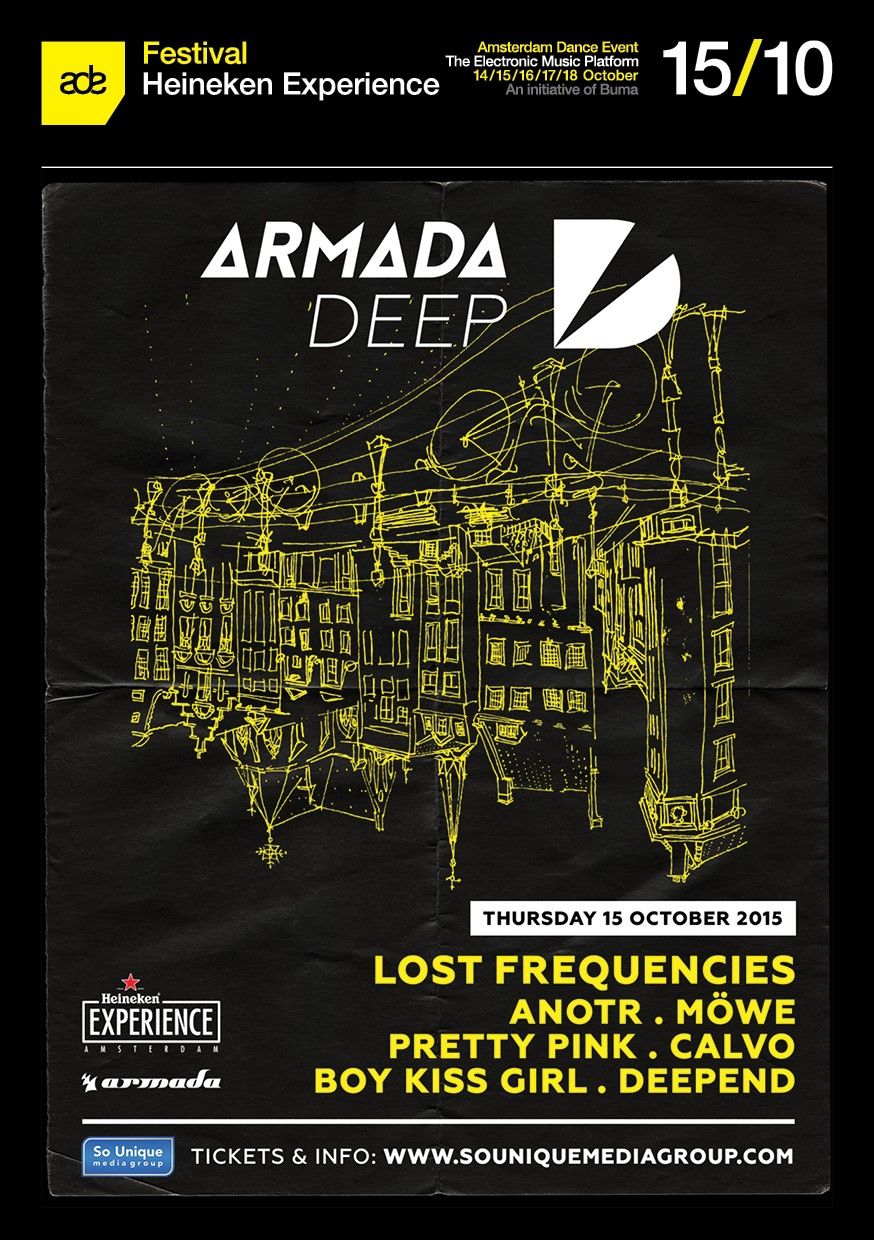 Lost Frequencies to headline Armada Deep event at ADE 2015
Lost Frequencies, one of the hottest DJs of the moment, has been confirmed for a headline spot at Armada Music's second ADE 2015 event. In addition to acclaimed deep house artists ANOTR, MÖWE, Pretty Pink, CALVO, Boy Kiss Girl, and Deepend, the Belgian hit machine (known for his worldwide hit singles 'Are You With Me' and 'Reality') is to perform at Armada Deep on Thursday October 15th in the illustrious Heineken Experience venue, which has never seen an Amsterdam Dance Event party before.
The Armada Deep event marks Armada Music's second party during Amsterdam Dance Event 2015, adding the record label to the list of very few organizations to launch multiple parties during Europe's main dance music conference. On August 7th , Armada Music announced the inception of the Armada Captivating event, set to hit ADE 2015 with a slamming party on October 14th in the Undercurrent venue. With a deep house event in addition to a progressive house/trance event, Armada Music continues to underline their embrace of a broad range of genres.
Tickets to Armada Deep in the Heineken Experience on October 15th are available at souniquemediagroup.com, priced at 15 euros per ticket. Attendees entering the venue before 20.00 CET (8.00 PM CET) are even permitted access to the Heineken Experience tour.
Line-up Armada Deep (in alphabetical order)
• ANOTR
• Boy Kiss Girl
• CALVO
• Deepend
• Lost Frequencies
• MÖWE
• Pretty Pink
Where:
Heineken Experience
Stadhouderskade 78, Amsterdam
When:
October 15th, 2015
20:00 – 02:00
Price:
€15 incl. fee
Tickets