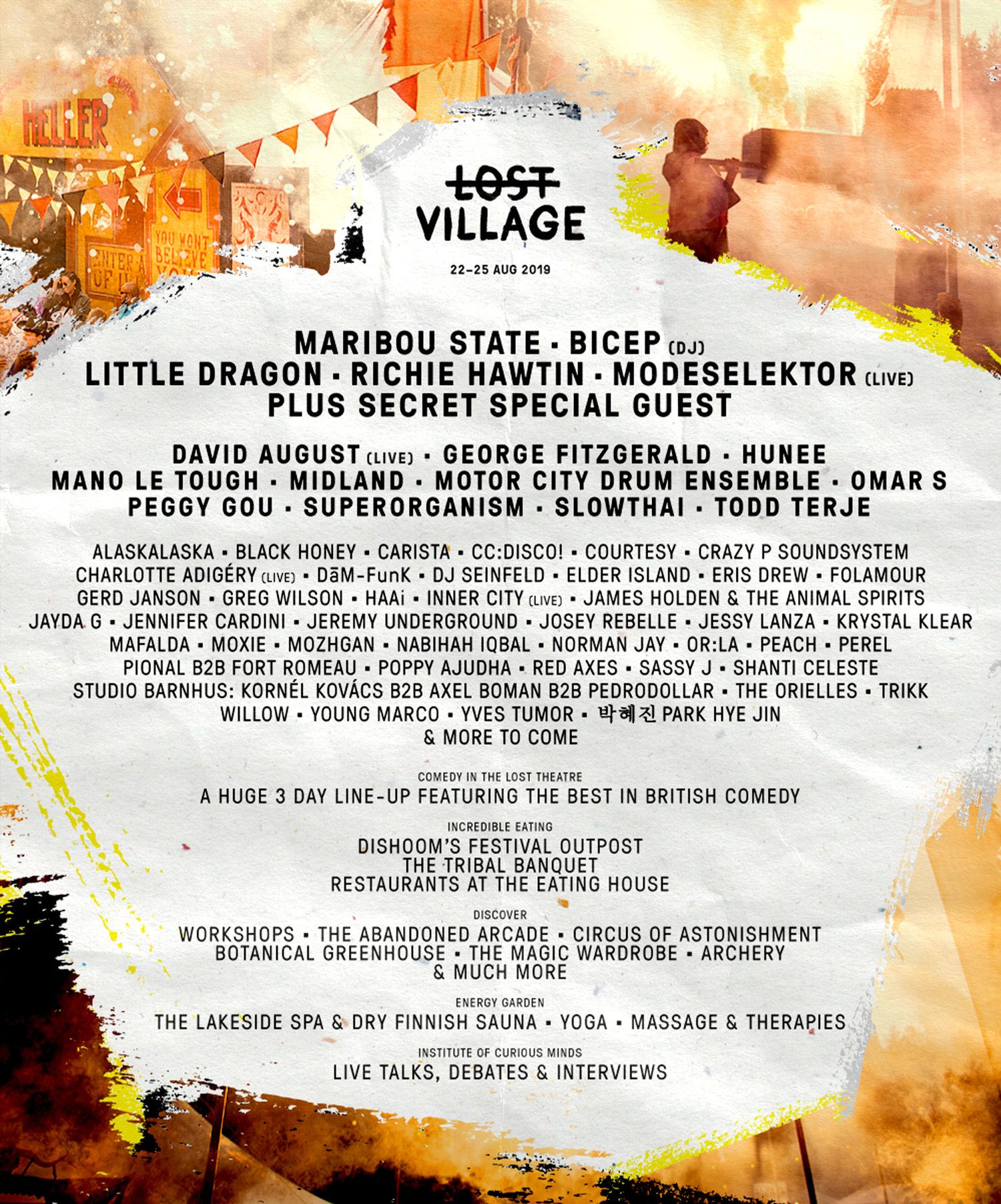 Lost Village Festival announces first wave of acts for 2019
Surreal, bizarre and otherworldly…
A place where reality flickers, curiosity grows and nothing is what it seems.
THE STORY SO FAR
In just a few short years Lost Village has become one of Europe's most anticipated annual experiences. A yearly pilgrimage for those seeking ethereal escapism of an intimate nature.
Villagers embark on a 4 day odyssey in an abandoned forest, navigating winding pathways to uncover all manner of discoveries. From secret spaces to surreal encounters; Lost Village is for the curious, not the cautious.
Whether dancing on top of cars in the Junkyard, attempting to escape the Circus of Astonishment or bonding with kindred spirits at the Tribal Banquet; community is at the heart of the Lost Village experience.
Encompassing carefully curated music, interactive performance, exceptional food, comedy, talks and creative workshops; the result is a beautiful yet abstract escape from reality.
JUST ANNOUNCED: 2019 ARTISTS, BANDS & DJS
Whilst Lost Village is a multi-layered experience, music remains a fundamental part of its genetics. Emanating from areas such as the Junkyard, Watchers Holt and the Forgotten Cabin, as well as a host of brand new, currently undiscovered spaces, 2019 will see Lost Village join the dots between disco, funk, electronic dance, indie, hip hop and beyond. An array of headline names will lead the charge, from acts at the precipice of modern electronic styles, such as Maribou State, Bicep, Little Dragon and Modeselektor to legendary sound pioneers like Richie Hawtin and Omar S.
The Easter-egg laden lineup lilts between disco luminaries, highlights include Jayda G, Todd Terje, Motor City Drum Ensemble and Hunee, legacy trailblazers such as Norman Jay, Greg Wilson, and Todd Edward, live acts like Superorganism, David August, The Orielles and Inner City – and red-hot future stars including Eris Drew, Courtesy, Folamour, Yves Tumor andslowthai.
With further music, food, wellness and comedy still yet to be announced, it's clear that Lost Village will continue to remain an exceptionally hot ticket. 2018's event sold out months in advance and this year is set to follow suit.
MORE THAN A MUSIC FESTIVAL…
Far more than just a music festival, Villagers' woodland escapades will also include mind-bendingly great food from the likes of Hawksmoor, Dishoom and some of the UK's most forward-thinking chefs, in spaces such as the Eating House and Tribal Banquet.
The Lost Theatre will also host an amazing lineup of British comedy – with previous names including Katherine Ryan, Joel Dommett and Phil Wang – whilst the Institute of Curious Minds will provide all manner of thought-provocation, with 3 days of talks, interviews, debates and stories.
Other activities include lakeside relaxation, cocktail classes, foraging lessons, creative workshops, secluded hot tubs, yoga and massage in the Energy Garden and a world of weird and wonderful surprises, for those with a sense of adventure.
MARIBOU STATE • BICEP (DJ)
LITTLE DRAGON • MODESELEKTOR (LIVE) • RICHIE HAWTIN
PLUS SECRET SPECIAL GUEST
DAVID AUGUST (LIVE) • GEORGE FITZGERALD • HUNEE • MANO LE TOUGH • MOTOR CITY DRUM ENSEMBLE
OMAR S • PEGGY GOU • SUPERORGANISM • SLOWTHAI • TODD TERJE
ALASKALASKA • BLACK HONEY • CARISTA • CC:DISCO! • COURTESY • CRAZY P SOUNDSYSTEM
CHARLOTTE ADIGÉRY (LIVE) • DāM-FunK • DJ SEINFELD • ELDER ISLAND • ERIS DREW • FOLAMOUR
GERD JANSON • GREG WILSON • HAAi • INNER CITY (LIVE) • JAMES HOLDEN & THE ANIMAL SPIRITS • JAYDA G • JENNIFER CARDINI
JEREMY UNDERGROUND • JOSEY REBELLE • JESSY LANZA • KRYSTAL KLEAR • MAFALDA • MIDLAND • MOXIE • MOZHGAN
NABIHAH IQBAL • NORMAN JAY • OR:LA • PEACH • PEREL • PIONAL B2B FORT ROMEAU • POPPY AJUDHA
RED AXES • SASSY J • SHANTI CELESTE • STUDIO BARNHUS: KORNÉL KOVÁCS B2B AXEL BOMAN B2B PEDRODOLLAR
THE ORIELLES • THEO KOTTIS • TRIKK • WILLOW • YOUNG MARCO • YVES TUMOR • 박혜진 PARK HYE JIN
& MORE TO COME

COMEDY IN THE LOST THEATRE
A HUGE 3 DAY LINE-UP FEATURING THE BEST IN BRITISH COMEDY
INCREDIBLE EATING
DISHOOM'S FESTIVAL OUTPOST
THE TRIBAL BANQUET
RESTAURANTS AT THE EATING HOUSE
DISCOVER
WORKSHOPS • THE ABANDONED ARCADE • CIRCUS OF ASTONISHMENT
BOTANICAL GREENHOUSE • THE MAGIC WARDROBE • ARCHERY
& MUCH MORE
ENERGY GARDEN
THE LAKESIDE SPA & DRY FINNISH SAUNA • YOGA • MASSAGE & THERAPIES
INSTITUTE OF CURIOUS MINDS
LIVE TALKS, DEBATES & INTERVIEWS