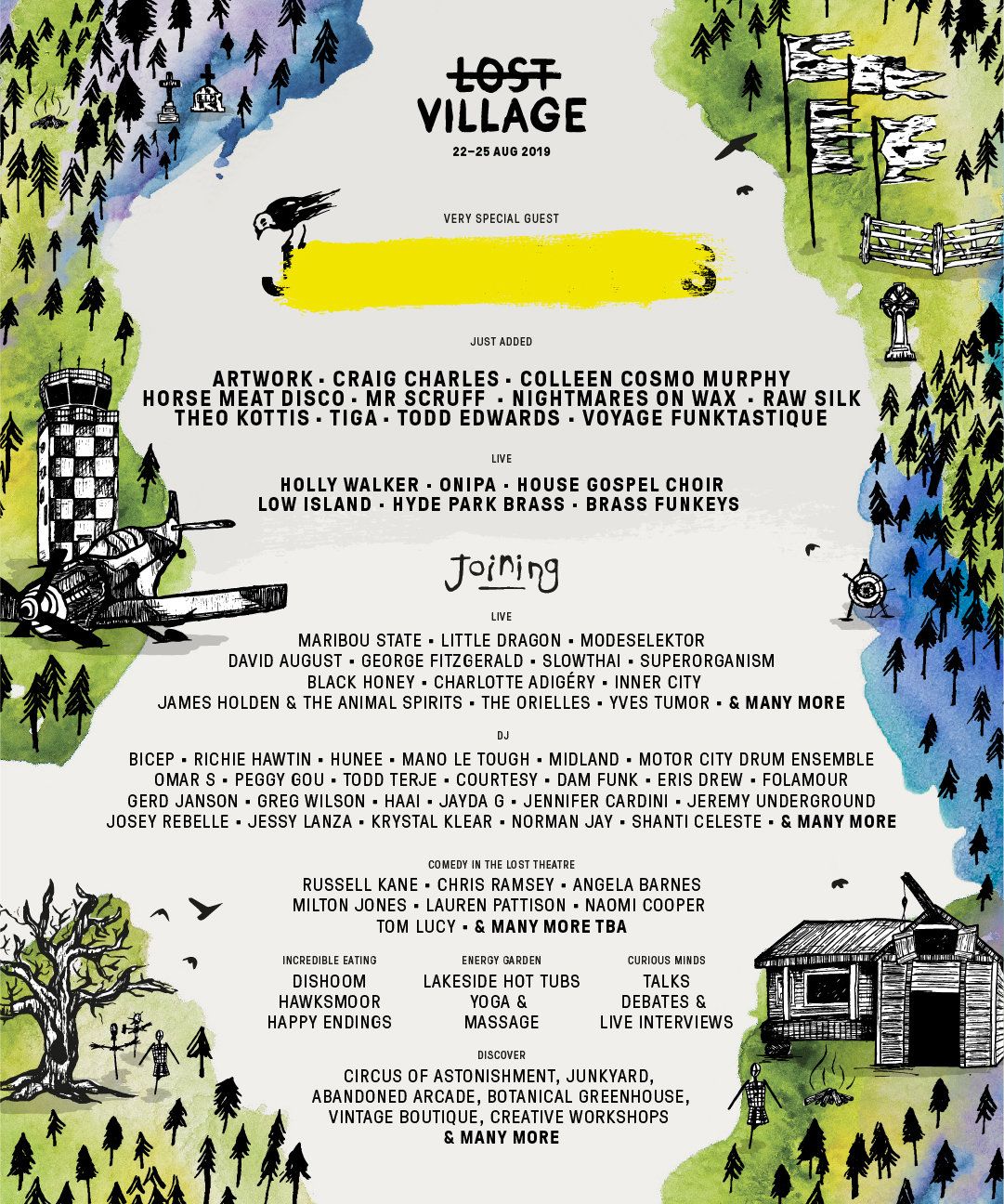 Lost Village reveals more music, comedy & food collaborations for 2019
Lost Village is an otherworldly 4 day festival experience, set in an abandoned woodland village.
Encompassing surreal encounters, exceptional music, life-affirming food, creative workshops, side-splitting comedy, live talks and a plethora of wonderful discoveries, all set amongst a network of derelict houses, junkyards, an abandoned airport and relics of a time long-passed.
From lakeside relaxation and curious entertainment to long-table banquets and spectacular drinks; Lost Village is not a festival for the masses, but an intimate gathering of kindred spirits.
THE JOURNEY CONTINUES…
Joining the dots between disco, house, indie, funk, soul and beyond, the 2019 Lost Village journey is undoubtedly the most dynamic to date, both in terms of styles and gender, with female artists representing half of the lineup.
Today the festival adds yet more incredible artists to the line up, with much loved DJ Artwork, funk and soul extraordinaire Craig Charles plus audio aficionado and renowned selector Colleen 'Cosmo' Murphy all joining the bill. They'll play alongside party starters Horse Meat Disco, Mr Scruff, Nightmares on Wax, Raw Silk, Theo Kottis, Tiga, Todd Edwards and Voyage Funktastique.
With live performances already confirmed for Lost Village 2019 from Ninja Tune superstars Little Dragonand Maribou State, today the festival adds the longtime Maribou State collaborator Holly Walker, plus more entrancing live sets from Onipa, House Gospel Choir, Low Island, Hyde Park Brass and Brass Funkeys.
Elsewhere over the weekend, Superorganism and The Orielles will bring their wonky indie to the festival, plus house legends Inner City and the red-hot breaking sounds of UK rapper slowthai and electronic experimentalist Yves Tumor.
The new additions join a huge array of impeccable selectors, covering a vast breadth of sounds, includingMotor City Drum Ensemble, Jayda G, Peggy Gou, Hunee, Omar S, Bicep, Todd Terje, Peach, Mano Le Tough, Shanti Celeste, Greg Wilson, Midland, Courtesy, Eris Drew and many more.
MORE THAN MUSIC…
The Lost Village experience takes revellers down winding pathways, into the far reaches of the forest, uncovering all manner of experiences; from surreal encounters with the village's native inhabitants, to dreamscape performances that circle the woods. The bizarre fever-dream backdrop of the forest will have you regularly questioning your sanity.
When it's time to escape the madness, head to the lake where wood-fired hot tubs, yoga, massage and holistic therapies are all on available in the Energy Garden, whilst Forgers Fayre is the home of creative workshops, offering crafting, jewellery making, sculpting, apothecary and lots more.
This year's Lost Theatre comedy line-up includes a host of Comedy Store, Hammersmith Apollo and TV mainstays, such as Russell Kane, Chris Ramsey, Angela Barnes, Milton Jones, Lauren Jones, Tom Lucy & many more still to be announced.
Lost Village will also host Dishoom's only festival outpost, a Hawksmoor Sunday Roast, the first ever banquet from one of London's most creative restaurants (more news soon) plus a range of eateries from the likes of Burger & Beyond, Happy Endings, Piadina Project and more.
The Institute of Curious Minds will, once again, boast a weekend of live interviews, talks and debates, featuring a range of guest speakers. Previous editions have included global explorers, music historians, scientists, relationship experts and all manner of intriguing and unusual subjects.
And so…
Whether dancing in the shadows of an abandoned airport or cautiously making your way down leafy corridors in search of the unknown, Lost Village is a technicolored, multilayered experience that will constantly keep you guessing. Surreal escapism at its best.