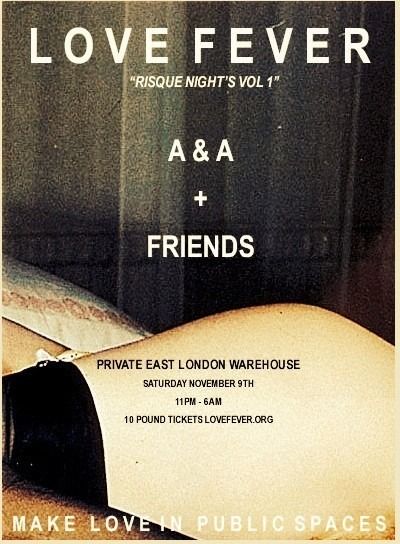 Love Fever Warehouse Party
Delighted to have found a new home for a series of adult orientated discotheques where we can lift the glitter ball, turn on the smoke, dim the lights and go till 6am with proper system & no restraints….. be risqué, dress risqué, and live another way together & the love fever display team will help provide the platform for you to escape into a world you want to be.
Love Fever / Deep East Location
Saturday 9th November
£10 Advance Tickets – http://original.jpgbit.ly/1hnbPWV
11pm – 6am
The venue was used last year for one of our best sessions in recent memory and now its pumped up with function one and all the trimmings. it's in deepest east and we can't wait to take over, dress it up & dance the night away.
Musically A&A taking control for the night and inviting some of their favourite London hot boys and girls behind the decks. House music, romantic music, close your eyes anything goes music. 300 people, private & care free.
Limited £10 tickets here – http://original.jpgbit.ly/1hnbPWV
Make love in public spaces