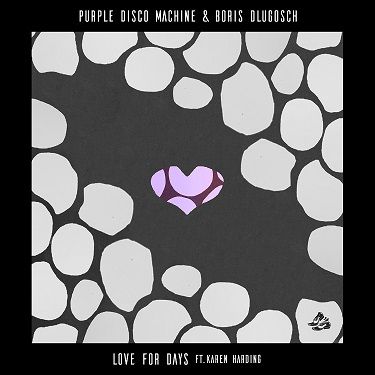 Purple Disco Machine & Boris Dlugosch ft. Karen Harding - Love For Days
Germany's world-class disco house artist Purple Disco Machine is back with a bang, dropping his highly anticipated debut LP, 'Soulmatic', and the album's second official single, 'Love For Days', both via Australian tastemaker label, Sweat It Out on 20th October.
The inspiring new single sees Dresden's funk machine team-up with Hamburg's esteemed house music stalwart Boris Dlugosh and the rising UK-based singer Karen Harding to deliver one of the standout tracks from 'Soulmatic' – an album which touches on all aspects of disco, boasting additional collaborations with the likes of;American soul singer CeeLo Green, pioneering UK-based dance group Faithless and legendary US rapper Kool Keith amongst others.
'Love For Days' is an uplifting sun-drenched house gem that follows the huge acclaim of the LP's warm-up single, 'Body Funk' – a track which hit the #1 spot on Beatport (Indie / Nu-Disco chart) and Traxsource (Nu-Disco chart) plus became the most played track on BBC Radio 1 throughout May, championed by Danny Howard & Pete Tong – and worldwide success of the first official single, 'Devil In Me, which has reached over 1 million streams on Spotify, peaked at #1 on Shazam (Ibiza chart) and #2 on Beatport (House chart) plus performed particularly well in Purple Disco Machine's motherland Germany (#1 Club chart + ​#16 iTunes Dance chart + #79 national Airplay charts) and in Australia/New Zealand (respectively peaking at #25 + #32 in Spotify's Viral charts).
Purple Disco Machine says: "For 'Love For Days' I took my inspiration from the classic disco house records of the past like 'Lola's Theme' and 'You Don't Want Me'. The aim was to connect big disco strings with a soulful vocal and an uplifting chorus that everyone can sing along to. Karen is an amazing singer from the UK and she co-wrote the song with the renowned songwriter Karen Poole".
Purple Disco Machine & Boris Dlugosch 'Love For Days' (Feat. Karen Harding) + Purple Disco Machine 'Soulmatic' are both available on 20th October via Sweat It Out.
FIND PURPLE DISCO MACHINE ONLINE:
https://twitter.com/PurpleDiscoM
https://www.facebook.com/purplediscomachine
https://soundcloud.com/purplediscomachine
FIND SWEAT IT OUT ONLINE:
http://www.sweatitoutmusic.com
https://www.facebook.com/sweatitout
https://twitter.com/sweatitoutmusic
https://pro.beatport.com/label/sweat-it-out!/9418