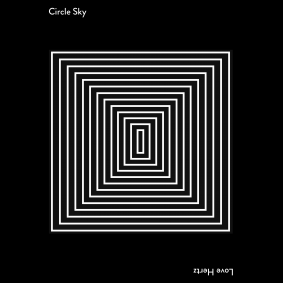 Circle Sky - Love Hertz
On Valentine's Day, Research & Development is to release a special single entitled 'Love Hertz' from singular electronic band Circle Sky, aka Richard Norris and Martin Dubka.
Richard Norris, is a legendary producer and engineer who has worked with everyone from The Pet Shop Boys to Bryan Ferry and made cult electronic music as Beyond The Wizard's Sleeve with Erol Alkan and solo as The Time & Space Machine. His partner in Circle Sky is synth wizard Martin Dubka, who has produced for the like of Ali Love and Lou Hayter, who's current single is picking up national radio support.
Together the pair embrace a hypnotic approach with resonant loops, fluctuating sounds and pulsing moods, and mix a vintage analogue warmth with digital technology to cook up fresh new sounds. Their live show is a swirl of pulsing lights, racks of LEDs, wires, and synched vortexes exploding in technicolour. The project is fronted by an enigmatic vocal presence, as the duo synthesize their own phonic utterances into the emotive stylings of singer, Iris.
The stunning new single is a real heartbreaker with tender synths washing over you as intimate vocals speak of the pain of love. Gentle rhythms slowly sweep you off your feet and carry you away in a heavenly melodic reverie that is magical and memorable in equal measure.
This is an immediately absorbing single from this exciting new band, and one that will connect with anyone who has ever been in love.
Tracklist:
1. Love hertz