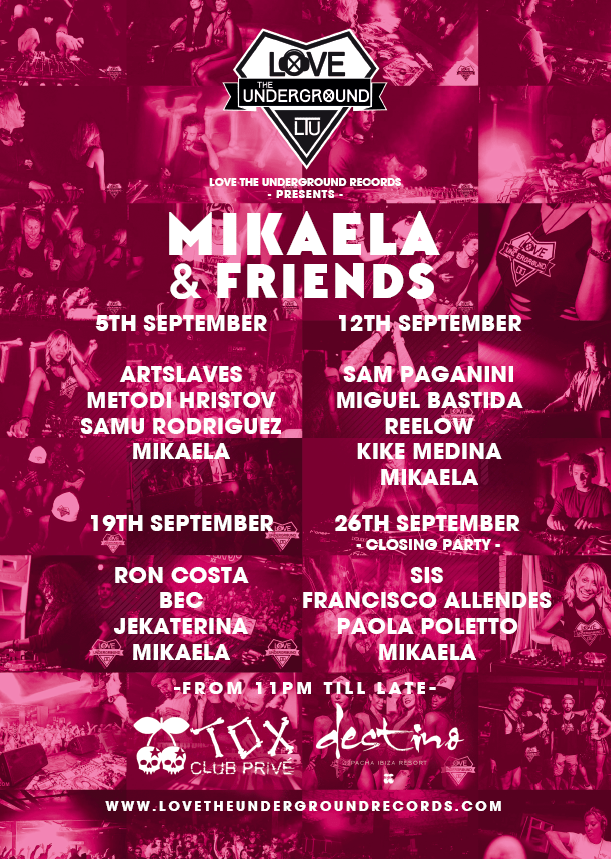 Love The Underground Records Announces Ibiza Closing Parties
After three unforgettable months of well attended and much talked about events, Mikaela's Love The Underground Records have announced their closing party programme, as they embark upon the final month of what can only be regarded as a triumphant inaugural season on the island.
As the lazy Ibizan days become ever shorter, and the summer draws to a memorable close, there is no disputing that Mikaela's label come party has successfully won over both Ibiza and the international electronic music community.
Affirming their position at one of Ibiza's best kept venues, Tox Club at Destino Pacha Resort, their concluding array of parties will no doubt continue to appease their growing ensemble of aficionados, with the chance to experience Love The Underground Records' purist ethos one last time.
Defying all the odds, Love The Underground Records' weekly party has proved to be one of the most successful new additions to the island's waning offering of truly intimate underground music affairs; which, is regarded by many as the principal reason behind its success, and why it has regularly played host to a capacity crowd of tech house and techno hungry revellers.
As well as the leading lady Mikaela playing each and every event since it debuted on June 13th, the likes of Popof, Marco Bailey, Butch, Yaya, Stacey Pullen, Cesar Merveille and Pirupa have all graced the Tox booth.
The 350 capacity venue has most definitely played a role in the event's success, with its chic décor, low ceilings, killer sound, pulsating lights and mesmerising lasers. For anyone who has been lucky enough to attend, I am sure you will agree that Tox has provided the perfect backdrop for constructing some truly memorable intimate affairs, and has been a great home for Love The Underground Records, who will celebrate its final party there on 26th September.
Heading up proceedings throughout September will be Sam Paganini, SIS, Francisco Allendes, Metodi Hristov, Paola Poletto, Ron Costa, Miguel Bastida, Reelow, Artlsaves, Bec and Mikaela herself, so you can be assured of a fine selection of tech, house and techno driven beats, as well as some colourful atmospheres and surprise extras to send the final nights out with a bang.
Taking all that in consideration, and absorbing everything which this novel Ibizan party has provided this summer, it's fair to say that both Love The Underground Records and Mikaela not only represent an appreciation for the best of underground music, but they also aspire to cultivating a utopian environment through which the masses can express themselves to the underground sound.