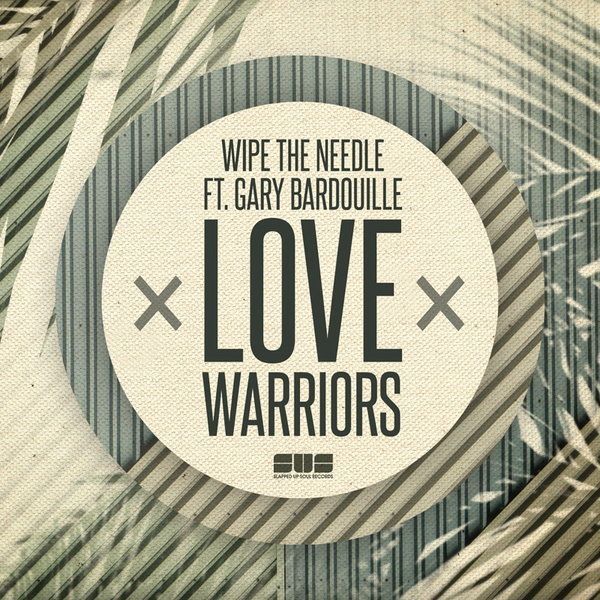 Wipe The Needle, Gary Bardouille - Love Warriors
Wipe The Needle is the production brainchild of Lee Gomez and a name that keeps growing in stature in the dance music industry. Lee started the brand in 2005, and has gone from strength to strength over the years, combining quality vocalists with beautiful keys, mesmerising percussion and strong basslines to bring us the wonderful compositions that we have come to know and love. With more than fifty releases to his name, including touches of soulful, deep, dark and tech, every track brings a different Wipe the Needle vibe to the dance floor.
Wipe The Needle collaborations include vocalists Sheree Hicks, Dawn Tallman, Gregory Purnell, Xavier, Lifford, Alex Lattimore, and Taliwa to name a few. Also featuring on various labels including Defected, 4th Floor, Makin Moves, Chic Soul Music, Restless Soul, Deeply Rooted House, Raw Fusion, Groove Odyssey, Solid Ground, Broadcite, Slip n Slide, and Soundmen on Wax, it is clear that Wipe the Needle is an act that is very much in demand worldwide. Recent releases include Love and Experimental with Sheree Hicks, Kissing You with Lifford, and remixes of Come Over with Kelvin Sylvester and Al Copeland, and Raindance with Gershon Jackson and Rona Ray.
UK vocalist Gary Bardouille has been involved in the dance music scene with since 2000. This is his third collaboration with Wipe The Needle, previous releases include the Love Is EP on the Soundmen on Wax label and Love Again, also on Slapped Up Soul. Gary has created beautiful music with several talented artists including Luca Ricci, Tom Gianelli, the JTE Project, Leggz, Tommy Marcus and Villanova.
Love Warriors is released on Slapped Up Soul, a Bristol based label who are known for their quality diverse catalogue of innovative dance music. Always looking to showcase the best in vocal talent, previous Slapped Up Soul releases feature accomplished artists including Lifford Shillingford, Robert Owens, Dawn Tallman, Charlene Samms, Circle of Funk , Taliwa, Louise Golbey and Mr V, to name a few.
The lyrical storyboard of Love Warriors describes how the world could be a better place by everybody spreading love through friends and family, and by 'raising an army of love warriors'. The beautiful concept of love being the ammunition to fight evil, and our hearts being the weapons to deliver love, this is a message that Gary conveys with real feeling, his warm, rich and soulful voice clearly perfect for this song.
Wipe The Needle's funky bassline blended with gorgeous piano and a four to the floor beat, has a delightful carefree vibe. This is a song that you can play in the car with the top down on a balmy summer evening, and yet it is equally at home on a club dance floor. With quality emanating from every touch, Lee and Gary have created a wonderful tune that will touch the heart of listeners worldwide. This is the sweet anthem that can inspire all of us to be Love Warriors.