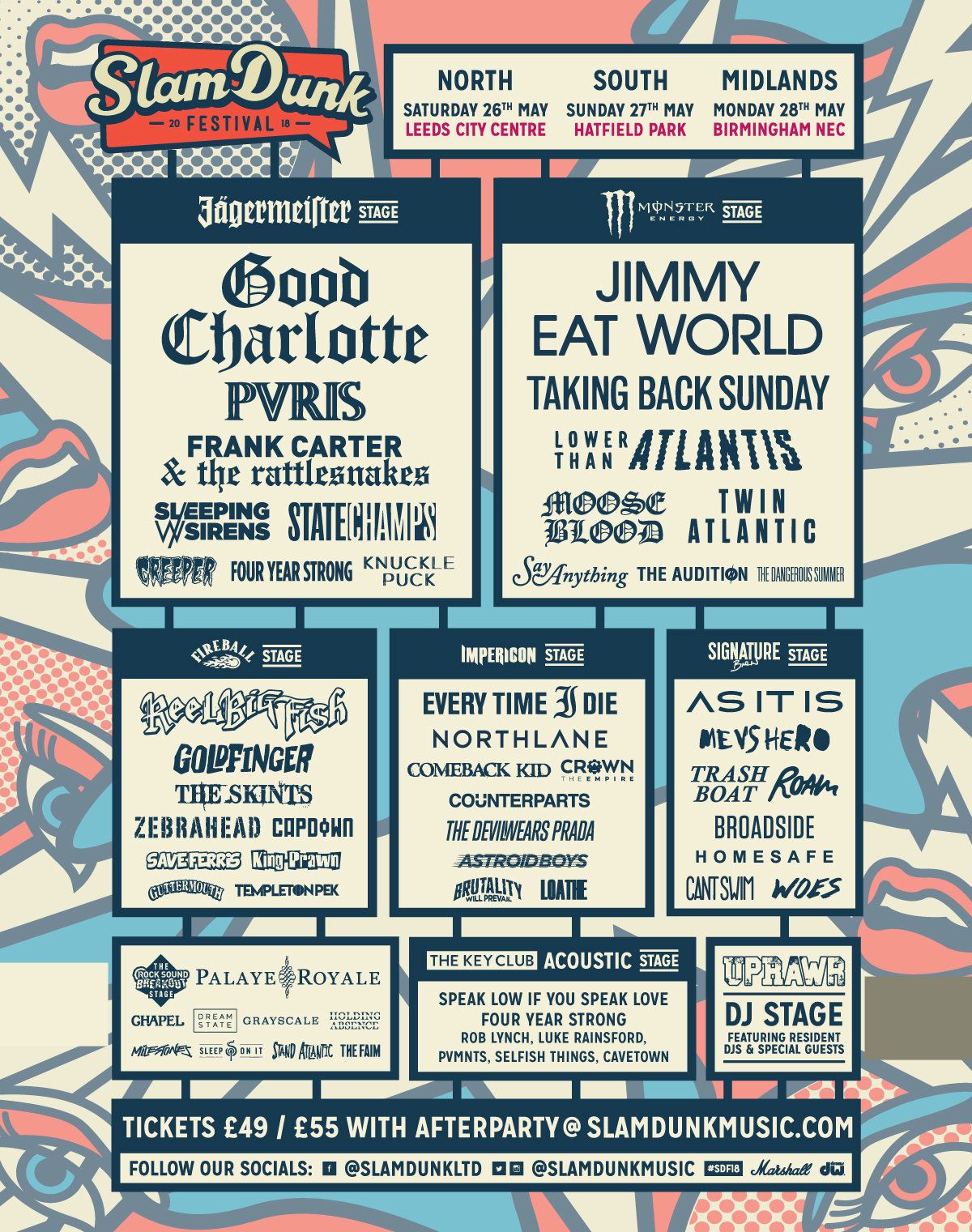 Lower Than Atlantis Lead Final Names For Slam Dunk 2018
Slam Dunk Festival, the unmissable pop-punk party of the summer, is delighted to reveal that Watford mob Lower Than Atlantis, emo icons Say Anything, Chicago favouritesHomesafe and easycore heroes Me Vs. Hero will join the impressive line-up. As well as these exciting new additions, Slam Dunk Festival have also announced stage splits for the May Bank Holiday weekender.
A true phenomenon within British rock music, Lower Than Atlantis began last year with a blistering headline show at London's prestigious Brixton Academy following the release of their fifth studio album 'Safe In Sound' which achieved #8 in the UK official album charts. Armed with an arsenal of anthems from their critically-acclaimed back catalogue, the Watford troupe's appearance Slam Dunk Festival will make for a truly undeniable display of British rock excellence.
Mike Duce of Lower Than Atlantis says;
"Slam Dunk is one of my favourite festivals in the world! The crowds are always up for a laugh and I feel like almost every band's sets feel like a headline set. It'll also be really nice for us to see all our mates that are in other bands. Social media content for days, a banging rock n roll show and then we make the big party!"
The brainchild of frontman Max Bemis, Say Anything are undeniable pop-rock figureheads, steadily releasing exemplary album after album despite multiple lineup changes in their long-standing career. Responsible for the powerfully imaginative single 'Alive With The Glory of Love' and subsequent hit tracks such as 'Wow, I Can Get Sexual Too', the electrifying 'Give A Damn' and theatrical 'Boyd' which featured Sherri Dupree-Bemis, the Californian kings are set to storm the stage when they return to Slam Dunk Festival in May, following their last appearance at the festival in 2012.
Homesafe, one of the hottest new names in pop-punk in recent years, see Knuckle Puck's Ryan Rumchaks switch from bassist to frontman to deliver one of the most-anticipated sets of the weekend as they will be their debut UK performances. Live performances of 'Relapse', 'Resolve' and 'When You Left'' are not to be missed.
In addition to these names, Slam Dunk Festival are proud to announce the exclusive reunion show of their old and treasured friends, Me Vs Hero. Mixing up pop-punk, hardcore and occasional heavy metal breakdowns, the original UK kings of easycore are back for Slam Dunk, playing their debut album 'Days That Shape Our Lives', in full over the weekend.
Slam Dunk Festival is also proud to announce the stage splits for this year's festival where the Jagermeister Stage is set to play host to pop-punk titans Good Charlotte as they make their Slam Dunk Festival debut, alongside arena rockers PVRIS and ferocious Frank Carter & the Rattlesnakes, as well as amazing acts such as State Champs, Knuckle Puck, Four Year Strong and of course, Sleeping with Sirens and Creeper.
The Monster Stage will be the place to catch emo-rock legends Jimmy Eat World as they celebrate their 25th anniversary with their first performance at Slam Dunk Festival. Showing them how it's done will be Taking Back Sunday who will unite the crowd withheart
-felt singalongs with additional performances from Lower Than Atlantis, Moose Blood, and Twin Atlantic, the Monster Stage will also see unmissable reunion performances from The Audition and The Dangerous Summer.
This year's Fireball Stage will see fan-favourites Reel Big Fish's return to Slam Dunk as this stage's headline alongside Californian legends Goldfinger, Brit reggae-punks The Skints, with Zebrahead and Capdown as they join Save Ferris, King Prawn, Guttermouth and Templeton Pek for the biggest punk & ska-party of the year!
Known for bringing the heavy, the Impericon stage has all bases covered this year with American hardcore punk rockers Every Time I Die topping the bill. In addition to these incredible heavyweights, the Impericon Stage also welcomes the return of Canadian leaders Comeback Kid, Northlane, Crown The Empire, The Devil Wears Prada and Astroid Boys. Counterparts, Brutality Will Prevail and Loathe will be appearing here at Slam Dunk Festival for the first time ever.
Over on this year's Signature Brew Stage, Patty Walters will be leading As It Is to the top, following highly-anticipated sets from UK pop-punk front-runners ROAM, Trash Boat and Woes and favourites Can't Swim and Broadside. New additions Me Vs Hero & Homesafe will be also now joining them!
One for the new music aficionados, the Rock Sound Breakout Stage will see the hottest new bands perform. Canadian troupe Palaye Royale, American favourites Chapel and Dream State will appear alongside Grayscale, Holding Absence, Milestones, Sleep On It, Stand Atlantic and The Faim.
Paying homage to Slam Dunk Festival's humble beginnings, the acoustic Key Club Stageis packed with some of the most exciting acts in contemporary rock music. Warming up the stage for headliners Speak Low If You Speak Love will be UK natives Rob Lynch, Luke Rainsford and Cavetown before an American invasion of Four Year Strong, PVMNTSand Selfish Things.
In the biggest line-up to date, Slam Dunk Festival 2018 is set to play host to an unparalleled exhibition of pop-punk movers and shakers as it welcomes blistering performances from co-headliners Good Charlotte and Jimmy Eat World, a reunion exclusive from The Audition (Worldwide exclusive) as well as highly anticipated sets from the likes of Frank Carter & The Rattlesnakes, PVRIS, Taking Back Sunday, Creeper, Every Time I Die, Sleeping With Sirens and many more. Whether you're at Leeds City Centre on May 26th, Hatfield Park on May 27th or Birmingham's NEC, Slam Dunk Festival 2018 will be the ultimate alternative party of the summer.
TICKET INFORMATION
Tickets on sale now and are available from http://slamdunkmusic.com/
Cost £49 or £55 including the infamous afterparty. All subject to booking fees.