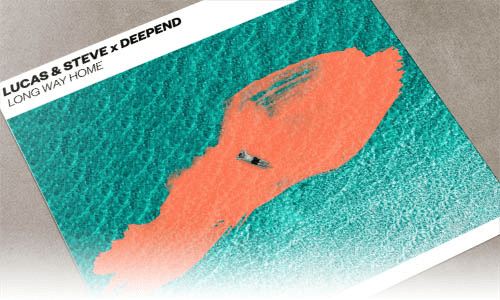 Lucas & Steve x Deepend are taking 'Long Way Home'
Teaming up for what might be one of the most anticipated collabs this year, Dutch acts Lucas & Steve and Deepend present 'Long Way Home'. It's an instant classic presented here, featuring the feelgood energy of both acts, laying down infectious vocals, tempting hooks and overwhelming hands-in-the-air chorus. Life is good in the hands of these seasoned tastemakers, get ready to take a sweet long way home – out now on Spinnin' Records.
Surely, these two acts seem to be made for each other. Both have a knack for inviting melodies, uplifting chords and feelgood vibes, while always maintaining a strong connection with the dancefloor. Recently, both Lucas & Steve and Deepend have explored their pop sentiments more and more, resulting in strong vocal tracks, built to wow festival audiences as well as conquer radio airwaves all over the world.
'Long Way Home' can be considered the culmination of this evolution. Building a warm, summery vibe with sweet guitar chords, radiant vocals take over towards a huge singalong chorus, exploding into a mesmerizing drop, where the guys go all the way with strong synth melodies. It's a musical climax delivered here by two acts at the height of their abilities – resulting in a record that's bound to soundtrack this summer.
"Deepend and us go long-way back. We've known each other from (Dutch province) Limburg, and recording a track together has been on our wish list for a long time. So happy we finally got into the studio together, we really complement each other very well, which you can definitely hear in the end result." – Lucas & Steve
"This is definitely my most exciting collab to date. I've known the guys for many years and we always had the idea to team up one day. 'Long Way Home' represents our common love for uplifting and melodic music suitable for both radio and the big festival stages." – Deepend