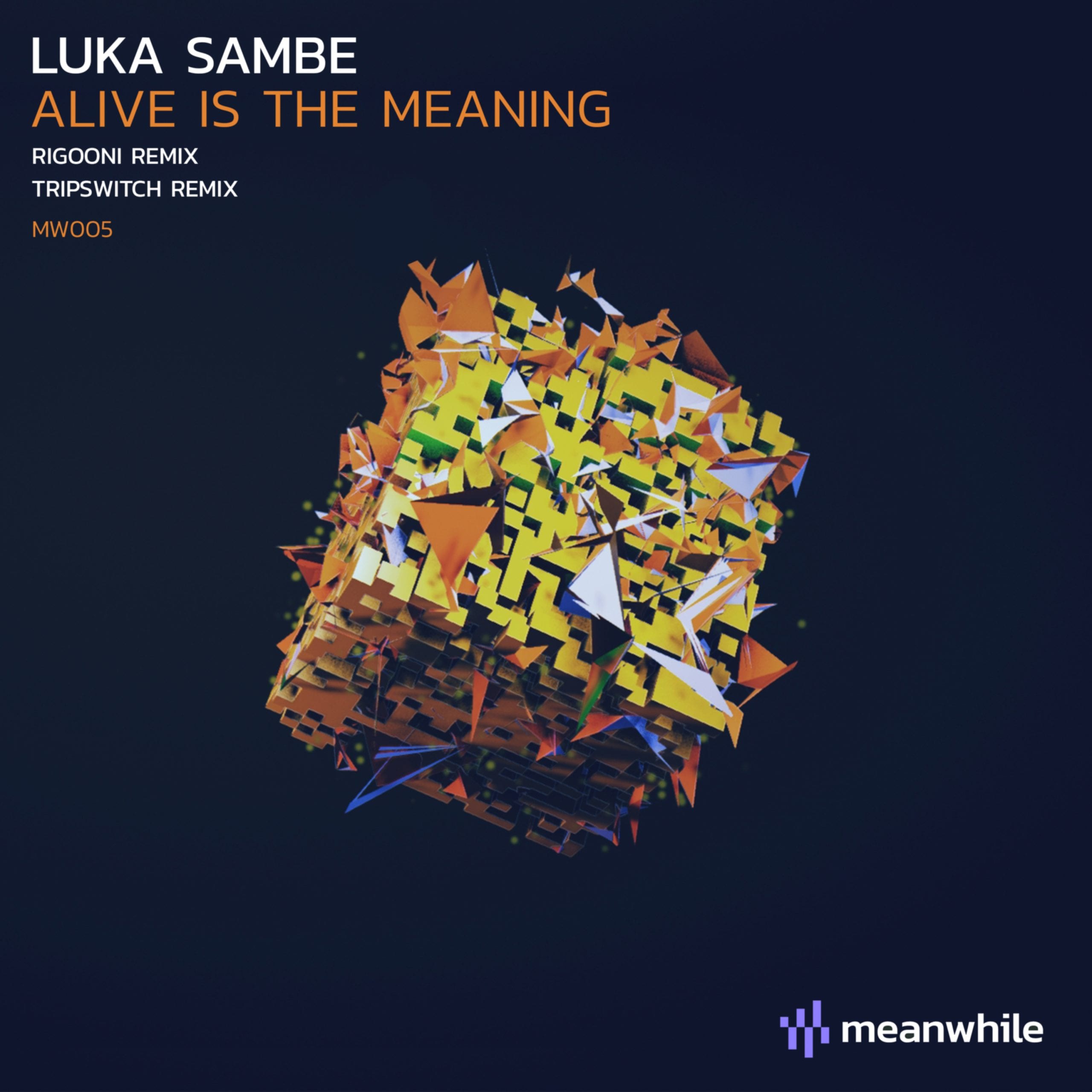 Luka Sambe releases his wonderfully evocative 'Alive is the Meaning'.
Earning a fast-growing reputation with its distinctive sound and immaculate curation, Melbourne's Meanwhile unveils another label debutant, their compatriot Luka Sambe, with his wonderfully evocative 'Alive is the Meaning'. An equally excellent pair of remixes courtesy of São Paulo's RIGOONI and highly respected UK DJ/Producer Tripswitch, complete this superlative global talent package 
Immediately compelling, Luka Sambe's Meanwhile debut bristles with percussive energy in the opening phrases, as a heavy kick and cavernous sub-bass provide the perfect syncopated framework for a developing array of melodic textures. Building with delicate and consummate ease, 'Alive is the Meaning' sees a glorious range of free-flowing melodies percolate and swirl across a 9-minute magnum opus that hypnotizes with its dizzying stereo-panning and shimmering arpeggiated patterns rising to a rousing crescendo – a gloriously constructed, highly original creation.
Michael Acuri (aka Luka Sambe) is no stranger to the electronic music scene and is well respected for his unique blend of progressive, tech and deep house. Indeed, releases for Guy J's Lost & Found, Hernan Cattaneo's Sudbeat and Robert Babicz's Babiczstyle, illustrate precisely why this Australian DJ/Producer is one of the industry's hottest properties, counting almost 300 production credits to his name, stretching back some 7 years. 
A pounding beat juxtaposed against subtle melodic phrasing characterises the immense RIGOONI remix, as the track moves with power and hypnotic pace. Making clever use of core themes within the Luka Sambe original, RIGOONI's skill is to take these as a starting point and extend them through a series of new motifs and free-flowing patterns that reveal themselves at the breakdown and into an innovative third movement.
Operating out of his Sao Paolo home, RIGOONI is a relative newcomer to the progressive house scene after a January 2018 debut. Quickly making waves with his standout compositions, the self-taught producer found his music represented on Nick Warren's Balance compilation, followed by his debut EP for Warren's The Soundgarden imprint. Since then, RIGOONI's productions for the likes of Clinique, Superordinate Music and MNL, have continued to shine an ever-brighter light on the rising Brazilian artist. 
To complete this outstanding EP, Tripswitch provides a glorious reworking of 'Alive Is The Meaning' that glistens with a rich melodic sheen that is so uniquely distinctive in his creative palette. Pulsating waves of sound flow gently across the left-right spectrum; shimmering keys twinkle alongside multi-layered pads and swells rise and fall with ease; while a sumptuous bassline groove adds the perfect weight and structure to this spellbinding interpretation.
Nick Brennan is an artist who needs little in the way of introduction to the underground dance cognoscenti. Through his Tripswitch pseudonym, this UK artist has delivered a multitude of material over a career stretching back almost two decades. Tripswitch's production career has seen releases on Sudbeat, Global Underground and Bedrock, alongside his own onedotsixtwo and Section labels, which continually provide powerful platforms for his own music alongside a host of global talent. 
Out Now Beatport: https://www.beatport.com/label/meanwhile/84756