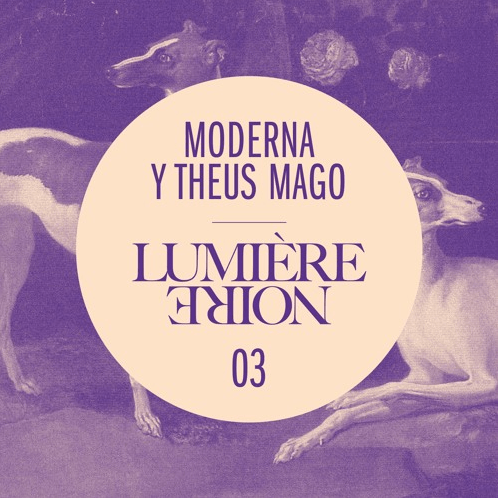 Moderna Y Theus Mago - Lumiere Noire 03
Kill The DJ continues its Chloe curated Lumière Noire series with a four track EP from Moderna Y Theus Mango this April, accompanied by a remix from Die Wild Jagd.
Chloe : ''We are happy to bring you the third opus of the Lumière Noire collection. This one is a one-way ticket to Los Angeles – Mexico – Paris offered by our beloved mariachis Moderna Y Theus Mago. Immersive slow-tracks, techno tension at its best with sharp acid bass lines.
Behind Theus Mago is hidden Mexican producer Mateo Gonzalez, involved in several dance music projects such as Bufi (Kitsuné / Discotexas), Sonido Fantasma (Turbo recordings) and co-manager of the new label Duro. DJ & producer Moderna started in music as a producer in a noise band [The Static Cult]. She used to work for the prestigious label Ghostly International for a long time. There, she began to evolve by producing and promoting events all over the world, collaborating with artists such as Tycho, Telefon Tel Aviv and Matthew Dear.
Moderna & Theus Mago met in Mexico a day of Ley Seca [when the Mexican government shut all bars and clubs down the entire weekend for voting purposes]. That night, as DJ's in the city were gig-less, they organized an impromptu "illegal" house party outside the city, with most of the local heroes (Mijo, Sanfuentes, Bufi, Andre VII, Moderna, Max Schmitt, Watty and more).
This EP is the result of the Ley Seca, three tracks of pure modern techno fuelled by a fight for your right to party. 'Dog Is Calling You' is an expanding slow mixture of acid & techno sounds, 'Papa En Roy' has something effective & functional creating classic techno with an obsessive and repetitive bassline further fuelled by Moderna's vocals. 'Asesino Psicotico' fuses techno energy with a house-tinged groove. Dog Is Calling You (Die Wild Jagd Remix) then closes the package and the band have reworked Moderna y Theus Mago to perfection bringing something more organic to this technoid track.''
Moderna Y Theus Mago, Lumière Noire 03 is out on Kill The DJ 1st (vinyl) and 15th (Digital) April 2016.
Tracklist
1. Dog Is Calling You
2. Papa En Roy
3. Asesino Psicótico
4. Dog Is Calling You (Die Wild Jagd Remix)