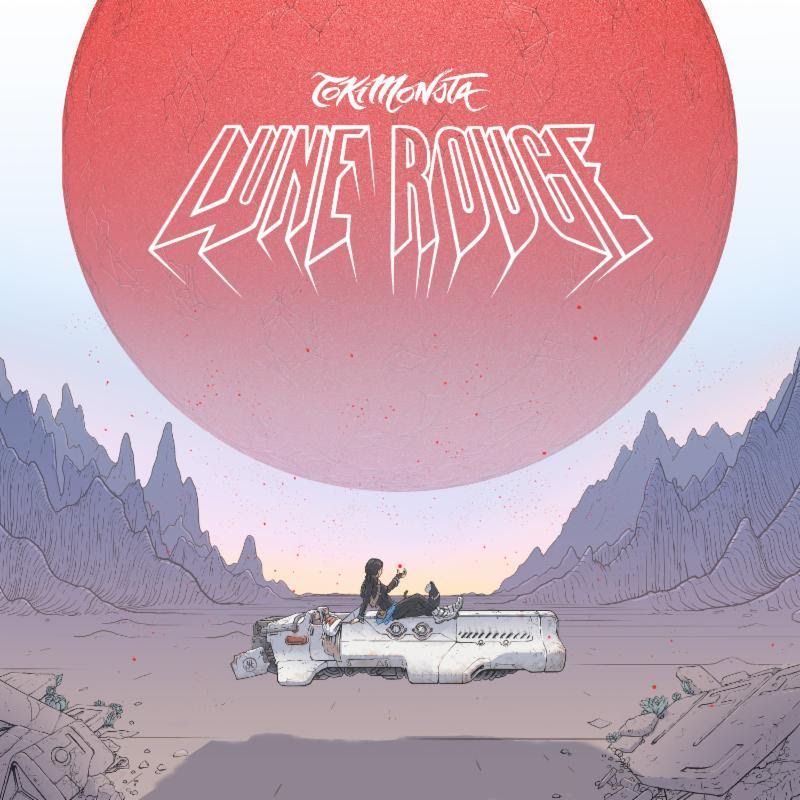 TOKiMONSTA - Lune Rouge
Acclaimed Californian producer TOKiMONSTA today shares her new album 'Lune Rouge' via her own imprint Young Art Records. A smoky, patient, and cohesive 11-part offering, 'Lune Rouge' mixes modern sensibilities with old-school sounds to make for a heady brew of moonlit music.

'Lune Rouge', which follows on from 2013 sophomore album 'Half Shadows', both showcases and transcends TOKiMONSTA's penchant for producing inventive cuts intertwined with hip hop, pop and R&B influences. The stunning project represents 2 years of dedicated creation; TOKiMONSTA started crafting 'Lune Rouge' in late 2015 before being diagnosed with a rare neurovascular condition called Moyamoya. A year later, after two major brain surgeries and extensive rehabilitation, the album was finished.

Using her classic piano training as a springing board for her complex and intricate productions, 'Lune Rouge' sees TOKiMONSTA's effervescent beats serve as a framework for a host of stand-out collaborations. In brooding electronic offering 'Don't Call Me', Malaysian singer-songwriter Yuna's voice weaves in and out of water-droplet tones, lacing the single with seductive R&B tinges. TheMNDR-featuring 'We Love' serves up perfect summer vibes with aquatic synth stabs and an instantly infectious chorus.

Tracks 'I Wish I Could' and 'Early To Dawn' feature input from acclaimed Belgian singer/songwriter Selah Sue, as her ethereal vocal is fused with TOKiMONSTA's twinkling productions in two lush takes on contemporary R&B. Stand-out cut 'NO WAY' harks back to the 'golden age' of 90s hip-hop, with TOKiMONSTA's grooving low-fi production interspersed with features from Isaiah Rashad, Joey Purp, and Ambré Perkins.

'Lune Rouge' is inspired by and named after the ominous 'red moon' phenomenon;

"I chose the title Lune Rouge, which translates to 'red moon', because I think people perceive it to hold ominous weight, however, a red moon is rare and pretty awesome event from a scientific perspective and, to me, means significant change."
TOKiMONSTA

And Lune Rouge marks the latest change in her prismatic career. A remarkably cohesive body of work, this LP speaks volumes on talent for a producer that throughout her career has been a champion of the issues women in the music industry face and has used her voice to help break barriers, straddling the line of revered music trendsetter and dance world entrepreneur. TOKiMONSTA's music has seen support and praise from the likes of FACT, Fader, Stereogum, i-D, Dazed, The Guardian,

LUNE ROUGE TRACKLISTING
1. Lune
2. Rouge
3. Thief (feat. SAINTS)
4. I Wish I Could (feat. ‪Selah Sue)
5. We Love (feat. ‪MNDR)
6. Bibimbap
7. NO WAY (feat. ‪Isaiah Rashad, Joey Purp & Ambré Perkins)
8. Don't Call Me ft. Yuna
9. Rose's Thorn
10. Early to Dawn (feat. ‪Selah Sue)
11. Estrange (feat. ‪IO Echo)

Lune Rouge is released TODAY – 6th October 2017.