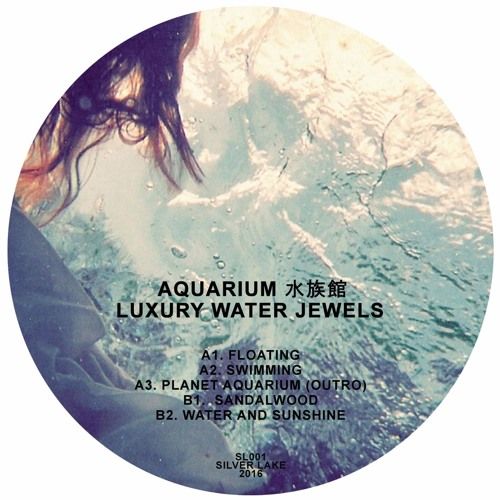 Aquarium - Luxury Water Jewels
Opening track 'Floating' is the foreword – a stunningly cinematic, cascading piece of music. Diving in and out of water, there is the essence throughout of being the avatar in your very own computer game. The piano chords strike the most eerie of melancholic shivers and introduce the undeniable Japanese theme of 'mono no aware' – a sensibility which goes on to haunt the whole of the A side.
'Swimming' brings about transient, human textures – coming up for air we breathe and then dive deep through the ocean. Much like DIY mixtapes and epic albums, this feels like a gentle interval, a place outside of space and time, hinting subtly at what is to come.
'Planet Aquarium (outro)' closes out the A like some magical early 90's vine, all video games, apple mac and cosmic 8-bit dreams… A strong nod to Air's Alone In Kyoto and Squarepusher's masterpiece, Tommib. This is Scarlett Johansson gazing out across the blinking lights of Tokyo's midnight skyline.
Opening up the B, 'Sandalwood' is the moment after a dreamy sleep, we open our eyes for the first time and see clearly. Underpinning this track the 4×4 kick and solid sub give definite club sensibilities – this wouldn't be out of place in DJ Sprinkles record bag, gently building those early floors.
Closing things out 'Water and Sunshine' continues this theme and closes the story arc. Introducing percussive elements to those never-ending pads we are reminded of the deep oceans of 'Swimming', yet with a twist of club practicality. This one is shifting gears, set transitioning material. Just as well suited to opening a dark floor or an early morning terrace as it is for those hazy headphone moments…
Drops mid October 2016