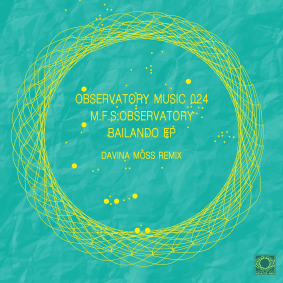 M.F.S: Observatory "Bailando (Incl. Davina Moss Remix)"
M.F.S: Observatory follow their recent string of remixes on Observatory Music with the bubbling five track 'Bailando' EP, welcoming Davina Moss to the label to remix the title cut.
Observatory Music bosses Mattia Turchetti and Francesco Cozzolino aka M.F.S: Observatory have become one of Italy's most exciting emerging duos in recent years, releasing their blend of driving house via imprints such as Roush, Wow! Recordings, Oblack and Little Helpers. Following a run of recent remixes on their label, turning in fresh interpretations for Arado, Black Girl / White Girl and Louis Options, here we see the duo reveal four fresh original productions in the form of their 'Bailando' EP, whilst Hot Creations regular Davina Moss makes her label debut.
Title track 'Balindo' opens proceedings as the duo work skipping hats, bubbling acid patterns and tribal vocal calls, whilst 'Bass One Bass' sees regimented percussion, bumping bass licks and punchy kicks join the fore. Next, 'Da Art' fuses twisting lead synths and tripped out vocal snippets, before final original production 'Don't Know' reveals energetic builds, jacking drums and menacing synths. To close, Davina Moss ups the tempo and harnesses 'Balindo's original acid melody to reveal a peak time production packed with groove and authority.
M.F.S: Observatory 'Bailando' is out on Observatory Music on 21st June 2019.
Tracklist
1. Bailando
2. Bass One Bass
3. Da Art
4. Don't Know
5. Bailando (Davina Moss Remix)