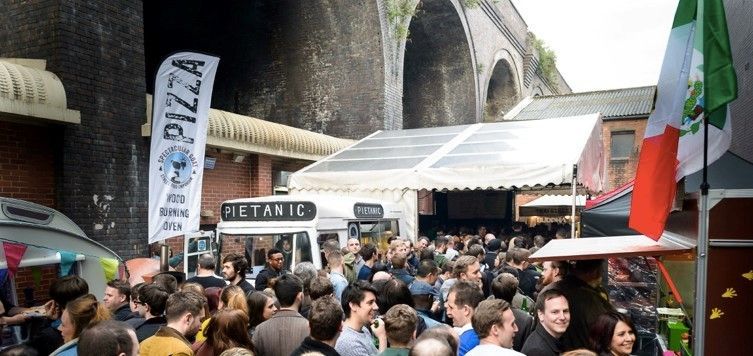 MADE Birmingham adds 2nd day
Returning to The Digbeth Triangle for 2015, MADE Birmingham debuted last year to huge success, being nominated for Best Metropolitan Festival in the UK Festival Awards. With an already stellar programme of both live music and DJ performances confirmed for Saturday 25th July – headline sets from MK and Wilkinson and performances from the likes of Claude VonStroke, Heidi, Julio Bashmore, Beardyman, David Rodigan and Norman Jay – the festival is proud to reveal that a second day (Sunday 26th July) will be added with food host, the multi award winning, Digbeth Dining Club as well as further additions to the lineup including local hero, Low Steppa and rising house duo 99 Souls.

SECOND DAY ADDED TO THE FESTIVAL, SUNDAY 26TH JULY
Presenting MADE Birmingham's second day; a celebration of food, beverage and artistic talent from the Midlands and beyond. Digbeth Dining Club, award winning street food event which has revolutionised the scene in Birmingham, returns to host the food programming on the day whilst a selection of independent breweries, distilleries, street art from Digbeth's City of Colours, live music, spoken word, retro gaming, and more will be on offer. Proceeds will go to local charities.
"As an event, we are always looking at ways of showcasing food in a fun environment that excites our customers. MADE Birmingham really caught the attention of the city in 2014 and hosting the Sunday is an opportunity to reward everyone for the support they have shown us over the last 3 years. Birmingham has become the platform for exciting events and working with MADE Birmingham, this promises to be our best yet." DDC co- founder, Jack Brabant
DDC has enlisted a host of the city's favourites to head the 20 strong food vendor lineup including The Meat Shack, Buddha Belly and Habanero. MADE will also be showcasing a selection of breweries and gin shacks on the day in the relaxed surrounding of long tables ala Oktoberfest and with the local artists of Digbeth's own City of Colours, who also celebrated their inaugural festival in 2014, presenting the best in street art.
Tickets for MADE's day 2 start from £5 and are available at www.madebirmingham.com

NEW LINEUP ADDITIONS; LOW STEPPA, 99 SOULS, JASPER JAMES, THE HEATWAVE, TOM SHORTERZ + KURUPT FM
Homegrown talent and Birmingham's finest, Low Steppa needs little introduction. A heavyweight in the bass music scene, he has been producing a host of celebrated tunes under several aliases and collaborative projects (e.g. Twocker, Rudi Stakker, Bass Weazal, Dreadstemz) not to mention his Simma Black imprint which is going from strength to strength. MADE invite him to play the Main Stage closing set for 2015.
Fresh from the success of their viral gold mine, 'The Girl is Mine' – which was debuted last year as Pete Tong's Essential New Tune – 99 Souls AKA Le Project Secret is also announced for the Main Stage billing. The up and coming house duo are known for drawing influence from the worlds of Jazz, Hip Hop and everything in between and are set to get pulses raising at the event.
A further addition to the already heaving lineup, BBC's Essential Mix and Rinse FM guest slot regular and the youngest DJ ever to play Glasgow's legendary Sub Club, Jasper James will be making his mark on the Digbeth Triangle this July. He is also joined by the UK's number one Bashment sound, bringing high energy and quickfire mixing, The Heatwave, a Rainbow Venues favourite and Birmingham rising star, Tom Shorterz and the London pirate radio collective behind BBC's People Doing Nothing, Kurupt FM.
With these new additions and more to be revealed over the coming month, there is no doubt that MADE Birmingham will showcase an diverse and high quality selection of local and international music, art and culinary talent in 2015 re-enforcing the second city's reputation as a groundbreaking, innovative and diverse creative hub.

LINEUP
SATURDAY 25TH JULY
MK, WILKINSON
99 SOULS, BEARDYMAN, BLONDE (LIVE), CLAUDE VONSTROKE, DAVID RODIGAN, DOORLY, DORSIA, DUSKY, FONO, FRICTION, THE HEATWAVE, HEIDI, JASPER JAMES, JULIO BASHMORE, KURUPT FM, LEE FOSS, MATRIX & FUTUREBOUND, LOW STEPPA, NIGHTMARES ON WAX (DJ SET), NORMAN JAY MBE, PALEMAN, PHILIP GEORGE, PLEASURE STATE (LEE FOSS, MARC KINCHEN, ANABEL ENGLUND), STANTON WARRIORS, SUBB-AN & ADAM SHELTON, TOM SHORTERZ, TROJAN SOUNDSYSTEM (DEX N FX) & MORE TO BE ANNOUNCED
SUNDAY 26TH JULY
FOOD PROGRAMMING FROM DIGBETH DINING CLUB:
PLATINUM PANCAKES, MEAT SHACK, CANOODLE, ESMIE'S, SAVANNA GRILL, BIG, DADDIES DINER, DELIZIE ITALIANE, BUDDHA BELLY, HABANERO, FYBIN AND LOIN, BAKED IN BRICK, MEATHEADS, FAT DUCK SPUDS
Third Release and VIP tickets for Saturday and £5 earlybird tickets are on sale now from www.madebirmingham.com