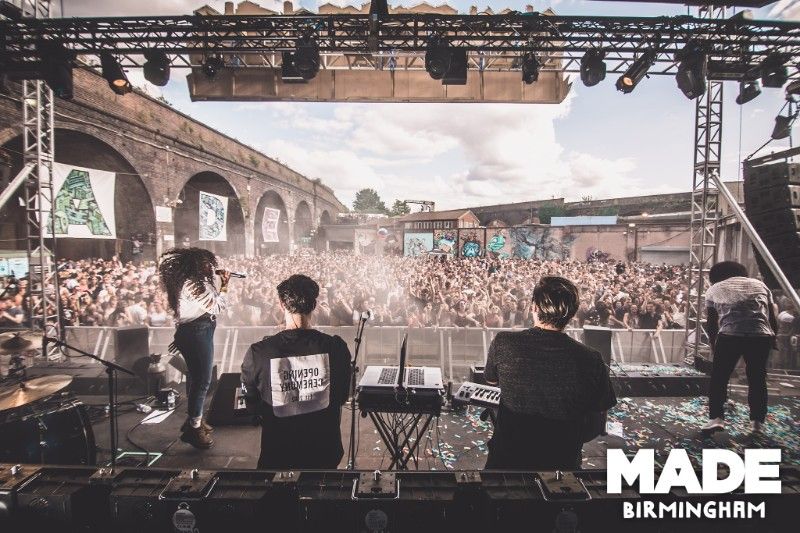 MADE Birmingham becomes 3 day event…
As Birmingham's much hyped inner-city festival draws near, the development of MADE Birmingham now enters into its third phase – by not only releasing a selection of an impressive array of artists and three extra headliners – Kano, Dusky and Shy FX, but also adding an extra 2 days to complete the now three-day event taking place on Friday 29th July – Sunday 31st July. The cultural festivities will begin with a Food and Drink festival on the Friday – in association with the award winning Digbeth Dining Club, as well as twenty further acts that will be partaking on the already impressive Saturday daytime line up. This will be finished with the Hacienda Classical on the Sunday bringing the music that defined the legendary club by Manchester Camerata.

On Sunday 31st July, the outdoor festival styled event will take place on hard standing ground as MADE, in association with SJM, will proudly bring the Hacienda Classical to the second city. The tunes once played in Manchester's legendary Hacienda club will be recreated with an electrifying 40-piece orchestra and choir alongside hard-cutting original residents Graeme Park and Mike Pickering. A cultural clash of sounds that will centralize the allusion of MADE Birmingham. Peter Hook and the Light who will be performing an electronic New Order set. With street food aplenty and other activities, never has a summer Sunday in the second city semmed more appealing.

Breaking the ceiling on a lineup already set to crack the floor, MADE's block-rocking bass and urban offering has been backed up with yet more bosses of the scene. The mic magic behind freshest release 'Made in the Manor' in Kano, and similarly gifted verbal gravitas of Birmingham's own 'Queen's Speech' Grime-stress Lady Leshurr, broaden a bill boasting the best of UK music wave-makers and those riding the crest. This feeling for low frequencies and fire lyricism is incited further with a host of added DJs aside the full force of Phase 1 and 2: Old-skool sovereign Shy FX leads with a specialism for bass and breaks, Swamp 81's Klose One, Rinse FM's Mark Radford and deep groove demigods Dusky. This full-tone affair just got amped up.

It wouldn't be a testament to the cultural diversity of the City of Birmingham without the huge celebration of street food, arts and music. A family driven day of fun activities and a range of fresh music in play, to invite all ages to experience the artistic gathering of people. The Food and Drinks Festival is a joint effort graciously brought to the city by MADE and the award-winning Digbeth Dining Club – with food traders originating across Birmingham and beyond that will be offering a variety of native foods from around the globe. Buddha Belly will be serving authentic Thai food, with the gluten free Panang curry as a specialty served with aromatic jasmine rice. Whilst Platinum Pancakes and Bournville Waffle Company will be onsite to provide a sweet tooth fix for all dessert lovers. Bare Bones Pizza is run by father and son team to produce wood fired pizzas that is definitely rated as 'Boneafide'. Amongst others, The Flying Cows will be bringing the beef with their signature burgers and all round flair. With over 15 Food traders already confirmed, the Friday Food and Drinks Festival will be within limited capacity – early arrival is essential.

As the surprises keep coming, the inimitable festival will round off the Saturday with the MADE… My Night, night time party from the late hours of 11pm till 6am – the tickets and line up announcement will be on Monday 2nd May.
LISTINGS AND INFO

Friday: Food and Drinks Festival 

In association with Digbeth Dining Club
Friday July 29th / 5pm – 11pm 

Lower Trinity Street, Birmingham B9 4AG


Price: MADE Festival ticket holders get in free / non-ticket holders – small cover charge 

Info: All ages welcome, please bring ID 

Food Traders Confirmed So Far:
Big Daddies Diner, Platinum Pancakes, Bare Bones Pizza, Canoodle,The English Indian, Open Sesame, The Indian Rasoi, Flying Cows, Esmie's, Low N Slow, Bournville Waffle Company, Buddha Belly, Smoqued, Kebab Cartel, Baked in Brick 2, Homeboys
*Drinks, arts and music details coming soon



Saturday: MADE Birmingham: MADE… My Day

Saturday July 30th / Midday to Midnight 
The Digbeth Triangle, Birmingham B12 0LD
Price: £29.50-44.50 Standard, £55-65 VIP 

Tickets: www.madebirmingham.com

Info: 18+ event, please bring ID 

Headliners:
Rudimental DJ, Stormzy, Andy C, [Just Announced] Kano, Dusky, Shy FX
Phase 3 Just Announced (A-Z): Etherwood,Hott Like Detroit, Hugo Massien, Jaded, Jakkin, Rabbit,
Klose One, Krakota,Lady Leshurr, Maduk,Marc Spence, Mark Radford, NVOY,
Pete Graham, Skapes,
Ten Story,
Tom Shorterz,
Tommy Vercetti 


Already Announced (A-Z): Chris Lorenzo,
Fred V & Grafix,
Low Steppa,
Mike Skinner & Murkage present Tonga,
Monki,
Noisia, Redlight, S.P.Y

Saturday: MADE Birmingham: MADE… My Night

Saturday July 30th / 11pm – 6am Venue TBA 

Price: From £17.50+bf, Free Entry for MADE VIP Ticket Holders
Tickets: www.madebirmingham.com [On Sale: Monday 2nd May] 

Info: 18+, please bring ID


Sunday: MADE Birmingham: Hacienda Classical 

Sunday July 31st / 3pm – 9pm (last entry 5pm) 
The Rainbow Arena
Lower Trinity Street, Birmingham B9 4AG


Price: £35+bf 

Tickets: www.madebirmingham.com
[on Sale: Friday 22nd April – 10am] Info: 18+, please bring ID
This is an outdoor festival styled event, on hard standing ground. Food traders supplied by Digbeth Dining Club. 


LINKS
www.madebirmingham.com
www.facebook.com/wemadethis
www.twitter.com/made_birmingham #MB15
www.instagram.com/madebirmingham

TICKETS
Third Release £39.50 + BF
VIP £65 + BF

Online: www.madebirmingham.com