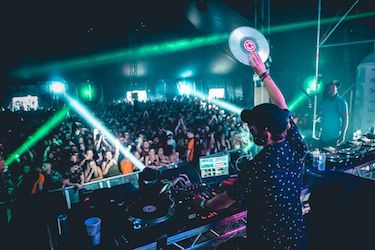 MADE Festival Celebrates 5 Years In Style
Selling out for the 4th consecutive year, the 5th edition of MADE Festival sees the event come of age, as over 12,000 electronic music fans gather in Perry Park to defy the weather and enjoy unforgettable performances from the likes of Dizzee Rascal, Andy C, Not3s, High Contrast, Yxng Bane, DJ EZ, Fisher and many more…
MADE Festival celebrated 5 years on 28th July with a hugely successful event in its new home at Perry Park. Despite high winds forcing some last minute changes to the arenas, nothing was going to stop over 12,000 electronic music fans – a sold out event for the 4th consecutive year – from throwing the biggest party Birmingham has ever seen. Every single artist on the lineup delivered over and above expectations and the crowds showed their appreciation. Highlights included a storming headline set from Dizzee Rascal, Andy C dropping tune after tune in the RAM Records arena, Fisher leaving the crowds delirious with his first UK festival appearance, DJ Zinc tearing up a classic jungle set as the MADE party people danced in a sudden thunderstorm, and, as if by way of an apology for earlier misdemeanours, Mother Nature throwing a stunning rainbow across the entire festival. There were so many special moments as MADE Festival truly staked its claim as one of the UK's leading electronic music festivals.
MADE Festival Director, Pete Jordan comments,
"This was, without a doubt, the best MADE Festival we've ever produced. The team and I have been completely overwhelmed by the amazing response from the Birmingham audience, as well as the support shown to us by all the local authorities and residents. This is the 4th consecutive year the festival has sold out and we are so excited to start planning next summer's event in our new home, Perry Park."
Perry Park proved to be the perfect venue for MADE Festival; a greenfield site able to deliver an authentic music festival but located less than 15 minutes from the city centre. The various arenas were close enough to each other to allow festival-goers to catch all their favourite acts and savour the different atmosphere in each. Everywhere you looked there were people dancing, from the MADE Arena, to RAM Records Arena, Portal Arena and the 02.31 Stage, where they braved unpredictable elements to put on some definite highlights, such as a one off B2B2B from DJ Q, Preditah and Tom Shorterz. The skills of the local DJ talent also saw the Fun Bus draw a dancing crowd all day long.
In the middle of the site a tantalising array of smells and sights came from the wide range of carefully selected food traders, offering everything from pancakes to vegan sausages. No queues were ever too long and the smooth running of the festival as a whole is testament to the hard work of the team behind it and focused co-operation with the local authorities.
Drug safety testing was available on site with The Loop, for the first time ever in the West Midlands, ensuring that MADE Festival took every step possible to keep festival-goers safe and informed about their choices. In co-operation with West Mids Police, West Mids PCC and Birmingham City Council, The Loop provided a professional and discreet drug safety testing and counselling service, which was a vital component in the festival's harm reduction strategy.
The Loop's Director, Henry Fisher comments,
"It was great to be able to provide our MAST service for the first time ever in the West Midlands at MADE festival. We had a really positive day, festival staff, police and the festival goers themselves were all really supportive of our service, and it was great to see our messages about how to reduce drug-related harms getting through to the public. What was really reassuring is that more people seem to have heard of our service and understand why we provide the information, although with such a young crowd, there is still a lot of misinformation around, so it was important we could be there to help counter it. We can't wait to come back next year if we're invited!"
Visitors to MADE Festival certainly made the effort with eye-catching outfits everywhere and the environmentally friendly glitter stalls working to capacity.
Crowds of happy faces streamed out of Perry Park at 10pm but for many the party didn't end there, with two MADE My Night after parties seeing queues round the block as the big tunes and top DJs kept coming until 6am.
Initial feedback has been overwhelmingly positive – the future looks bright as MADE Festival looks towards the next 5 years. Keep an eye on @MADE_festival on socials for further announcements.