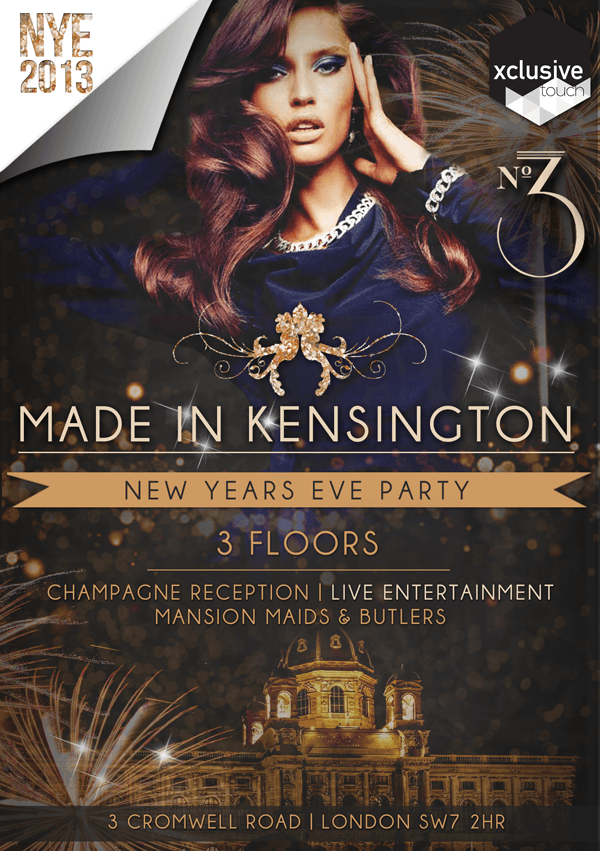 Made in Kensington Mansion Party
www.xclusivetouch.co.uk
Treat yourself to a night of sheer luxury and head down to 3 Cromwell, a multi floored GeorgianMansion this New Years Eve. 3 Cromwell is a lavish establishment nestled in the heart of South Kensington and is religiously visited by the likes of Peaches Geldoff, Chelsy Davy, Professor Green, Harry Styles and more; so expect to see a few familiar faces.
Made in Kensington, this red carpet event will be hosted by our Topless Butlers and Sexy Maids, welcoming guests on arrival and pampering you with treats throughout the evening. Early arrivals will be able to enjoy the complimentary champagne reception available between 9-10pm.
***** Attractions *****
– 3 Floored Luxury Mansion
– 2 Separate Floors of Music
– Fantastic View over South Kensington
– Full Garden Terrace Access
– 1 Hour Champagne reception 2100-2200
***** E N T R A N C E *****
£35 (Early bird rate, price will rise closer to the date)
Booking a table allows queue jump, a seating area for your group and discount ticket price (£25). Tables work on a minimum spend basis.
REGULAR – £500 – 4-6 Guests
VIP – £750 – 7-9 Guests
LUXURY – £1,000 9-12 Guests
These sections are very limited, please call 020 7734 9116 or 07780466113 for more details on availability and booking procedure. Please note a 20% deposit is required to secure your table reservation.
Sexy RnB, Hip-Hop and 90's classics [lower floor],
House, commercial and club classics [Ground & upper floor].
Glamour – Smart & Stylish. Strictly No baggy or ripped jeans, sportswear, trainers, plimsolls or T-shirts.
3 Cromwell Rd, London SW7 2HR
Event Manager Tickets and Tables: Robbie
Email: [email protected]
Mob/Whatsapp: 07780466113
Telephone: 020 7734 9116
BBpin: 7bef3d7f
Twitter @xclusivetouch