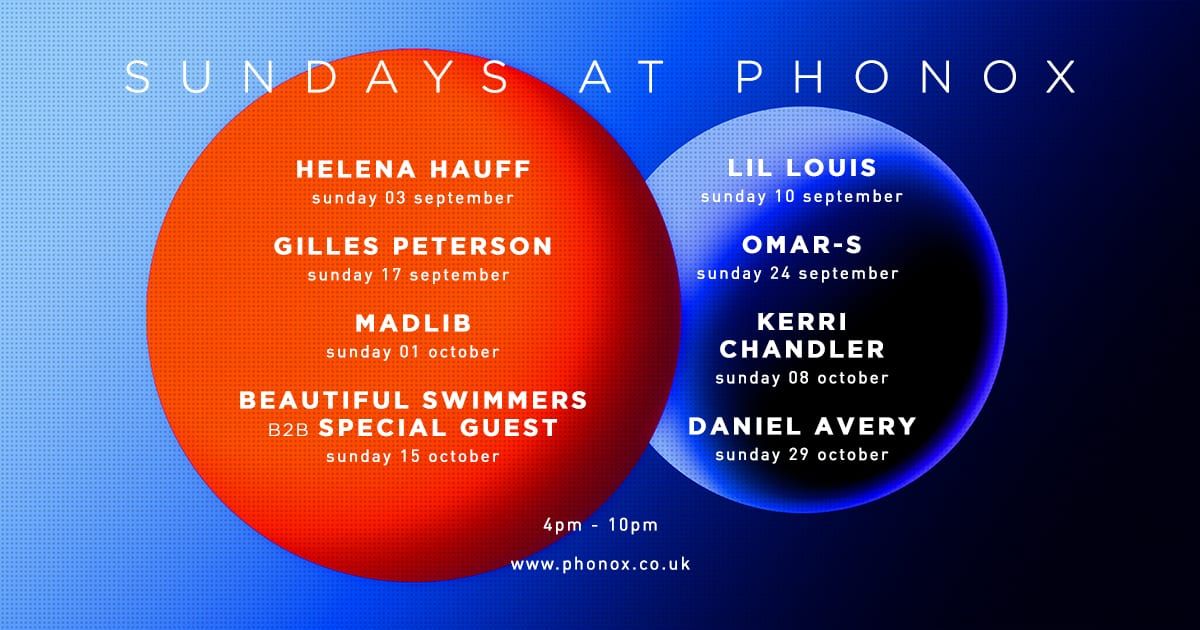 Madlib, Helena Hauff, Lil Louis & more lined up for Sundays at Phonox
Launched in October of last year, Sundays at Phonox has achieved what it set out to do; celebrate the true diversity in global dance music by bringing a schedule of selectors who can dig deep to provide the perfect Sunday party, fortified by impeccable sound.
With that, it gives us with immense pleasure to reveal the upcoming Sundays at Phonox agenda, in full…
To begin, we welcome the electrifying talent of, Helena Hauff. Her stripped-down take on techno and electro has seen her rise to the peaks of underground music and cement herself as a must-see DJ at festivals and cities around the globe. We can't wait for her join us on September 3rd.
Lil Louis, hailed as The Founding Father of House Music comes to Brixton on Sunday 10th Septemberwith Gilles Peterson returning after four sold out Sundays on September 17th, proving that his sound is the ideal way to close your weekend.
Making his long awaited Phonox debut, we welcome Detroit's Omar-S on Sunday 24th September. His imitable style – a fusion of soulful house and that minimal groove which is so obviously his own – makes for what will be a standout Sunday session.

Possibly the most prolific producer of our time, Madlib joins us on Sunday 1st September. The creative mind behind some of the most esteemed tracks in hip-hop, having originated classics for DOOM, Erykah Badu, J Dilla and influencing everyone from Flying Lotus to Thom Yorke, Madlib carries a bona fide cult following – we're especially excited for this one.
London technoist Daniel Avery closes this run of Sundays at Phonox with an extended set on Sunday 29th October.

Doors for Sundays at Phonox now open at the earlier time of 4pm, with DJs playing through until 10pm offering a guilt free way to extend your weekend.
Check the full Sundays at Phonox agenda below…
Sunday 03 September
HELENA HAUFF
Sunday 10 September
LIL LOUIS
Sunday 17 September
GILLES PETERSON
Sunday 24 September
OMAR-S
Sunday 01 September
MADLIB
Sunday 08 October
KERRI CHANDLER
Sunday 15 October
BEAUTIFUL SWIMMERS B2B
SPECIAL GUEST
Sunday 29 October
DANIEL AVERY