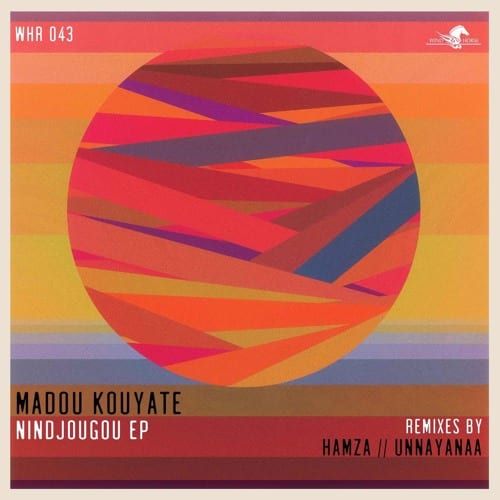 Madou Kouyate Nindjougou EP
Wind Horse Records presents a stunning EP with an international touch — an ode to the influence of ethnic global music on the Indian electronic music scene. Madou Kouyate, an extremely talented singer and songwriter from Mali, delivers a 6-tracker that also features Indian producers Hamza Rahimtula and Unnayanna on remix duties.
"Nindjougou" kicks things off, a beautiful song that sparks warmth and speaks to the soul. The tune features Madou's incredible vocals, delightfully layered with ethnic strings and percussion. "Nindjougou" has an almost folk music feel with an addictive melody filled with uplifting emotion and supported by ethereal stabs.
On the remixes, Hamza keeps things clean and groovy, using elements of the title track judiciously to craft a beachside dance-floor burner. This remix springs to life with a piano stab, giving it a Chicago-house-meets-Africa vibe that retains the flavor of the original while standing out on its own. Unnanyanna's remix is also special as the afro-house exponent gives "Nindjougou" the acid treatment. The rework also features samples from a xylophone that adds an Asian vibe while a deep, bouncy bass line brings the funk.
Madou Kouyate's next original track — "Souleymane Sangare" — is more upbeat with a simple yet effective drum pattern coupled with raspy percussions. The song builds with effortless ease, accompanied by buoyant pads that offer the required aural ambiance. Once again it's Madou's vocals that stand-out and really take this tune to the next level.
The second of the remixes from the effervescent Hamza is positively breath-taking. The veteran DJ's incredible ear leads him to produce a track that screams 'Detroit' and 'Disco' at the same time. It's a reflection of the influences that have helped shape his music. Cosmic pads accompany a bass guitar riff that will get feet moving, making for a mix to throw down at peak-time or to warm up floor. Rounding out the release is an extended version of "Souleymane Sangare" that can be defined as 'made for the club'.
Label and Artist Links:
windhorserecords.com/
www.facebook.com/madou.kouyate.902