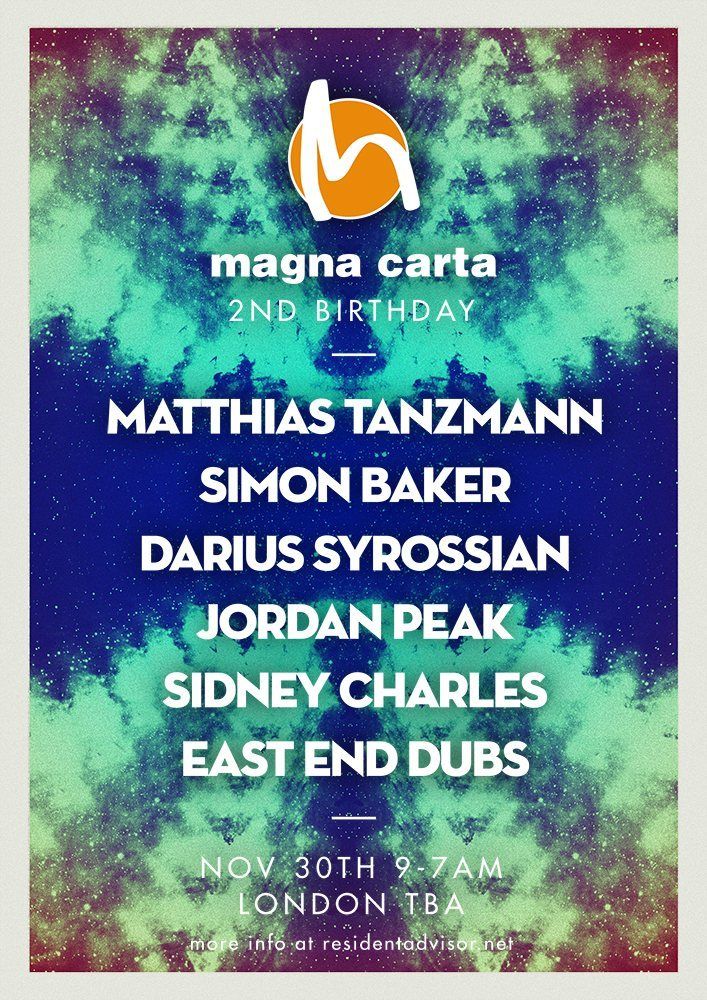 Magna Carta 2nd Birthday
On Saturday 30th November Magna Carta brings a colossal night of music to an East London warehouse to celebrate two epic years of parties. From dark basements to festival arenas, the past two years have seen Magna Carta carve a fierce reputation for ground-shaking parties that combine big spaces, huge lasers and massive basslines.
Having already seen the likes of Subb-an, Audiojack, Robert James and Clive Henry pass through their doors, Magna Carta step it up for their second birthday, with underground overlord and Moon Harbour label boss Matthias Tanzmann taking control. With a music career spanning back to the nineties and 6-year residency for Circololo's infamous parties at DC10 Ibiza, Tanzmann has firmly established himself and his two labels, Moon Harbour and Cargo Edition as mainstays in house and techno.
Joining Tanzmann is VIVA Music stalwart Darius Syrossian, driven by an uncontainable passion, 'true house music' is a mantra that keeps Darius true to his path. From deep and twisted to dancefloor pounding jacking grooves his obsessive knowledge of music is almost matched by the scale of his record collection earning him a place in Resident Advisor's Top 100 DJs of 2012.
Hefty support comes from dancefloor deviant Simon Baker who's tidy productions have seen releases on leading labels such as Cocoon, 2020 Vision and Get Physical as well as his own label NoFitState. Jordan Peak's versatile style and boundless energy have catapulted him to the forefront of club culture, firmly cementing himself as a favourite amongst Magna Carta faithful. Sidney Charles' inspiration comes not just from the music, but from the environment that electronic music creates, crafting sets with an aim to bring people together. Moon Harbour protégés East End Dubs will be stepping up for a swipe at the dancefloor, while Magna Carta residents Igluu, Kolo & Dyze and Will Taylor will be getting things started in fitting style.
With so much quality music on offer at one of London's most iconic warehouse venues it is highly recommended that tickets are bought in advance.
Line-up:
Matthias Tanzmann
Darius Syrossian
Simon Baker
Jordan Peak
Sidney Charles
East End Dubs
Igluu
Kolo & Dyze
Will Taylor
Tickets: http://bit.ly/MC_Birthday_Tickets