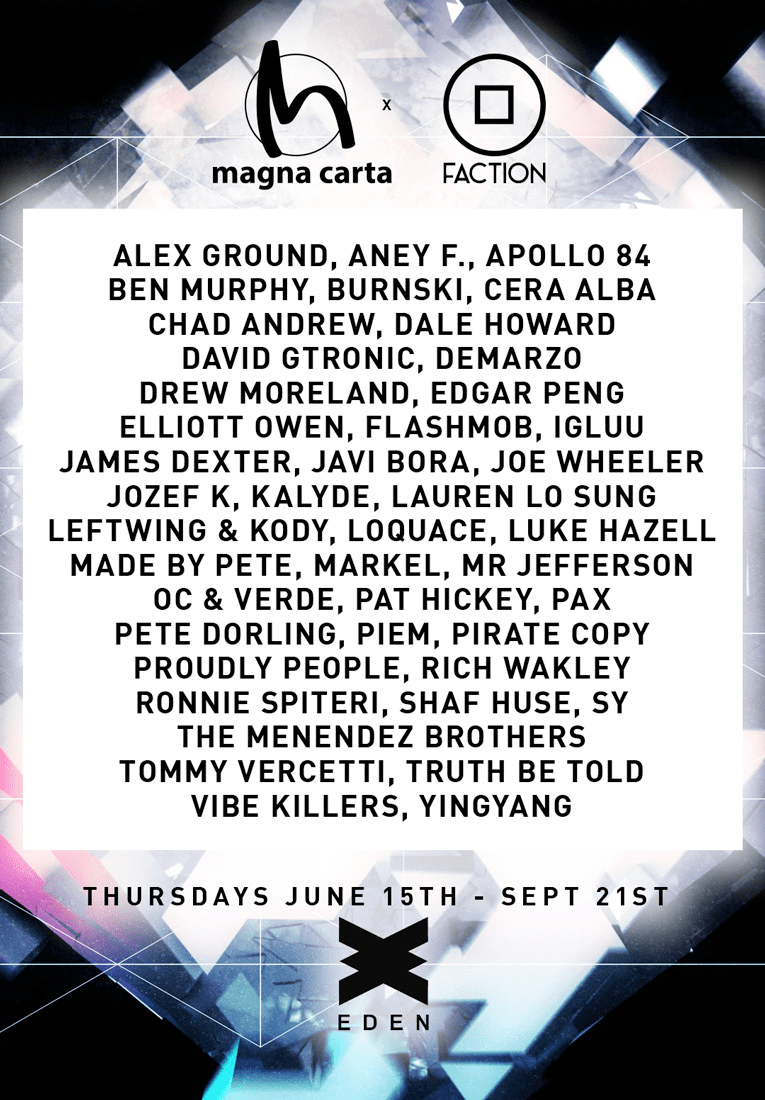 Magna Carta & Faction Season lineup announcement
Magna Carta & Faction to host Thursdays at Eden Ibiza feat. Burnski, Demarzo, Leftwing & Kody, Flashmob, Dale Howard and more
For the first time since 2014, much loved promotions Magna Carta and Faction are linking for a season of sure-to-be-sensational events in Ibiza. The venue for this is the vast Eden, which has just emerged from a top-to-bottom renovation and is once again the talk of the town, so is more than ready to host the likes of Leftwing & Kody, Dale Howard, Cera Alba, Apollo 84, Rich Wakley and many more.
Magna Carta previously hosted at Sankeys Ibiza and had Faction along with them for the ride, while last year Faction added fuel to San Antonio's underground scene with a steamy mix of locals and international guests. But now the crews will take over Eden on Thursdays, starting on the 15th June and running until September 14th. The whole season kicks off with a real bang with a Dale Howard, Mr Jefferson, Demarzo, Proudly People and Shaf Huse all set to soundtrack proceedings, while Room 2 is hosted by Hustle.
A week later there is a MadTech influence as, Tommy Vercetti is joined by Made By Pete, Alex Ground, Loquace and Sense host Room 2, then the final June party has a two hour set from Leftwing & Kody, Piem, Aney F, David G Tronic and James Dexter with Ibiza Goes Hard to host Room 2.
Guests in July include the likes of Pete Dorling, Vibe Killers and Piem, Apollo 84, Rich Wakley and Radio 1 star Dale Howard plus Lauren Lo Slung and Truth Be Told. Into August and Kevin Over is in town with Rich Wakley, Pirate Copy, Mr Jefferson, The Menendez Brothers, Jozef K, Leftwing & Kody and a special 'Strictly Deep Showcase' with Flashmob. September sees many of the guests return for more shenanigans, with the likes of Cera Alba, OC & Verde and Ronnie Spiteri also joining in.
This is sure to be a fine series of events from these two seasoned Ibiza promoters.