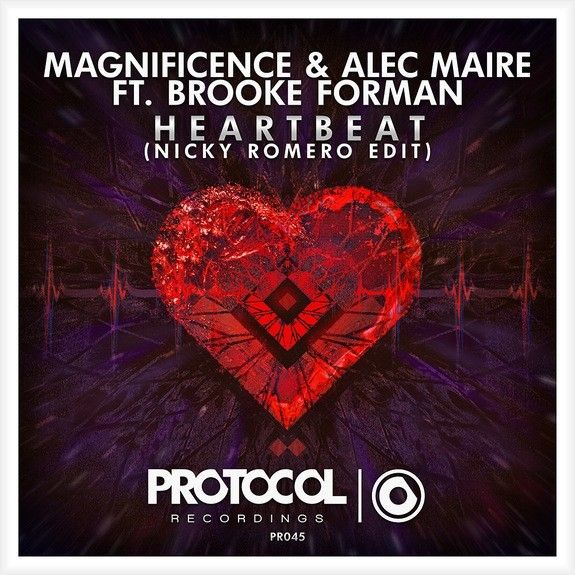 MAGNIFICENCE & ALEC MAIRE FT. BROOKE FORMAN – HEARTBEAT (NICKY ROMERO EDIT)
Recently featured as an instrumental track on Protocol Recording's Miami 2015 Compilation, 'Heartbeat' now gets its long awaited release on Nicky Romero's esteemed label to widespread critical acclaim. Continuing to establish both his name and his label as one the most cunning and exciting in 2015, Nicky Romero does exactly that with his own edit of Magnificence & Alec Maire ft. Brooke Forman 'Heartbeat'.

A vigorous anthem through and through, 'Heartbeat' is the seamless blend of progressive rock and electro house that so many Protocol Recording fans have come to love. Just premiered during Ultra Music Festival by Nicky Romero himself, the track has attained amazing responses and buzz ever since. Originally produced by New York native Alec Maire and Protocol veteran Magnificence, the label boss incorporates the perfect finishing touches as he adds heartfelt vocals and an array of production edits to fine tune this into the main stage anthem that it deserves to be. Filled to the brim with melodic sky piercing synths, thundering percussion, and a drop of epic proportions, Alec Maire and Magnificence's collaborative effort combined Nicky's edits of 'Heartbeat' is a high-octane cut that is primed to stream throughout many festival airwaves the world over.