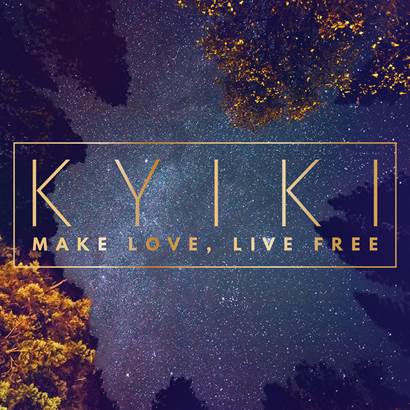 Kyiki - Make Love, Live Free
The alter-ego of Crystal Fighters backing singer Eleanor Fletcher, electronic producer and songwriter KYIKI is releasing brand new alt. pop single 'Make Love Live Free' on September 19th via Believe.

KYIKI is the emotional playground of Crystal Fighters band member, Eleanor Fletcher. Featuring exotic instrumentation mixed with contemporary production, her new moniker draws influence from both the pop and indie worlds. The self-produced single is an uplifting departure from KYIKI's previous offerings including single 'Here For' – a dark, experimental track that channels the arty electro of Portishead and Lamb – 'Make Love Live Free' is a hopeful and jubilant ode to summer, laden with uplifting, soaring melodies and infectious percussion. The triumphant song premiered on BitTorrent's new music streaming and download services receiving a huge 358.6k downloads in just two weeks.

Talking about 'Make Love Live Free', Fletcher said: "This is essentially my take on life, how I have often lived somewhat 'incorrectly' but prefer it that way. Essentially, I don't want to lose my immaturity and I believe there are positives to that way of thinking."

Fletcher has spent much of the past six years balancing playing at underground raves and extensively touring the globe, and 2016 has been no different. This year alone has seen the singer-songwriter perform at Coachella as well as complete a North American tour, and the celebrated artist is about to embark upon a world tour as backing vocalist with critically acclaimed band, Crystal Fighters.

Dividing her time between London and L.A., Fletcher creates much of her music whilst on the road – something that she says influences her ambiguous lyrical style. When in a city long enough, she is sure to end up working with an array of influential people including London producer Alex Da Kid.

Lush and verdant, KYIKI is also a distinctly cerebral persona. The new single's glassy and sophisticated production echoes that of GRIMES, Florence and the Machine, Kate Bush and Massive Attack.

This year has seen Fletcher play her first headline shows in Los Angeles and at London's influential Notting Hill Art's Club for their night hosted by Chess Club Records and Neon Gold. Her performance was described by the press as "wild, yet elegant…leaving no member of the audience unsatisfied."

With just four single releases under her belt, KYIKI has already created a buzz both online and within the industry, enjoying praise from the likes of i-D, Wonderland, Indie Shuffle and Hunger Magazine. With a distinctly British take on the alt pop genre; the heavy swells and depths of KYIKI's production and writing give an insight into the new territory she's finding herself more naturally at home in.
www.soundcloud.com/kyiki
www.facebook.com/kyikimusic
www.instagram.com/kyikimusic
www.twitter.com/kyikimusic