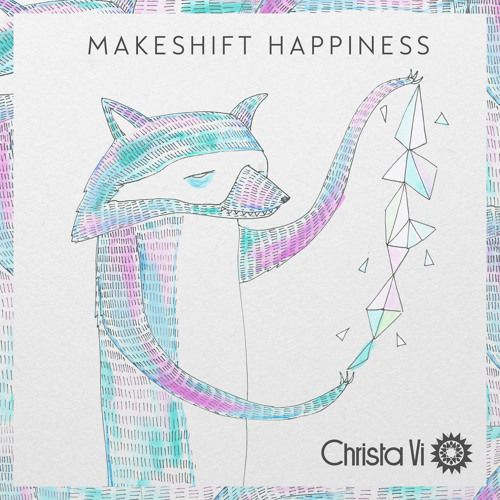 Christa Vi - Makeshift Happiness
In her new EP Australian / German Singer Songwriter Christa Vi has been crafting her sound over a number of years both independently and through collaborations with fellow artists such as Box of Wolves from Canada (Electronic Rumors) and Australian songwriter Ben Salter (ABC Music). The title track of Christa Vi's latest EP, 'Makeshift Happiness', has been co-produced by Dalston-based mastermind Andrew McDonnell who has worked with the likes of Petite Noir, Suns & Crystal Fighters. The EP also features remixes by Kentucky-born beat-master DJ AMTRAC (Blanco Y Negro) and LA dweller Small Pyramids (Glasgow Underground,) with both artists putting their signature stamp on Christa's unique brand of synth-centric indiepop.
'Makeshift Happiness' is set for release on 25th September via Christa's own record label, Tangelo Records. The EP draws on Vi's strengths demonstrated in previous material and transforms them into something far more delicate and darker. A casual obsession with origami and paper-craft inspired the concept of creating something beautiful or functional out of something ordinary- a metaphor for making the best of life's hard knocks.
The despondent gloom of Vi's current hometown London offers a fitting backdrop for the musical style and lyricism of the title track, with smoky, wilting synthesizers paired with the hapless determination of Vi's vocals. Frequently praised for the emotive strength in both her singing and song writing; the narrative of the song presents the overwhelming sense of futile optimism of someone who is both fragile and hopeful, laughing wistfully in the face of misery. These two conflicting factors of the record culminate perfectly into a melancholy soundtrack for those who have the strength to make the best out of bad situations.
The accompanying remixes inventively re-imagine the song whilst utilising the original vocal track. The AMTRAC mix incorporates hard hitting drums that mesh wonderfully with Vi's vocals, whilst Small Pyramids makes use of tight hi-hats and snares that simmer gently underneath. Like paper-craft, each element of these mixes unfold neatly as blurred keys throb in and out of the background.
Christa has also sought out a team of artistic collaborators to put together her video and album artwork, the joy of DIY and shared creativity driving her choices, with previous cover-art images by artist Amy Joy Watson and stop-motion film-makers Luke & Alex Animation collaborating on her video for 'Your Heart'. Collaborators for this single include Melbourne- based illustrator and painter Erin Greer who provided the cover-art, and her video was shot by London-based director Chris Turner / Favourite Colour Black (Editors, Gazelle Twin.)
Makeshift Happiness, released 25th September, is a true testimony to the capability of genre-defying Christa Vi. The 4 track EP will also include a radio edit alongside the title track and the AMTRAC and Small Pyramids remixes.