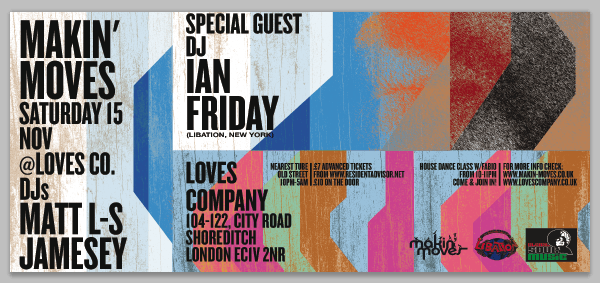 Makin Moves presents Ian Friday (NYC/Libation)
The Makin' Moves team have had a sterling year in 2014 and so to thank their London fans and supporters of the label, they decided to throw a series of one off parties in and around Shoreditch. The first of a series will kick off in the basement at the newly opened Loves Company. This new superb pop up venue is in the heart of Old Street, the party has a late license until 5 am, and takes place on Saturday 15th November.
Joining the Makin' Moves residents Matt L-S and Jamesey, will be none other than "Ian Friday" from New York City. Ian is one of their favourite DJs, known for taking you on a soulful journey in house music. Armed with a passion for the arts, Ian Friday is always on a creative mission. This New Yorker has been seen on stage and film and has performed throughout NYC as a poet. Ian Friday's party 'Libation' has been one of the success stories in New York clubbing in the last 5 years and has propelled the brand worldwide. If you are planning a trip to NYC any time soon, then make sure you make a note to check these parties out, you will not be disappointed.
Ian also runs Global Soul Music, formally Tea Party Music which was set up in 2006 to present quality global soul music. The first release, "Life Starts Today" (Byron Moore) quickly followed by Everything featuring Erro and the Anto Vitale's Theorema Del Faya' which set the tone for what has become one of the best soulful house labels on the planet.
Catch Ian spinning weekly on www.buttersoulcafe.com every Tuesday between 8.00-10.00 pm UK time.