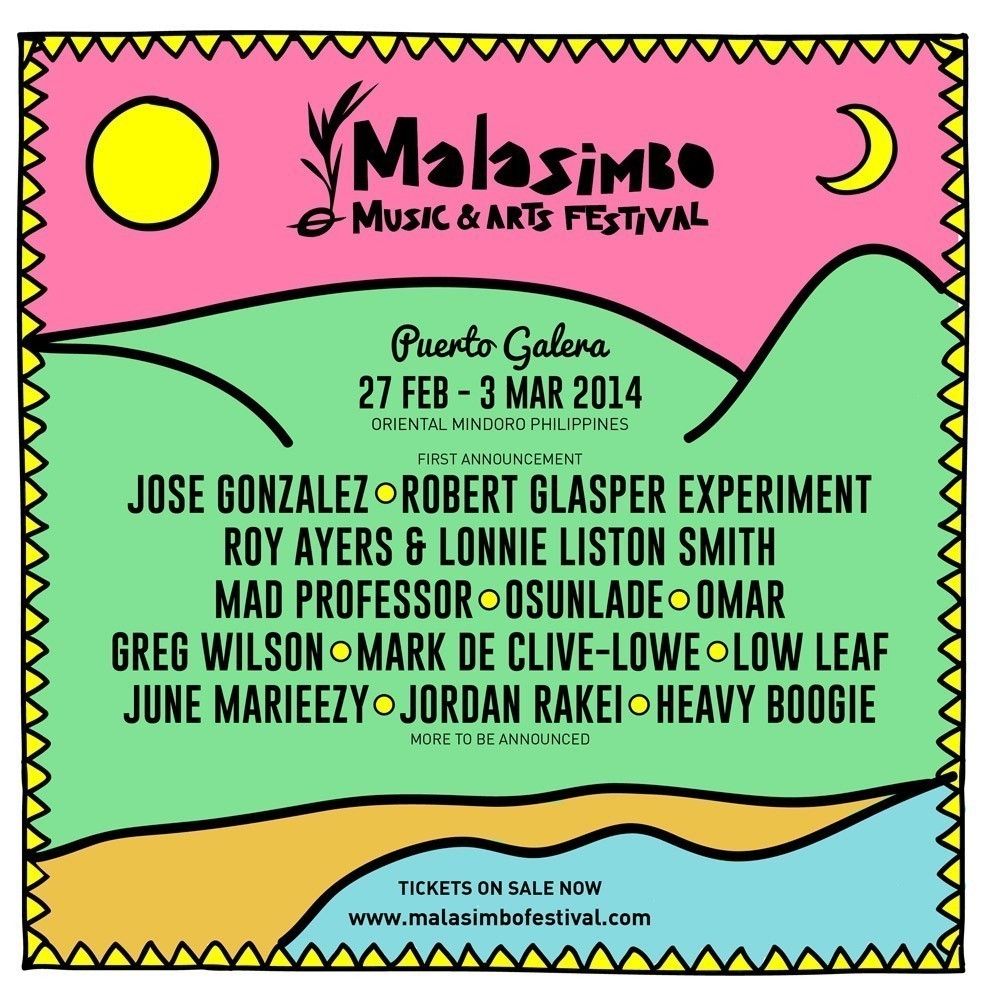 Malasimbo Music & Arts Festival
Malasimbo Festival returns for 2014 for a spectacular fourth magical adventure outing from 27thFebruary – 3rd March in the jaw-dropping setting of Mount Malasimbo in Puerto Galera nestled in the beautiful islands of the Philippines coast.
Festivals don't get anymore heavenly than this. The dreamy location is worth the trip alone but that's only the sun soaked tip of it, this year's music line up is literally a musical luscious landscape of the best worldwide music talent on offer.
With the festivals ethos deriving from its immediate grass roots, Malasimbo strongly prioritizes its stunning surrounding nature, environment, local music and arts culture and of course their infamous hedonistic good times vibe.
ARTISTS JUST ANNOUNCED:
This year's festival brings something for every taste, from emerging and new talent, legendary vocalists, jazz, funk, soul, dance fusion and crossover artists and not to mention sound system culture, which all fit in alongside the best local and indigenous talent, arts, boat parties, workshops and immersive local activities (see below).
With the likes of unmistakable vocal and instrumental talents such as indie folk singer-songwriter and guitarist Jose Gonzalez, soul-jazz fusion pioneers Roy Ayers and Lonnie Liston Smith, pioneer of spiritual jazz and jazz funk genres, legendary UK vocalist and now M.B.E Omar and the exceptional 2013 Grammy award winners Robert Glasper Experiment.
Bringing the big party road blocking beats is probably one of the most spiritual men in deep house US produce and solo artist Onsulade, the twisted musical mash up showman, Mad Professor, legendary disco and party good times ambassador, Greg Wilson, the finest party purveyors,Heavy Boogie who bring their own recipe for sunshine, moonlight, good times to the party. Other artists announced so far also include Mark De Cliv–Lowe, Low Leaf, June Marieezy and Jordan Rakei who will be taking to the stage to bring yet more island party magic under the sun and stars.
LOCAL CULTURE & ENVIRONMENT
In partnership with the Department of Environment & Natural Resources and department of tourism Malasimbo Music and Arts Festival works hard each year to protect and preserve the natural environment. Reforestation initiatives have been funded by festival proceeds in 2011, planted 1000 trees 2012, the festival supported the reforestation of mangroves in Puerto Galera. For 2013 Malasimbo undertook a massive beach clean up with their festival partner 'Most Beautiful Bays In The World Club' making the Puerto Galera area plastic free.
Promoting nature, Filipino tribal culture and ethnic arts is the cornerstone of the festival ethos, with projects for the development of the local community such as reforestation efforts and the application of solar energy for the Iraya Mangyan community in Barangay Baclayan, Mindoro already underway.
Every year members of Philippine indigenous communities, namely the Iraya Mangyans and Hanunuo Mangyans as well as the T'Boli from South Cotabato, Mindanao, are invited to perform their local dances, to present their products and to hold workshops teaching weaving techniques or other local crafts at Malasimbo. As part of a committed effort to educate the public about Mindoro's indigenous people and culture, the Foundation built a life-size Mangyan Village on the Malasimbo Festival Grounds that feature the lifestyle, handicrafts, language, and music of the 7 Mangyan tribes of Mindoro.
MALASIMBO ARTS & SCULPTURE GARDEN
The Malasimbo Music & Arts Festival is a celebration of all art forms. The Sculpture Garden at Malasimbo is a witness to the festival's love for the visual arts. The grounds have been blessed by the amazing works of talented contemporary Filipino artists. In three years, more than 30 artists have used the venue as their canvas for their art installations. Whether permanent or degradable, loud or discreet, phantasmagoric or natural, interactive or silent, the works all have a synergy with the mountain, the landscape, the wind, the ocean or the festival's creative energy. The Malasimbo Visual Artists family is growing, welcoming new faces for 2014. The Sculpture Garden at Malasimbo is definitely a platform to watch out for in the Philippines.
IMMERSE IN LOCAL ACTIVITIES SUCH AS:
Diving, Island Hopping, Trekking, Jet Skiing, and Kayaking are among the many activities that await adventure in Puerto Galera.
Check out the stunning surroundings of:
TAMARAW FALLS
Its natural beauty and pristine clear water makes it as one of favorite attraction of tourists.
ANINUAN FALLS
Approximately 2 kilometers from White Beach and can be reached by trekking on the riverside through lush jungles.
TUKARA RIVER
Tukuran River is about 25 kilometers from the town proper. Experience the lush green vegetation while riding in "kangga".
EXCAVATION MUSEUM
A museum showcasing artifacts and antiques excavated within the municipality. The precious jars highlight Puerto Galera as an important trading port between China, Malay and other Asian continents.
CORAL GARDENS
Corals and coral reefs are seen or viewed while in a motorboat near Tangalan point, enjoy crazy coloured fish zigzagging through kaleidoscope reefs and corals.
MANGYAN SETTLEMENT
Baclayan and Talipanan Mangyan settlement areas, where the native local tribes reside.
WHITE SAND BEACHES
White sand beaches and attractive coral deposits line the entire coasts of Puerto Galera. Most famous are White Beach, Big and Small Lalaguna, Talipanan, Aninuan, Haligue, Long Beach, Dulangan(Bulabod), Boquete and Villaflor.
LIGHTHOUSE
Located in Sinandigan, the lighthouse offers a closer view of the dive sites located nearby.
PONDEROSA
Located 2,000 ft. above sea level, all inland bays and coves of the town are captivated here. A 9-hole golf course and a clubhouse with spectacular view also awaits.
MANGROVER FOREST PARK
A stunning protected area bursting at the seams with exotic and massive trees of different species.
PARADISE ZOO
More than 1,000 reptiles and other animals live here. Featuring the stars of the show – king cobras, black mambas, giant snakes, spitting cobras and lizards.
HISTORICAL SITES
Visit local historical sites such as Black Rice and the Cross with two Canyons at Muelle, Poblacion and Garita or Guardhouse at Behiya, Lalaguna this was the guarding point for the entry of pirates and marauders to the coves of Puerto Galera.
Full 3 day festival tickets are just £82 with flights currently from just £350 and minimal spending costs once there. What's not to like?
ESCAPE THE GREY AND JUMP ON BOARD FOR A MUSIC ADVENTURE OF A LIFETIME
All the latest news, line up additions and travel and accommodation options here:www.malasimbofestival.com
MALASIMBO FESTIVAL LISTINGS INFORMATION:
WHAT: Malasimbo Arts & Music Festival 2014
WHERE: Mount Malasimbo – Puerto Galera – Philippines
WHEN: 27th February – 3rd March 2014
PRICE: Full 3 day festival weekend just £82, flights are currently from £350, minimal spending and accommodation once there
WEBSITE & TICKETS: www.malasimbofestival.com
GETTING THERE: Full information on travel to the festival is here: http://malasimbofestival.com/transportation/
CONFIRMED LINE UP SO FAR:
-JOSE GONZALEZ – ROBERT GLASPER EXPERIMENT – ROY AYERS & LONNIE LISTON SMITH
– MAD PROFESSOR – ONSUNLADE- OMAR -GREG WILSON – MARK DE CLIV –LOWE
– LOW LEAF – JUNE MARIEEZY- JORDAN RAKEI -HEAVY BOOGIE
+ many more to be announced shortly