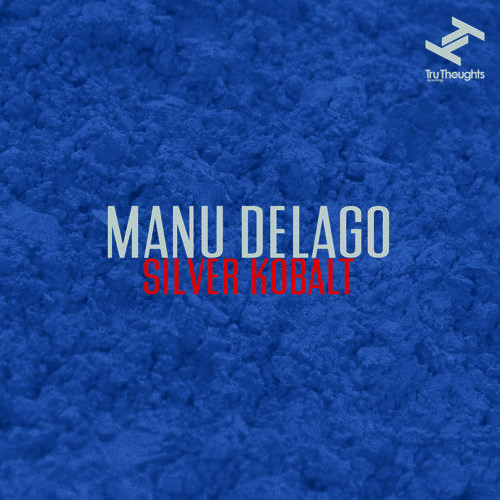 Manu Delago – Silver Kobalt
In between work for Björk, Cinematic Orchestra and Anoushka Shankar, prodigious Hang player and percussionist Manu Delago has inked a deal with Tru Thoughts to release his own new album, 'Silver Kobalt'. The ambitious LP, which draws lines from pop to the avant-garde, is out 6th April followed by a European tour. Early support includes airplay from Tom Ravenscroft and an i-D premiere of lead single "Disgustingly Beautiful feat. Isa Kurz" (out 9th March).
Aged just 30, Manu Delago is the world's leading Hang player (with 5m+ YouTube views for his DIY performance video "Mono Desire") and possesses equally virtuosic skills as a percussionist and drummer alongside ever maturing instincts as a songwriter and producer. 'Silver Kobalt' draws on the experience and ideas built up by the London based Austrian native across a high-flying and diverse career to date. From overachieving teenaged rock bands, through extensive classical training; from the cutting edge of art pop as the lynchpin of Björk's band, to a London Symphony Orchestra commission which saw him playfully subverting their expectations; this endlessly curious artist has been honing his own style rich in melody, wit and invention.
The title, 'Silver Kobalt', plays on the strangely linked themes of magnets, goblins and human behaviour. Throwing a pair of small magnets in the air one day, Delago recorded their frantic, thrumming sound for the track "Plus Minus"; he also experimented with the detuning effect of a magnet on the Hang. Magnet fascination deepening, he read that some rare elements are permanently magnetised, of which one is cobalt. Then, up popped the pleasing story that cobalt was actually named after the German word for 'goblin' ('kobold') by hapless silver miners who suspected little kobolds had taken all the silver and left them with this substance. Further reading revealed also that all humans contain cobalt which we need to survive. "I really enjoyed this string of information", he says. "As well as this fun idea of little goblins within us, it really struck a chord because I had been thinking a lot about attraction and repulsion – what makes people magnetically drawn to some things, away from others – and that is a strong theme in the music. 'Silver Kobalt' tied it all together."
Tying together the many sonic threads is co-producer Matt Robertson (Björk, The Streets, Bat For Lashes), following his work on Delago's acclaimed 2013 LP 'Bigger Than Home', the record on which he began to truly develop his current sound. This is a sound that revolves around the unique timbre of the Hang, but encompasses much more, from acoustic percussion, bassoon, piano and chimes to multi-layered beats and a variety of synths.
The hypnotic, nursery rhyme-like Hang melody of "Disgustingly Beautiful" feat. Isa Kurz opens the album; the affecting vocals of Kurz (also the pianist and violinist on record and in live outfit Manu Delago Handmade) ride a bass-heavy undercurrent, with added beats from Grammy nominated j.viewz. On the spiky yet catchy "Plus Minus", the magnet theme is extended into the composition, with two main lines being pulled together and pushed apart. "Drumheart feat. Anil Sebastian" is pristine bassy pop lifted onto another plane by the haunting, androgynous vocals of the rising singer.
Stealthily moving into a fascinating instrumental section, "Down to the Summit" (which, unusually, uses the Indian drone instrument Surpeti for harmony) leads to the punchy, subby Hang sound and four-handed piano tinkering of "Wandering Around" and on to the joyful "Simon is Psychling", which calls to mind a DJ with speakers on a bike, circling a big field, one lap bringing a bassoon solo, another an industrial noise-fest. Restoring calm, "Sun In The North feat. Isa Kurz" is a potent lyrical snapshot from a day on the beach on Reunion Island in the Indian Ocean, its rhythms inspired by playing with Indian musicians there. Cobalt gets its glory in the shape-shifting "Chemical Reaction feat. Rahel", and the lovelorn "Dearest" was conceived on tour in Australia where Delago captured the fairytale vocals of celebrated Australian folk singer Katie Noonan. "Almost Thirty", in Delago's words, "draws a bow from Eurotrash Dance Music to Austrian folk music, with some brainy immature rhythm ejaculations in between"; a banger that skirts the border between strange-town and club-land, it is a thrilling way to see out both his third decade on Earth and the album.
Having been given his first drum kit aged two, also learning the accordion and piano in childhood, Manu Delago was a professional performer by his teens, but it was in 2003, when he began playing the Hang – an enchanting new sound sculpture from Switzerland – that he discovered his passion for writing music. On graduating from the university Mozarteum in Innsbruck, he moved to London and studied at Guildhall School of Music & Drama and Trinity College of Music. With this pedigree, the lessons learned from collaborating with his heroes, and influences from The Prodigy to Bon Iver, Michael Jackson to Stravinsky and Beyonce to Rage against the Machine, his music is as impeccably realised as it is impossible to classify. Delago has featured heavily in the world's media, having toured on six continents and played festivals including Shambala, Green Man, Haldern Pop, Reeperbahn, Eurosonic and Popfest Vienna.
Manu Delago plays in Björk's live New York residency in March | 'Silver Kobalt' UK/Europe tour starts in April.