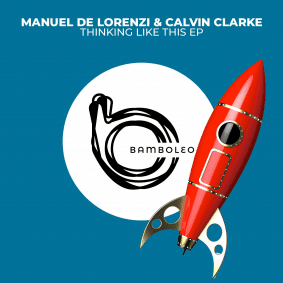 Manuel De Lorenzi & Calvin Clarke – Thinking Like This EP
Neverdog's Bamboleo Records host Manuel De Lorenzi and Calvin Clarke's 'Thinking Like This EP' featuring four groove infused cuts.
Italy's Manuel De Lorenzi has released a wealth of singles to date across the likes of Moan, as.usual.music and Antura Records, as well as heading up his own 'Monday Morning Records', curated to give emerging artists a platform to release material. Featuring alongside him is Manchester's rising talent Calvin Clarke, who has swiftly followed up his debut EP on Kaluki Music last year with regular gigs at Jamie Jones' Paradise parties, Lee Foss' Repopulate Mars events and also Michael Bibi's Solid Grooves nights.
Opening, Manuel De Lorenzi's 'Fun Like This' combines oscillating frequencies and a deep bass groove with electronic bleeps and squelchy effects until 'Paris Paris' chugs along with crispy percussion and cowbell embellishments. Next, Calvin Clarke takes over with 'Overdose', a cut powered by rolling effects, distorted vocal cuts and deep stabs while 'Thinking Out Loud' finishes up layering jingling drums, acid snippets and staccato chords.
Manuel De Lorenzi & Calvin Clarke's 'Thinking Like This EP' drops on Bamboleo on 19th July 2019.
https://www.facebook.com/manueldelorenzidj/
https://www.facebook.com/calvinclarkeofficial/
Tracklist:
1. Manuel De Lorenzi – Fun Like This
2. Manuel De Lorenzi – Paris Paris
3. Calvin Clarke – Overdose
4. Calvin Clarke – Thinking Out Loud