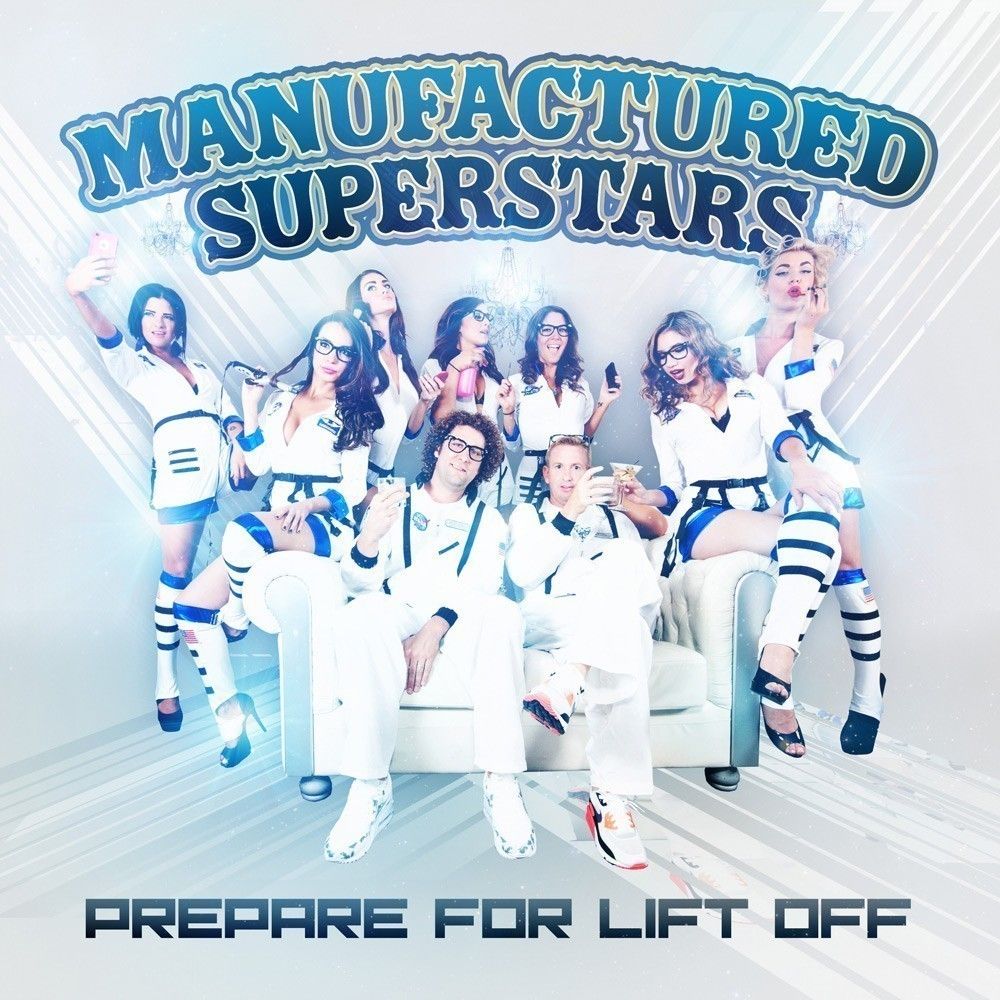 MANUFACTURED SUPERSTARS – PREPARE FOR LIFT OFF E.P.
The two fun loving, spacesuit-sporting, South Park-obsessing, Beatport chart-busting conquistadors of clubland return! From the 'Prepare For Lift Off' platform, Denver's finest are ready to put another four fine slabs of electronic dance music into the stratosphere. The countdown to 'Lift Off' has begun…Brad Roulier & Shawn Sabo (better known as the Manufactured Superstars) explore the EDM outer limits with a new stack of tracks.
Stage 1 of the 'Prepare For Lift Off E.P.' achieves primary ignition with 'Like Satellites'. Twining vocal anthemia and sing-a-long radio appeal, North Hollywood-based singer/songwriter Danni Rouge has 'Lift Off' heading to the heavens. Having previously toplined the tracks of Rusko and others, she brings her magical, accessible catch to the lyrics and moving tones to its vocals. With the Superstars chunky drum & percussion loops and sky-raking synths manufacturing an electrifying storm in the break, at the top of the drop 'Satellites' is hurled clean into orbit.
The second Stage of the EP offers up something slightly different from the House spectrum. Throwing the funkiest of looped percussion grooves under 'The Music', Brad & Shawn inject some espíritu de Ibiza into 'Lift Off's system. Threading the hook of the chorus in and out of the intro, the stabbed keys of the Balearic riff and full range of the vocal command the floor into action. Caliente!!
As the E.P. hits Stage 3 there's an 'Angry Panda' on the loose. With its sights fixed on full & complete electro house combustion, it drops the hammer on some tough-as-hell kicks. With the pitch-wheel burning, sirens spiralling and the warp 'n' distort synths wreaking the very best kind of havoc, it exacts maximum pressure on the floor.
The Undead need a little amour too and on 'Zombies In Love' Shawn & Brad make sure the revenants get theirs. Pulling off the big E.P. quadfecta, the track has been a Superstars' set lock, since it first appeared at the beginning of the year. With its bleepily boosted intro quickly mainlining into a ridiculously catchy upbeat lead, 'Zombies' is as contagious as they come and a pre-certified floor devourer.
Come the end of the mouth the countdown clock will reach zero and the Manufactured Superstars' Prepare For Lift Off Tour will launch, taking in dates around the States are far beyond. Don't miss!
Get the 'Prepare For Lift Off EP' Here: http://bit.ly/19DbJrL