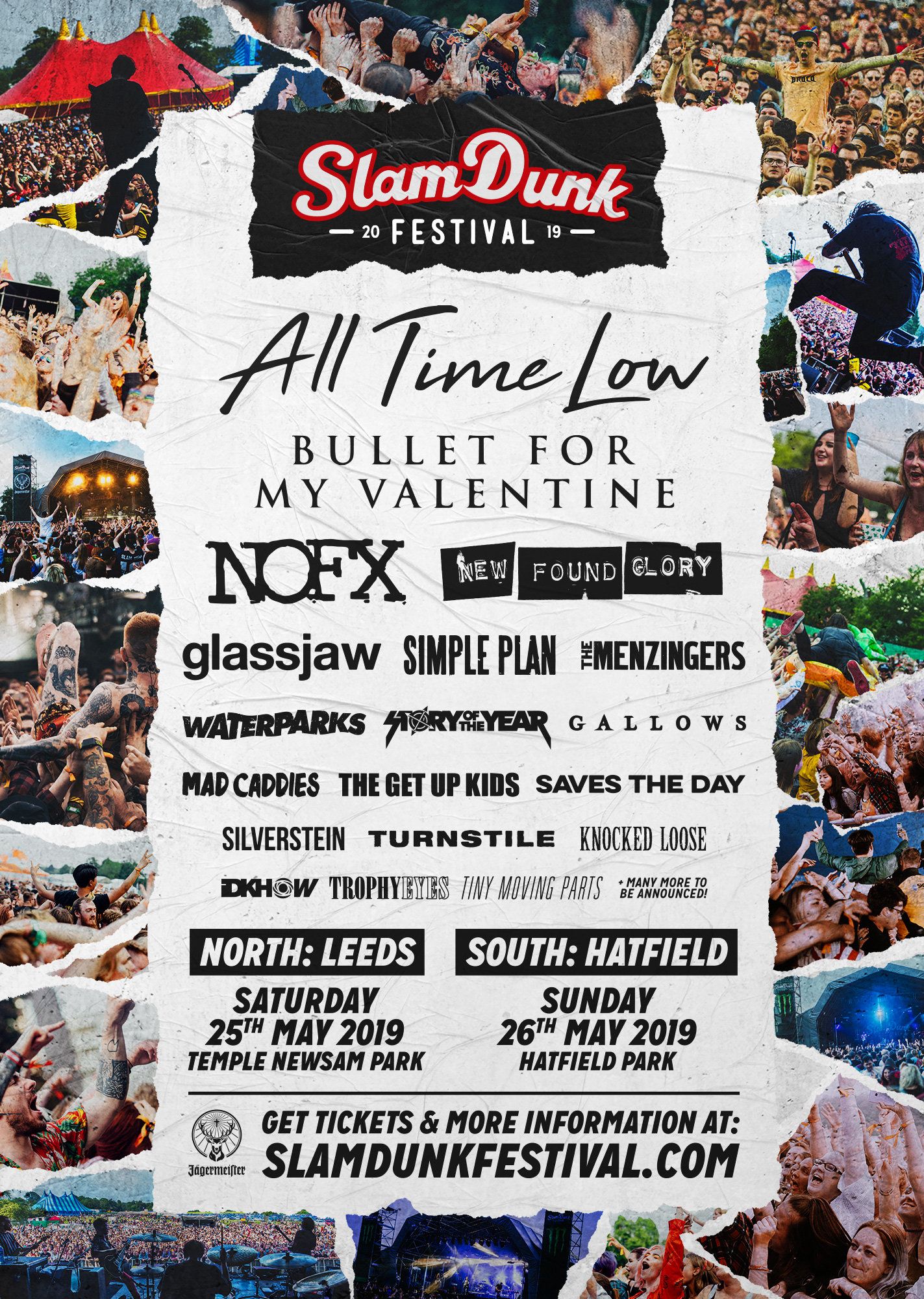 Many More Set To Make Their Slam Dunk Festival Debut in May!
With an infallible first reveal, Slam Dunk Festival – the UK's favourite alternative extravaganza, returns with a second round of monumental names for the 2019's instalment.
Bullet For My Valentine, Glassjaw, Simple Plan, The Menzingers, I Don't Know How, Turnstile, Knocked Loose, The Get Up Kids, Saves The Day, Tiny Moving Parts will all make their Slam Dunk Festival debut, with Trophy Eyes returning to show them how it's done in Leeds and Hatfield over the May Bank Holiday weekend.
Storming their way onto the Slam Dunk Festival bill for the very first time are Welsh metal titans Bullet For My Valentine. Easily one of the biggest British metal acts in history, the ground-breaking four piece have reached astronomical heights, with six chart-topping studio albums and headlining London's Alexandra Palace earlier this month. Reinventing metal over and over with monumental speed, technical prowess and arena-filling choruses, tracks such as 'Letting You Go' 'Your Betrayal' and of course, 'You Want a Battle (Here's a War)' showcase the band's versatility as leaders of British metal. Another exciting reveal, Bullet For My Valentine are to deliver a ground-breaking performance, headlining one of Slam Dunk's iconic stages.
Another astounding Slam Dunk debut performance will come from hardcore heroes Glassjaw. Fronted by Daryl Palumbo and Justin Beck, Glassjaw are arguably one of the most influential bands in the underground music scene, due to their visceral sound, zealous live performances and intense history. 'Material Control', their expertly crafted follow-up to their 2002 masterpiece release 'Worship and Tribute', cemented the band's post-hardcore cult status. Following a monumental headline performance at London's Brixton Academy, Glassjaw will return to the UK for Slam Dunk Festival, charged with the fierce energy that propelled them to success in their beginnings.
Simple Plan, one of the most household names in mainstream pop-punk, are set to land on Slam Dunk soil in May 2019. Returning from their mammoth world tour, in celebration of the 15th anniversary 'No Pads, No Helmets….Just Balls', needless to say, their set will be filled with undeniable classics for fans old and new.
The Menzingers are set to be a fan-favourite over the May bank holiday weekend. The punk rock unit will undoubtedly unite the Slam Dunk crowd in raucous rock singalongs with their latest release, 'After The Party' and esteemed album 'Rented World'.
Comprised of Dallon Weekes and Ryan Seaman, formerly of Panic! At The Disco and Falling In Reverse respectively, I DON'T KNOW HOW BUT THEY FOUND ME – commonly known as iDKHOW – reinvent electro-rock as possibly the hottest new rock duo in the world, with diehard fans desperate to see IDKHOW make the Slam Dunk Festival stage their own.
Responsible for one of the hardest-hitting albums of the year, Turnstile will delight Slam Dunk with mesmerizingly vicious gems from critically-acclaimed 'Time & Space' as well as their biting debut 'Nonstop Feeling'.
More hardcore? Knocked Loose. With brutal tracks such as 'Deadringer', 'Oblivions Peak' and 'Billy No Mates' in their arsenal, the Kentucky quintet are set to decimate the Slam Dunk Festival stages; their appearance is not to be missed.
Joining these incredible names will be mid-90's emo royalty, The Get Up Kids and Saves The Day. Travelling from Missouri and New Jersey respectively, it's undeniable the impact these two seminal artists have had on their scene, are set to delight audiences and bands alike with classic melodies twinned with catchy trademark hooks.
Chris Conley of Saves The Day says;
"We are so excited to play Slam Dunk next year! It's always a blast to come overseas and sing Saves songs with all our fans. See you soon!!"
The only band from this announcement to have played Slam Dunk Festival before, Aussie punk troupe Trophy Eyes will be returning following their landmark performance in 2017. Having recently released their third album 'The American Dream' to critical acclaim, Slam Dunk fans will no doubt be excited to witness the new material during only it's second airing in the UK.
Rounding off the blistering second-wave of acts, Slam Dunk is thrilled to welcome Tiny Moving Parts to the festival for the first time. The Minnesota trio have built an incredible fanbase with their intricate mix of math-rock and post-hardcore and are sure to gather a crowd for tracks such as 'Always Focused' and 'Caution'.
Dylan Mattheisen of Tiny Moving Parts says;
"All the pictures I've seen from the past Slam Dunks look like it's a wild party, and we're thrilled to be a part of this year's. We can't heckin' wait to come over!"
After the huge success of Slam Dunk's move to Hatfield House last year, the festival has also announced plans for a new site for Slam Dunk North, moving to Leeds' Temple Newsam Estate so even more pop-punk fanatics can make their way to the definitive date of the alternative diary. Reaching across two stunning greenfield sites in Leeds and Hatfield on Saturday 25th and Sunday 26th May 2019 – Slam Dunk 2019 is the next evolution for that go-to destination of rock.
ACTS ANNOUNCED TO DATE
ALL TIME LOW, NOFX, NEW FOUND GLORY, WATERPARKS, STORY OF THE YEAR, GALLOWS, MAD CADDIES, SILVERSTEIN, BULLET FOR MY VALENTINE, GLASSJAW, SIMPLE PLAN, THE MENZINGERS, iDKHOW, TURNSTILE, KNOCKED LOOSE, THE GET UP KIDS, SAVES THE DAY, TROPHY EYES, TINY MOVING PARTS
TICKET INFORMATION
Tickets are on sale now and are available from http://slamdunkfestival.com/
Ticket Price £59. All subject to booking fees.