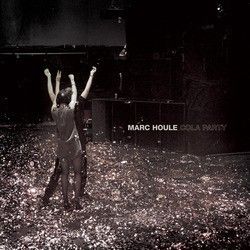 Marc Houle – Cola Party
Marc Houle is back with a new full-length album entitled "Cola Party" on his own Items & Things imprint.
Lead tracks "I Don't Wanna Know About You" and "Cola Party" set the scene. With title track "Cola Party" Houle's textbook pitched down vocals weave through tightly programmed drum patterns and heavy low frequencies. "I Don't Wanna Know About You" is a late-night jam whose pulsating lead synth and effortlessly catchy main vocal hook make it one of the more upbeat tracks of the album. Both lead tracks will be released two weeks and one week before the album's release respectively on iTunes.
"Cola Party" comes as a long-awaited follow up to Houle's well-received 2012 LP "Undercover". As an album, it contains all the elements fans and followers have grown to love with every Marc Houle release; his signature take on techno and jacking minimalistic-funk shines through from start to finish. If anything, the album is a clear example that Houle is still at the top of his game after more than 10 years in the business.
As a bonus for digital DJs and Traktor users worldwide, the album will be part of the Native Instruments' Traktor Remix Set series in July. The stems of 7 of the tracks from the album will be on this Remix Set release, following on from an array of other well-known artists who have done the same since the Remix Set series' inception in Autumn 2012.
"Cola Party" is Houle's sixth studio album and comes just in time for summer, with the release date set for 4th July.
Tracklist:
1. Over The Top
2. I Don't Wanna Know About You
3. S.T.E.A.K.
4. Cola Party
5. Jackn' Jill
6. Hot Sauce
7. Raybans in Bahrain
8. Gimme Gimme
9. Alpha Bit

MARC HOULE ON TOUR
MAY '14
WEDNESDAY 7 Marvellous Island, Chalet de la Porte Jaune, Paris, France
SATURDAY 17 Fraktion Tanz, Rondel Club, Bern, Switzerland
THURSDAY 29 MUTEK presents ENTER., Société des Arts Technologiques, Montreal, Canada
SATURDAY 31 Marc Houle live, Coda, Toronto, Canada
JUNE '14
FRIDAY 13 Items & Things Showcase, City Hall, Barcelona, Spain
SATURDAY 14 Bpitch Control & Friends, Fact Music Pool Series, Barcelona, Spain
THURSDAY 26 Marc Houle Live, Lux, Lisbon, Portugal
SATURDAY 28 Mondo, MONDO, Madrid, Spain
JULY '14
SATURDAY 5 Fuse Presents Marc Houle Live, Fuse Club, Brussels, Belgium
SATURDAY 26 EQUINOXE, 104 PARIS, Paris, France
AUGUST '14
SATURDAY 9 Marc Houle live, Rockstore, Montpellier, France

CONNECT with MARC HOULE
Official Website: http://www.marchoule.net/
Facebook: http://www.facebook.com/marchoule.offical
Twitter: http://www.twitter.com/MarcRHoule
Soundcloud: http://www.soundcloud.com/marchoule
Mixcloud: http://www.mixcloud.com/marchoule
YouTube: https://www.youtube.com/user/MarcRHoule
CONNECT with ITEMS & THINGS
Official Website: http://itemsandthings.com/
Soundcloud: https://soundcloud.com/itemsandthings
Facebook: https://www.facebook.com/itemsandthings
Twitter: https://twitter.com/itemsandthings
YouTube: https://www.youtube.com/user/itemsandthings
Mixcloud: http://www.mixcloud.com/itemsandthings