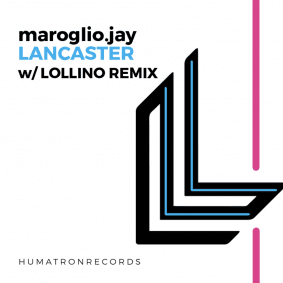 maroglio.jay – Lancaster
Italy's maroglio.jay returns to his Humantron Records imprint with a vibrant house single entitled 'Lancaster' including a remix from Lollino.
Giovanni Maroglio aka maroglio.jay has surrounded himself with electronic music from a very young age with his hard work eventually earning himself DJ sets in and around Italy in addition to other European locations. In 2015 Giovanni started Humantron, a club night built with the desire to bring a new musical movement to his hometown in Northern Italy which eventually became a label in 2017 releasing music from the likes of Dulmin, Figio's, Willo and many more. Giovanni invites Kappa Futur Festival resident and regular at the Humantron parties, Lollino to remix 'Lancaster' following his recent releases on Yaww Recordings and DPE.
Pulsating bass grooves and effervescent drums balanced with chopped vocals and shooting synths take the focus in 'Lancaster' before Lollino's remix maintains the rhythmic energy through rattling percussion, lively atmospherics and tension-building modulations throughout.
maroglio.jay 'Lancaster' drops on Humantron Records on 2nd September 2019.
www.humatronrecords.com
https://twitter.com/HumatronRecords
https://www.facebook.com/HumatronRecords
https://www.facebook.com/maroglio.jay
https://www.instagram.com/maroglio.jay
Tracklist:
1. Lancaster (Original Mix)
2. Lancaster (Lollino Remix)