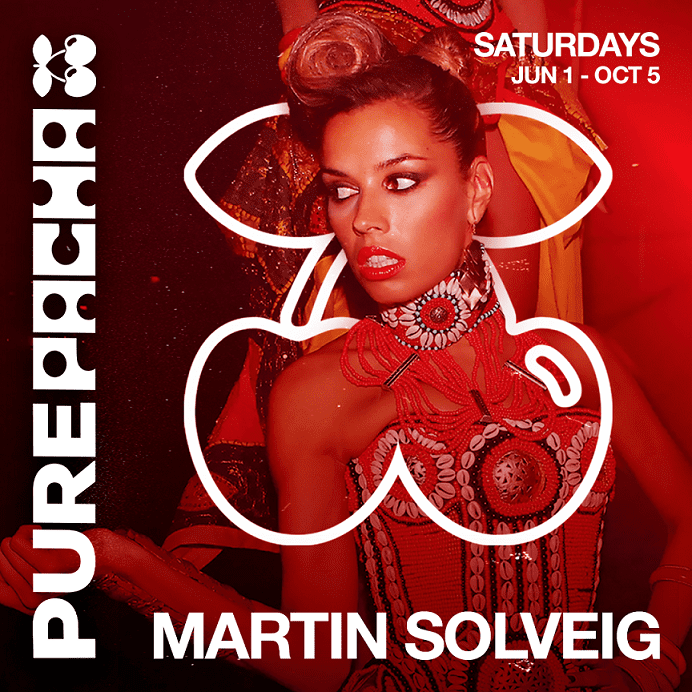 Martin Solveig Brings His Parisian Style And Flare To Pacha Ibiza
PACHA IBIZA
PURE PACHA – MARTIN SOLVEIG RESIDENCY
RELEASE DATE: 1ST JUNE TO 5TH OCTOBER
Saturday nights at Pacha have always been Pure Pacha, providing an experience to guests that cannot be matched on the island, the newly refurbished stunning white venue and dancers arguably the best costumed in the world will provide the ultimate place to party. Across summer 2019, Pacha invites world internationally acclaimed DJ and producer Martin Solveig to host their Pure Pacha residency from 1st June through to 5th October.
Martin Solveig is a leading figure in the world DJ scene, with his enthusiasm for both DJing and music production taking him to international success. His skills and selection as a DJ are proven time and time again, never failing to light up the crowd and making his performance and unforgettable experience.  Right from his first single 'Heart of Africa' and album 'Sur La Terre' through to hit singles 'Hello ft. Dragonette' and 'Big In Japan', Solveig has captured the eyes and ears of music's most influential; From Frankie Knuckles, Kenny Dope and Joe Claussel to Mousse T and Madonna. Unwavering in his ability to wow crowds, Solveig's DJ performances have taken him across the globe from Sydney to New York, Zaghreb to Dubai and all back to European institutions in his hometown Paris, along with Barcelona, London and finally, Ibiza.
A mainstay on the White Isle, Solveig's presence under the famous Red Cherries draws partygoers from far and wide. Having a longstanding history with the Ibiza clubbing landmark that is Pacha, Solveig is sure to exercise his expertise over the Pacha dancefloor, every Saturday throughout summer 2019.
https://pacha.com/events/pure-pacha/?utm_campaign=martin-solveig-brings-his-parisian-style-and-flare-to-pacha-ibiza&utm_medium=email&utm_source=mail-marketing