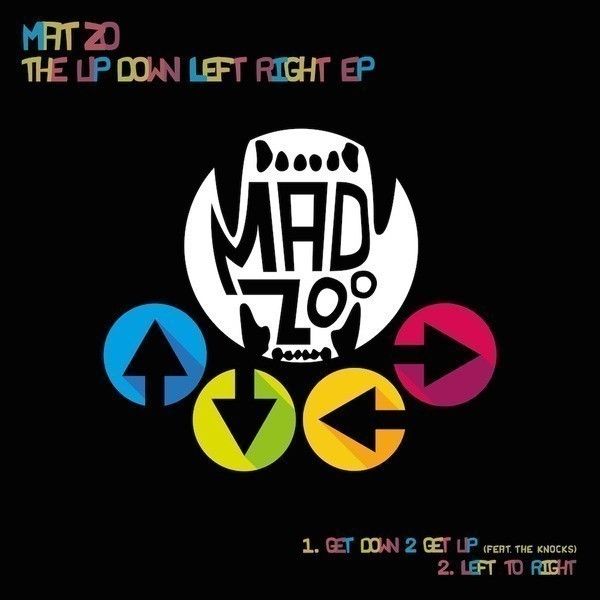 Mat Zo – The Up Down Left Right EP
After years of planning, Mat Zo is launching his new label Mad Zoo on August 11. Unlike most other labels, every Mad Zoo release will be available for free on Soundcloud for the first week alongside each release.
The first Mad Zoo release is out now and sees an official packaging of Mat Zo's recent quirky disco-house flavored jam "Get Down 2 Get Up" (featuring The Knocks), as well as the brand new electro breaks number "Left to Right."
"I've always wanted a quicker outlet for my music, so awhile ago I decided to release some of my music for free on Soundcloud," states Mat Zo. "The only problem with this is if I want to license the track out, or even put the track on YouTube, there has to be a label structure around it. The plans for Mad Zoo had been underway for years, so I decided to use the venture as a new way for me to release music quickly, yet still have infrastructure around it. I will still continue to work with other labels in the conventional way."
About Mat Zo
While so many follow the status quo, Mat Zo has always danced to the beat of his own drum. From his days topping both the drum & bass and trance charts simultaneously (releasing on Hospital Records as MRSA), to his current status as a big room innovator, collaborating with Kill The Noise and Public Enemy's Chuck D, to dropping genre-blurring 70-track contributions to BBC Radio 1's Essential Mix, the precocious talent is destined to play by his own rules.
Supported by DJs as diverse as Skrillex, Madeon, Pete Tong, Above & Beyond, Steve Aoki and A-Trak, the British-born, now LA-based producer stands above the crowd. In a world of EDM soundalikes, this is electronic dance music with integrity and ambition. Released via Astralwerks and Anjunabeats, his debut artist album 'Damage Control' in November 2013 was critically acclaimed, hitting #1 in both the Billboard Heatseeker Chart and the iTunes Dance Album Chart. His bi-monthly radio show The Mat Zo Mix can be heard on Sirius XM's Electric Area Channel every other Saturday with repeat episodes airing the following Tuesday.
www.Matzomusic.com
www.Anjunabeats.com
www.Facebook.com/matzomusic
www.Twitter.com/Mat_Zo_Official
www.Instagram.com/mat_zo
www.Soundcloud.com/mat_zo