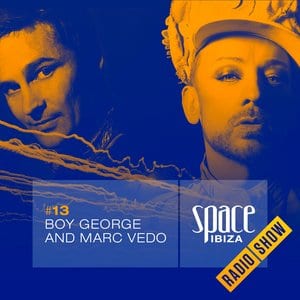 Podcast 054: Space Ibiza – Boy George & Marc Vedo
These two DJ heavyweights come together at Cafe Ole at Space Ibiza for this live set recorded specially for the Space Ibiza radio show and given to us for your listening plesure!
www.spaceibiza.com
Marc Vedo:
To proclaim that 2014 has been a whirlwind year for Marc Vedo, would be an understatement. After Marc shattered through DJ dates over sixteen countries in a little over a month, his collaborate offering 'Hotfingers Talks', selected and mixed alongside Boy George on the prolific Italian label, packed a double-stuff punch of house-drenched goodness.
Following suit, his impression left on Recovery House's 'United Colours of House' compilation, was just one of many affiliations to add to his now-mountaineering deck of labels that includes releases on Roger Sanchez's Stealth Records, My Digital Enemy's Zulu imprint, Jungle Funk and compilation label New State. Ever advancing, productions of Vedo's including 'Freak Out', 'These Gods' and 'Voices', have not only flew straight into the Beatport Top 100, but continue to set dance floors alight worldwide. Whilst his most recent club record, 'Desert Storm', has gained monumental support from the likes of Riva Starr, John Dahlback, Max Vangeli, as well as rotation on Pete Tong's legendary BBC Radio 1 show.
And it is those very dancefloors that he himself is spreading his music to with a string of exciting festival appearances coming up at events such as Camp Bestival, Milkshake Festival and Parklaan Festival, on top of a return to Ibiza with shows at both the Worlds #1 club Space, for Café Olé and the world's biggest night spot, the 10, 000 capacity Privilege, for the liberally minded, always spectacular Supermartxe Presents Superman.
Playing at the Crème de la Crème of dance music venues including Pacha New York, Space Miami, Los Angele's Exchange and San Diego Pride Festival, as the summer season approaches, Marc's sun-drenched, honey-dipped house style will leave you craving more. Embarking on a 5 month residency at Switzerland's prestigious MAD Club, a venue that has hosted the likes of Roger Sanchez, Sven Vath and Martin Garrix, his earlier work may still dazzle, but it's what is in store come the next approaching chapter for Marc, that leaves fans dangling in anticipation…
www.koolwaters.com | www.twitter.com/MarcVedo | www.facebook.com/marcvedofanpage
Boy George:
With a live music dominated start to the year, 2014 looks like a year that will undoubtedly belong to Boy George, as the global music icon is now set to submerge himself into a plethora of new electronic focused project and once again put emphasis on his love of house music, both classic and fresh, allowing his stellar position behind the DJ decks, to "save him from a bubble of nostalgia".

Transitioning over with an unequivocal mantra of producing top-rate tunes, George's lengthy list of collaborators' including the sizzling Hot Since 82, undisputable house aficionado Felix Da Housecat, scene saviour Eats Everything and disco legend Nile Rodgers; it's no wonder that George's diary is ever-swelling in the studio, just as much as on the in-demand gig circuit.
Smashing party-centric sets at some of the world's most exclusive clubs, including Ibiza's iconic, and current World #1 club, Space – ding at their Cafe Olé night – and the 10,000 capacity club Privilege's spectacular Supermartxe presents Superman event, George has also slayed sets across the globe at prestigious venues including Mykonos's famed Paradise Club and London's Ministry of Sound. The remainder of 2014 will see George return to the US for a huge tour, taking in the likes of southeast Florida's most desired clubbing venue Space Miami and Ohio's colossal Gay Games, as well as an exclusive Camp Bestival set, where he'll be joining DJs such as T-E-E-D, Radio 1's Rob da Bank and many others. Another diary announcement is George will be taking up his first ever DJ residency in Switzerland's reputable MAD Club. The venue is famed for attracting the biggest names in the scene from Richie Hawtin and Hardwell to Roger Sanchez and Erick Morillo.

By keeping-his-ear-to-the-ground, George can not only support upcoming producers and artists by way of incorporating tracks into his famed live-sets, but also by spinning these out on his hour-long Club Culture podcast as he regularly does, reinforcing the ethos that quality matters at every level within this industry. Furthermore, his collaborative effort with long-term acquaintance and touring partner Marc Vedo, hit a new benchmark in April. Hotfingers Talks mixed by the pairing, showcases a melting pot that nods to the outlines of yesteryear house classics and modern takes on the genre, not only confirming both of their highly-respected statuses in the music world, but also leading listeners on a timeless journey, as a stand-out selection aboard the imprints popular album series.
Taking a retrospective step back, George's impressive classic credentials only creep in furthermore, having worked with pinnacle names such as Groove Armada, Deep Dish, Erick Morillo and Mark Ronson, it's no wonder these amazing projects help set the foundations for a long withstanding and fulfilling career.
An omnipresent figure in the world of dance music, Boy George continues to remain one of the scenes most formidable, creatively tuned stars, still surprising and astounding audiences and critics with new tricks up his sleeve – with many still to come – even three decades on…
www.boygeorgeuk.net | www.facebook.com/boygeorgeofficial | www.twitter.com/boygeorge