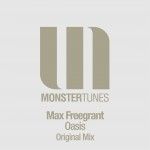 Max Freegrant – Oasis
Fresh off the back of a stunning collaboration with Jerome Isma-Ae, up coming progressive hotshot Max Freegrant joins the monster family to show off some more fine production skills. Hailing from the electronic music hotbed that is the Ukraine, which has already seen compatriots, Photograhper export their sound globally, it¹s clear that this young producer has fine pedigree!
'Oasis' is a driving and melodic crossover affair, which is Prydz-esque in its make up. The groove driven bassline rhythm offers a rock steady foundation, whilst a plethora of dreamy, warm, uplifting melodies will take you away to a higher place. This one is sure to be a hit with the progressive heads!