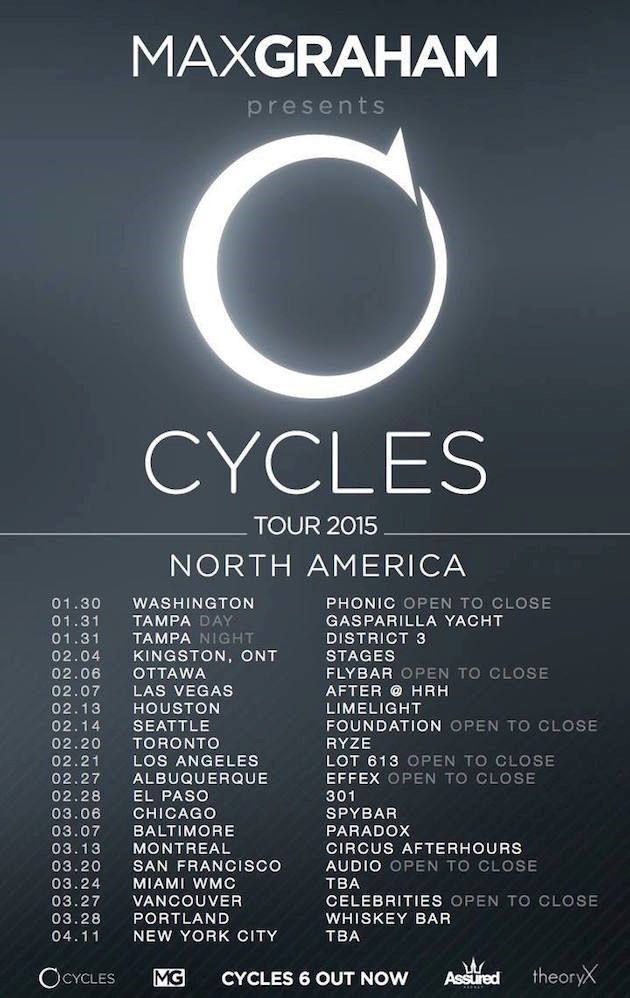 Max Graham Announces #CyclesTour2015
After his compilation "Cycles 6" hit the Top 5 on both the Techno and Trance charts on Beatport, Max Graham is ready to bring his ever-evolving underground sound to the streets. Hitting the road at the end of January and going well into April, the #CyclesTour2015 will showcase Max in over 20 cities across North America. Many of these dates will feature Max's epic Open-to-Close sets, where fans will witness his unique fusion of techno and progressive with melody and emotion.
The first 50 people in the door to each event will receive a Cycles2015 dog tag, so get there early and don't miss a beat!
Max will be available for press at each stop and limited photo passes are available. Please contact Erin or Lauren to coordinate your request.
Jan 30 #CyclesTour2015 @ Phonic DC OTC Washington, DC
Jan 31 #CyclesTour2015 @ GasparillaTampa, FL
Jan 31 #CyclesTour2015 @ District 3 OTC After Party Tampa, FL
Feb 04 #CyclesTour2015 @ Stages Kingston, Canada
Feb 06 #CyclesTour2015 @ Flybar OTC Ottawa, Canada
Feb 07 #CyclesTour2015 @ After at HRH Las Vegas, NV
Feb 13 #CyclesTour2015 @ Limelight Houston, TX
Feb 14 #CyclesTour2015 @ Foundation OTC Seattle, WA
Feb 20 #CyclesTour2015 @ RYZE Toronto, Canada
Feb 21 #CyclesTour2015 @ Lot 613 OTC Los Angeles, LA
Feb 27 #CyclesTour2015 @ Effex Albuquerque, NM
Feb 28 #CyclesTour2015 @ 301 Live El Paso, TX
Mar 06 #CyclesTour2015 @ Spybar Chicago, IL
Mar 07 Legacy @ Paradox Baltimore, MD
Mar 13 #CyclesTour2015 @ Circus After Hours Montreal, QC
Mar 20 #CyclesTour2015 @ Audio OTC San Francisco, CA
Mar 24 WMC Miami, FL
Mar 27 #CyclesTour2015 @ Celebrities OTC Vancouver
Mar 28 #CyclesTour2015 @ Whiskey Bar Portland, OR
April 3 Venus Manchester, UK
April 4 Trancefusion Prague, CZ
April 11 TBA New York, NY