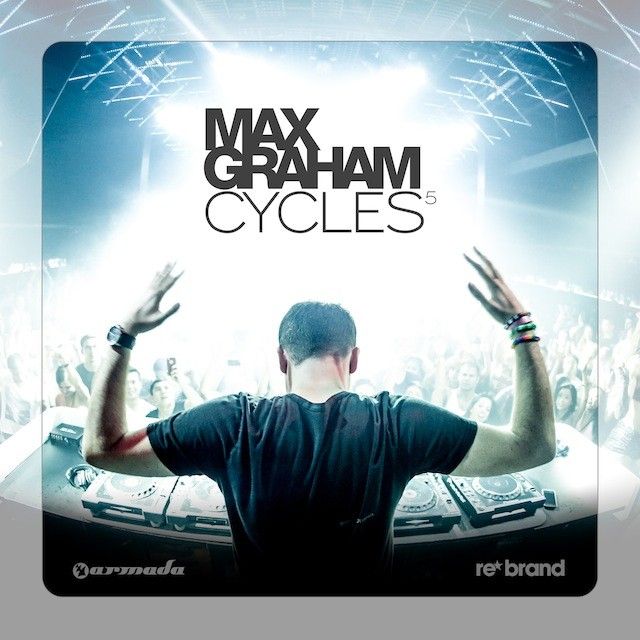 Max Graham – Cycles 5
As if running his Re*Brand record label, hosting his weekly Cycles Radio show, DJing around the world and spending quality time in the studio wasn't enough, Max Graham has managed to find the time to mix the 5th edition of his pioneering Cycles compilation series. Cycles 5 features a continuous mix of 18 hand-selected tracks that, as the album title suggests, fluidly move through phases of Trance, Techno, Progressive Trance and deeper melodies to take the listener through a sequence of emotional highs and lows.
Available January 17, 2014 on Armada Music, pre-order will begin on December 20. For those who pre-order the album on iTunes before the 17th, three "instant gratification" tracks will be available for download before the official release, including "Silence Groove – Above You" on January 3, "Re:Locate vs Robert Nickson – Recognition" on January 10 and "Aerofeel5 – Position," which is available now.
Never one to conform to a specific genre, Max Graham has continued to support new names and experiment with musical boundaries instead of confining himself to one sound. This free spirited approach has given him the liberty to carve his own path, whether in his original productions, live shows or the music he chooses to promote on his radio show. Cycles 5 demonstrates once again Max's ability to seek out unknown tracks by underground artists that hint at flavors of Ibiza, India, Morocco, Miami, and other exotic locations, taking you to worlds yet undiscovered. Continuing the journey started by the first four in the compilation series, Cycles 5 will expand your musical horizon and leave you yearning for the next edition.
Cycles 5 Tracklist
01. Silence Groove – Above You (Intro Mix)
02. Anry – Serene Sky
03. Nihilum – Illusion
04. Mindset – Home
05. Speed Limits – Offshore
06. Darin Epsilon – Valencia (Dousk Remix)
07. Mindgamers – Can You Feel It (Metodi Hristov Remix)
08. Re:Locate vs Robert Nickson – Recognition
09. Aerofeel5 – Position
10. Balthazar & Jackrock – Blade Dancer (Alex Di Stefano Remix)
11. Max Graham vs Maarten De Jong – Lekker
12. Max Graham – Evil I.D. (Mark Sherry Remix)
13. Max Graham – Purple
14. Alexey Ryasnyansky – Paper Flower
15. Simon Templar – Phenomenal
16. Solid Stone – For The Moment
17. Chris Agnelli – Vanishing Point
18. Solid Stone – Essence
CONNECT WITH MAX GRAHAM:
Website: www.maxgraham.com
Facebook: www.facebook.com/djmaxgraham
Twitter: www.twitter.com/MaxGraham
Soundcloud: www.soundcloud.com/maxgraham