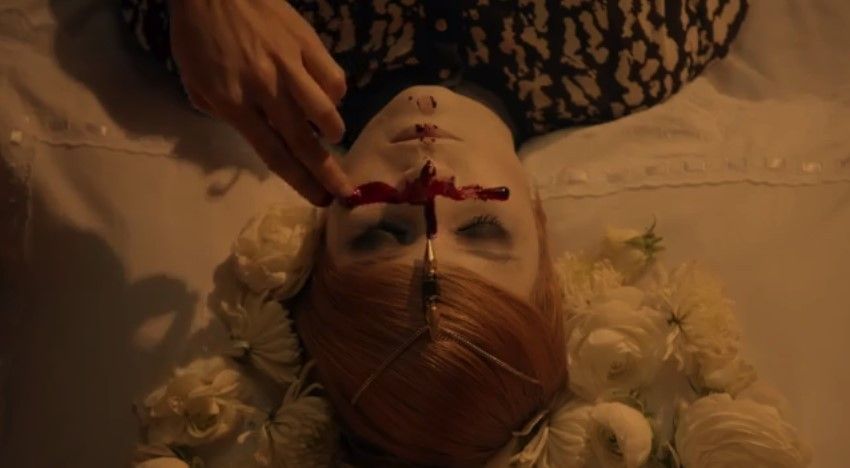 Maya Jane Coles – Burning Bright
Many music video's seem to blend into one nowadays but with her debut music video "Everything" ft Karin Park – a noir tale of ornithological obsession directed by Thomas Knights – Maya enjoyed over 200,000+ Youtube views in little over a month!
The video proved controversial for some; due to the scenes of taxidermy performed by London based artist/taxidermist Harriet Horton. Even a "safe" censored version of the track was deemed too graphic to show by some global broadcasters!
"Everything" didn't set out to cause controversy though; it just kind of did, and with Maya reunited with director Thomas Knights [who also appears on her debut album "Comfort' as a guest vocalist on the downtempo "When I'm In Love"] it will be interesting to see what people make of their second video outing together "Burning Bright".
The video to "Burning Bright" takes place in a church with the tracks makers Maya Jane Coles and Kim Ann Foxman assuming the leads in a story of life and death left open for the viewer to interpret as they see fit.
The video premiered globally at Rollingstone.com with "Burning Bright" originally debuting on Maya's recent guest mix on XLR8R's hallowed 300th podcast.
The remixes of Burning Bright will be announced soon with club support for Maya's last release "Everything" coming from all corners of the electronic spectrum with spins from the likes of Seth Troxler, Dixon, Sasha and Scuba through to Rudimental, Disclosure, Steve Aoki and Skream.
Available now, "Burning Bright" is taken from Maya's debut album "Comfort" a personal affair for Maya who produced, engineered and mixed the album at her modest home studio; playing every instrument and creating every sound including taking on vocal duties on tracks like the lo-fi "Stranger" and the hypnotic "Dreamer". Keeping things even more personal, Maya also created the album's artwork as she has for all her singles on "Comfort" including "Burning Bright".
The album is reflective of Maya's broader musical influences both in and outside the electronic world with Comfort having hints and shades of many genres from house, R&B and hip hop through to dub, indie and techno. Indeed "Comfort" also features guest vocals performances from established talents such as Tricky and Miss Kittin alongside rising stars Nadine Shah and Catherine Pockson of Alpines.
To support the release Maya is well into a busy 2013 touring calendar that has already seen her DJ at Coachella, Sonar, Ultra, Fuji Rock, T in The Park and the opening of Ushuaia in Ibiza; with dates at Bestival, Creamfields, Lowlands, Loveland, Pukkelpop, Flow and Enter @ Space in Ibiza still to come. Further 2013 dates such as Manchester's Warehouse Project are also set to be announced over the summer.
So with 16 international magazine front covers to her name, numerous producer/DJ awards, rave album reviews, radio playlistings around the world, top 10 places in the Resident Advisor DJ polls in 2011 & 2012, 30+ countries played in the last 18 months, 10 million You Tube views, 185,000+ Facebook fans, 45,000+ twitter followers and over 4 million plays on Soundcloud; with the release of Maya's new video to "Burning Bright" it seems Maya's triumphant run is set to continue a little longer.