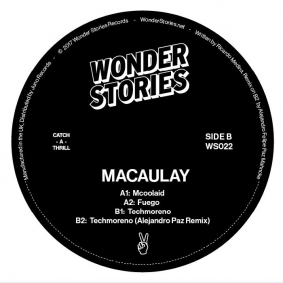 Macaulay - Mcoolaid
Aimes's Wonder Stories Records invite Mexico City based Macaulay aka Ricardo Medina to serve up an EP full of acid drenched techno for their next EP. Alejandro Paz adds his own remix to round out another winning release for this Denver label.
Medina is deeply ingrained in the Mexican underground techno scene. Along with Mijo, he is the founder of the tongue-in-cheek ExxxtraPicante label and frequent contributor to prominent Mexican labels Disque Discos and Platino. His sound is left of centre and always has a sense of quirky charm to it.
With rolling basslines, gurgling acid and jacking drums 'Mcoolaid' opens the account in arresting fashion. It has splashes of percussion and real dynamism in the ever evolving synth lines. The darker 'Fuego' is more heads down, with moodier drums and chilly hi hat ringlets looping under shadowy vocals. It's a militant beat that stays firmly underground.
The third thrilling original is 'Techmoreno', a track with blistering bass and spooky synths making an unsettling and freaky late night vibe. It's loose and rich in design so is another surefire winner from this on fire producer. Finally, Mexico City based Alejandro Paz, well known for his time at Red Bull Music Academy and his works on labels like Defected and Comeme, ups the wonkiness with a percussion filled heater to take the roof off.
This is EP is stuffed with top club tackle with a playful sense of off-beat invention.
Tracklist:
1. Mcoolaid
2. Fuego
3. Techmoreno
4. Techmoreno (Alejandro Paz remix)