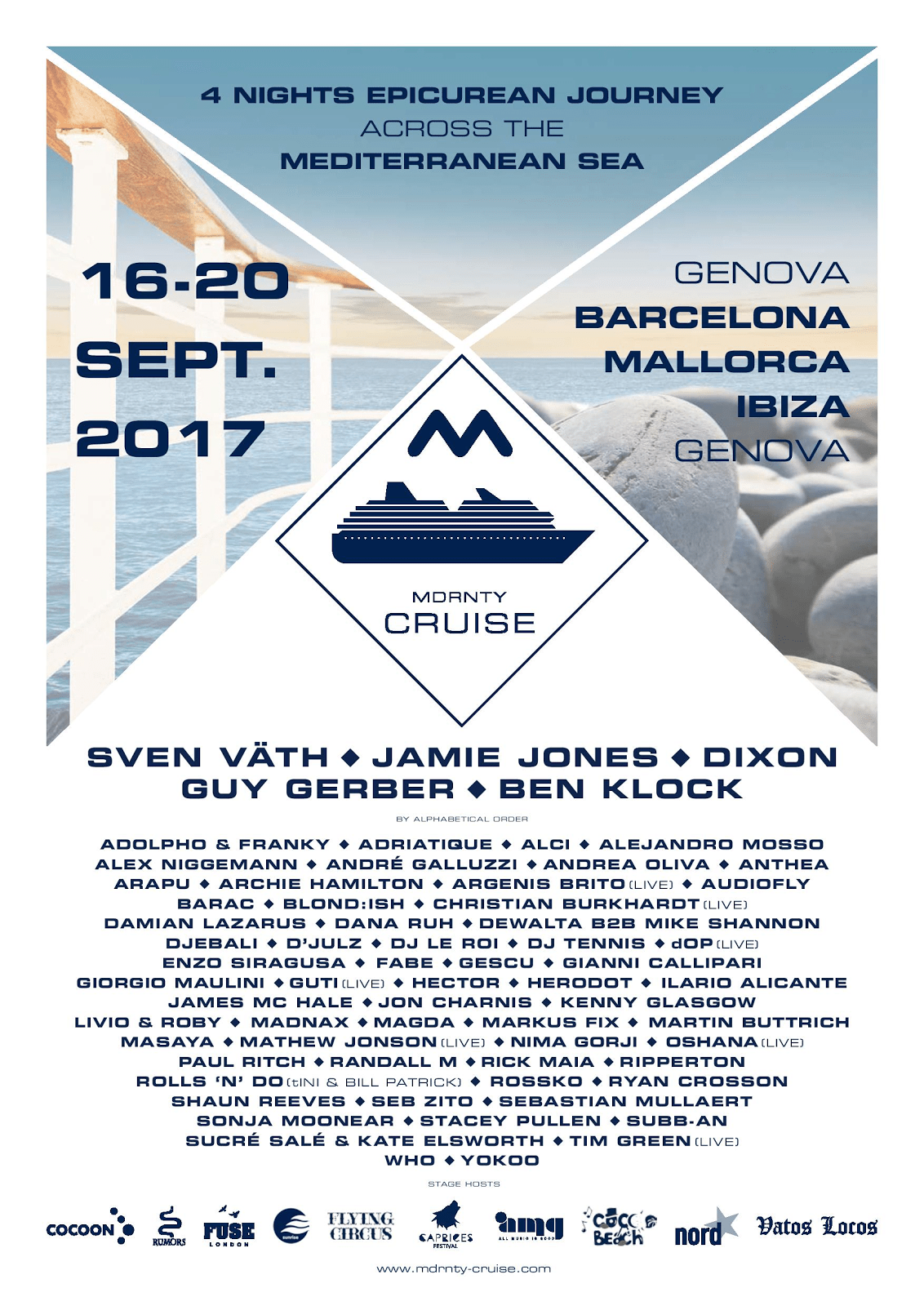 MDRNTY Cruise completes lineup
MDRNTY Cruise completes lineup with Dixon, Damian Lazarus, Ripperton, Herodot, Magda, D'Julz, dOP, Enzo Siragusa, Jamie Jones and more
All in all, 66 artists will participate from 16 to 20 September 2017 in MDRNTY Cruise, the first truly underground electronic music cruise. Today MDRNTY Cruise announces the last 38 names, thus completing the programming of its five day journey.
Connecting Genoa to Palma, while making stops in Ibiza and Barcelona, this major event will host up to 3200 festival-goers aboard the MSC Magnifica for an idyllic trip focused on fun, relaxation, and parties. Starting at €729, all inclusive offers (travel, 24h party, accommodation, food, beverages, alcohol and taxes) are available on www.mdrnty-cruise.com.
The 24h programming combines big names and up-and-coming artists without any compromise.
Sven Väth, Dixon, Jamie Jones, Ben Klock, Damian Lazarus, Guy Gerber, Magda, Adriatique and Mathew Jonson (live) are part of the list of 66 artists who wished to embark on the first MDRNTY Cruise journey.
"We felt a real enthusiasm in the responses we received from the artists. This makes us both happy and proud," says Maxime Léonard, Director of MDRNTY Cruise. "Our 24h musical offer brings us closer to the festival spirit where the experience shared between the artists and the audience is at its highest level. For the programming, we have chosen to collaborate with major labels such as Cocoon, Rumors, Fuse London, Sunrise, Flying Circus, Caprices Festival, AMG Booking, Cocobeach Paris, Nordstern and Vatos Locos. Extended hours give us the possibility to let the headliners use all the time they want for their set, but also let the audience discover less famous yet interesting trendsetters. That's real icing on the cake for me, since I am both a Director and lover of electronic music."
A Mediterranean trip focused on fun — The MDRNTY state of mind for five days.
Much more than a 294-meter long floating festival, MDRNTY Cruise is the perfect setting for a temporary epicurean experience. To top off the musical offer, the MDRNTY Cruise team plans to enhance this idyllic journey with many pop up events: wine and spirits tasting, art and technology shows, broadcasting of films and documentaries, contemporary art exhibitions, electronic yoga animated by the DJ's invited on board, sports and fun animations… and of course the ability to relax and discover cities at the different stop-overs.
"Our first priority is to give everyone the opportunity to fully enjoy this epicurean experience according to their own desires," concludes Maxime Léonard. "Music, well-being, joie de vivre, sport, tourism, art discovery… everyone can compose their vacation as they see fit based on their own perception of pleasure. We bring the artists, the fun ideas, the quality of a Swiss-made service and cutting-edge infrastructures. The public simply picks to create own experience."
For reservations and details about all-inclusive offers (cruise, 24hr-party, accommodation, food & drink, alcohol and applicable taxes), visit www.mdrnty-cruise.com