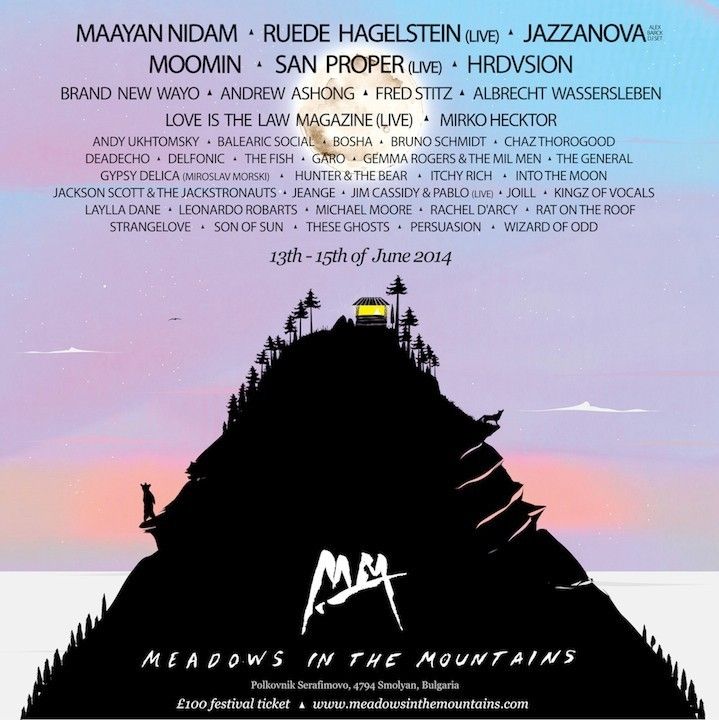 Meadows In The Mountains
Meadows In The Mountains Festival unleashes it's otherworldly sunset, sunrise and sun kissed line up for it's 4th chapter this June. With over 40 artists announced today, Meadows is back bigger, better with a wider spectrum of music and a superb array of creative art collectives and installations set across three days in an unrivalled and breathtakingly beautiful festival vista.
Set in the heart of the stunning Rhodope Mountains, Meadows is completely unlike any other festival in the world and is very proud of it's quirky and different attitude that does not follow others trends or other festival's concepts. Meadows is a festival dedicated to offering a truly unique and one off experience for all, not just a list of run of the mill artists reflected throughout other european festivals.
.
As the beautiful landscapes of Bulgaria beckon once again, the magical mystery and true sense of community that Meadows In The Mountains represents returns home once again, a world away from other same same soul less festivals, Meadows is a festival who's uniquely intimate ethos is predominantly made by it's stunning setting and friendly Europe wide people that attend and not just the exquisite line up it presents.

This year's mountainous line up presents something for all tastes; a summer celebration of outstanding and beautiful worldwide music comprising of some of the best live and DJ talents, who are all over, on and bubbling under the radar fused with the Meadows In The Mountains friends and family who will collectively be showcasing for your dancing and listening pleasure everything from disco, house, electronica, acoustic, jazz, funk, chill, hip hop and even spoken word across the festival's two stages; Sunset and Sunrise stages, all set alongside a backdrop of mind expanding creative arts, collectives and installations set in the stunning vistas high up near Bulgaria's Greek border.
This year Meadows adventurers and line up cohorts bring forth a vast array of Europe's finest DJ and live artist talent including the likes of recent Theo Parrish collaborator and undeniable 'Flowers EP' anthem maker (and Gilles Peterson's track of the year) Andrew Ashong to the mountain, his crate digger mentality yields a rich chronology of funk, soul, Latin music and weird interstitial rarities which is absolutely not to be missed. Brand New Wayo will be bringing up front music from new artists alongside heritage and obscure records from decades past, for a magic carpet ride not to be forgotten. Jazzanova's Alex Barck will be bringing a flavour of the infamous Berlin collective's sounds to his mountain top DJ set, the group are simply just supreme producers, composers, remixers and party starters so expect to move BIG, Dresden's Uncanny Valley label co-founder Albrecht Wassersleben will be taking the Meadows crew on a ride from RnB influenced House to hypnotic african styled Techno, with the occasional oldschool driven Hip Hop and Soul tune, he'll be pleasuring it up!
Also stepping up is longtime Meadows friend Razorlight's Fred Stitz who heads back with his special blend of beautiful acoustic mountain magic, alongside consistently impressive, experimental electronic music master. Hrdvision who will be showcasing his unendingly diverse sound that distills his myriad of influences into irresistible and deeply different dance floor moments. Fresh from their recent run in with Prince, Love Is The Law Magazine will be showcasing their effervescent beats and treats on the mountain top and Maayan Nidam, all round beautiful lady and regular fixture at clubs and events like Tokyo's Colors Studio, Frankfurt's Robert Johnson, New York's Wolf + Lamb, Belgium's Decadence and Amsterdam's Mono-Club will be showing off her looping, swinging, hips-and-ass-friendly groove with a big helping of bubbling mountain funk in the mix.

Man of many talents and supreme uber creative DJ, Mirko Hector is returning for another luscious mountain set, there isn't much that this man can't do, a truly unique set awaits. Moomin's zany dance floor delicacies and ethereal super sexy psyche sounds will be gently engulfing the mountain with warm, mellow sun kisses, also stepping up is Watergate resident and Upon You Records stable mate and all round Berliner good guy Ruede Hagelstein, he will be dropping his slick sounds at the peak alongside another Meadows friend, San Proper, who is back for more crazy mountain magic, he's a man who without a doubt knows how to work the party, not one to sit still he'll be bringing his live set and with it everything from Acid to Afrobeat to the party and undoubtedly much, much more.
Meadows In The Mountains supports, nurtures and encourages the best new and emerging worldwide music talent, and this year is no exception with so many delightful sun kissed musical moments spanning every genre under the sun set across the three days to come from the likes of:
Andy Ukhtomsky, Balearic Social, Bosha, Bruno Schmidt, Chaz Thorogood, Chrissy Meraki, Deadecho, Delfonic, The Fish, Garo, Gemma Rogers & The Mil Men, The General, Gypsy Delica, Hunter & The Bear, Itchy Rich, Into The Moon, Jackson Scott & The Jackstronauts, Jeange, Jim Cassady & Pablo, JOill, Kingz Of Vocals, Laylla Dane, Leonardo Robarts, Michael Moore, Rachel D'arcy, Rat On The Roof, Strangelove, Son Of Sun, These Ghosts, Will Lynch & SARJ, Wizard Of Odd and many many more. Come, indulge, expand and take a new musical memory home!
Meadow's welcomes all types of worldwide festivalgoers, explorers, adventure seekers, sun and fun loving hedonists and those born with a penchant for unique immersive experience who extend a hand to embrace the energy and ethos of the festival's community. Inspired by Bulgarian revolutionaries Vasil Levski and Hristo Botev, Meadows invites it's participants to embark upon a voyage across the seven seas to the very heart of the Rhodopian Mountains nestled in the beautiful Bulgarian countryside; an untouched and unravished bastion of nature in this harsh world of urban sprawl and concrete jungles.
Once home to prehistoric man these ancient forests have born witness to the fire of creativity and the explosion of the conscious magical mind. It has been recorded that the ancient Thracian explorers, upon bearing witness to the majesty of the meadows, immediately called for their harps and flutes to be bought forth and a new form of musical ceremony was created. The Byzantines themselves revelled in the power that saturates the land, dancing naked by the moonlight in praise to the Gods of celebration and song.

It is through this very tradition that curator brothers, Benjamin and Damain Sasse have the most great and humble pleasure in inviting festival goers to cast aside their daily woes, shrug off the binding chains of the 9-5 and indulge in a debauched weekend of mind-expanding experience, community and free spirit, skip through the fields and forests with untamed abandon and be free to lie in the long grass with the fireflies under nighttime skies.
::::::::::::::::::::::::::::::::::::::::::::::::::::::::

Other Festival highlights include:
• Dance in the ethereal half-light of dawn and dusk as the sunrise and sunset stages provide some of the best un-signed, underground artists spanning eclectic musical genres from across the world
• Watch the morning mist cascade over the mountain range as shadowy forms glide to rhythmic beats
• Ride a local horse and cart taxi, indulge in local Bulgarian village life and stay with the local community
• Dwell at the forefront of sound as Electronica, Ambient, Jazz, Folk, Soul, House, Techno and Disco float through the intricacies of melody
• Jump on the Mountain zip wire or try if you dare, the infamous Meadows death slide and downhill bobsleigh
• Go horse riding in untouched vistas, bathe in local waterfalls and visit local natural thermal pools
• Indulge your primordial appetites with hearty food to feed the soul; all locally grown and locally produce.
• Walk in the footsteps of the forest gods whilst exploring the rustic surroundings and the wildness of nature
• Glimpse the awe-inspiring power of creation as art installations challenge concepts of what reality really means
• Cast aside mental barriers and explore the expansion of human consciousness with like-minded individuals; helping to create an event that promotes an attitude of utmost adventure
:::::::::::::::::::::::::::::::::::::::::::::::::::::::::::::
No dried up burgers or greasy breakfasts at Meadows, a delectable range of locally sourced fresh food will be available to feed any hunger with no unreasonable 'festival' prices. Everyday UK lagers will not be seen anywhere in this hidden paradise, only Bulgaria's finest brews will be served, local wines and mountain spirits.

The music and arts line up revolves around the awe-inspiring sunrise and sunset, wildlife and fauna that cover's the festival site. To retain its intimate ethos Meadows In The Mountains only releases a limited amount of tickets. Please do not miss out on this amazing festival.
SEE YOU UP THE MOUNTAIN!

For all the latest Meadows In The Mountains news please visit: www.meadowsinthemountains.com